Whether it's Kelly Ripa's fabulous fashion sense or picture-perfect makeup, the Live With Kelly and Ryan star always looks flawless, and on Wednesday, she shared a candid photo ahead of a major beauty transformation.
Taking to her Instagram Stories, the blonde beauty captured herself sitting in a medical chair with her doctor ahead of getting botox – and it's safe to say she looked stunning pre-treatment!
WATCH: Kelly Ripa returns to Live with Kelly and Ryan
Alongside the image, the star penned: "Pre-botox book plug with @drrobertanolik." In the photo, her doctor was holding up a copy of her new book Live Wire, which appeared to have been gifted to him.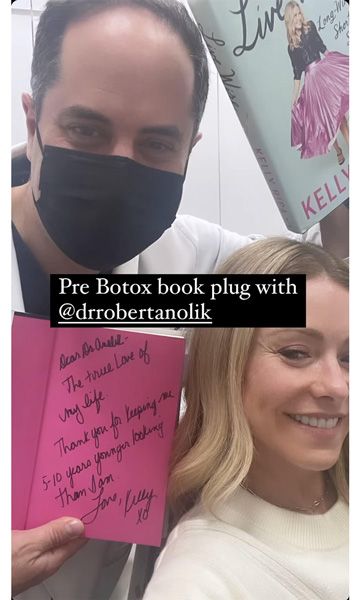 Kelly shared the hilarious update on Instagram
In the book, Kelly penned the most hilarious message which read: "Dear Doctor Anolik, The true love of my life. Thank you for keeping me 5-10 years longer looking than [Sam]. Love Kelly XO."
The candid update came just days after Kelly made her return to her show Live With Kelly and Ryan after a bout of illness which left fans concerned.
TRENDING NOW: Michael Douglas' bold new look leaves fans saying the same thing
The ABC host sat down with co-host Ryan Seacrest on Monday to discuss her return, including when she realized she had to take more days off before making her comeback.
"Last week, the better I felt, the worse I sounded," was what she said at the top of the show, still sucking on a throat lozenge to ease her irritation.
https://www.instagram.com/p/CkdiV6mL1YO/
A post shared by Kelly Ripa (@kellyripa)
The star had to take time off
She then described the show's producer Michael Gelman asking her to leave and get some rest in order to not exert herself further.
She recounted: "You have to leave. You're a talk show host and you have no voice, and there's no point in you being here."
MORE KELLY: Kelly Ripa's health is hugely impacted for the better by this lifestyle change
REVEALED: Kelly Ripa's son is unrecognizable in new photo shared ahead of long-awaited change
Kelly then imitated her scratchier tone from when she felt the most sick, saying that there's "a lot I have to say," while other members of the studio chuckled at the impression.
However, she then said that after some more time at home, plus a quick weekend trip to visit her son Joaquin in Michigan, she was feeling and sounding much better.
Source: Read Full Article