Kelly Ripa's son made waves with a post on social media on Friday and it wasn't even clear that it was him.
The TV host's oldest child, Michael, took to Instagram stories and added a selfie where none of his features could be seen because they were hidden behind his mass of black hair.
The aspiring filmmaker was teasing the fact he was in desperate need of a haircut and posed with his long tresses brushed over his face. He wrote: "Might be time for a trim soon."
WATCH: Kelly Ripa and Mark Consuelos' relationship – how they really met
Michael is forging forward with a career in the entertainment industry and is working incredibly hard to achieve his dreams.
Kelly and her husband Mark Consuelos have raised their children – including Joaquin and Lol – in Manhattan, New York, and for the majority of their life the kids have lived in a gorgeous townhouse in the Upper East Side.
MORE: GMA's Lara Spencer shares look at rehab recovery as she continues to heal from injury
TRENDING NOW: Goldie Hawn's private son Wyatt to expand family with famous wife? All we know
However, Michael is now leading a very different life to what he was used to as a child.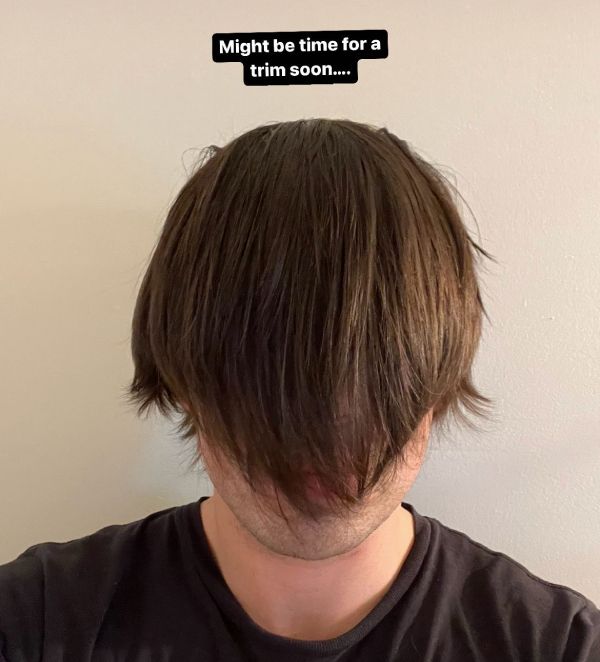 Michael showcased a very different look on Instagram
He has swapped the Upper East Side for Bushwick, Brooklyn, and his parents were adamant that their children would be self-sufficient after leaving home.
The former All My Children star opened up about her oldest son Michael's living situation during a previous appearance on Jimmy Kimmel. "Your son lives in Brooklyn now," the chat show host said, to which she replied: "He lives in Bushwick."
RELATED: Kelly Ripa's Live! replacement talks of nerves hosting latest show
She continued: "I think he loves the freedom, he hates paying his own rent and he is chronically poor. I don't think he ever really experienced extreme poverty like now."
https://www.instagram.com/p/Cl7QLwtLJeK/
A post shared by Michael Consuelos (@michael.consuelos)
Michael is carving out a career in the entertainment industry
She has also said: "I didn't grow up privileged and neither did @instasuelos. We work and we expect our kids to as well. And the fact that a pack of fools want to [expletive] about that, I say let em."
Read more HELLO! US stories here
Source: Read Full Article