The '30 Rock' alum is photographed in tears while on the phone outside the sheriff's office after he discharged a prop gun that killed director of photography Halyna Hutchins and injured director Joel Souza.
AceShowbiz –Alec Baldwin appears to have a hard time to process the fatal accident on the set of "Rust". After it was confirmed that he discharged a prop gun that struck director of photography Halyna Hutchins and director Joel Souza on Thursday, October 21, the actor looked distraught in his first pictures after the incident.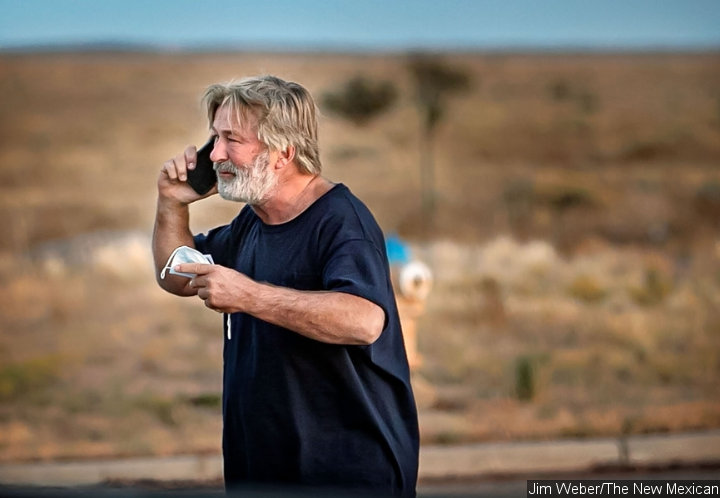 Alec Baldwin looked distraught after questioned about the shooting on 'Rust' set.
The 63-year-old star was photographed outside the Santa Fe County Sheriff's Office after he was questioned about the shooting. He appeared to be in tears while speaking to someone on the phone. Sporting thick gray beard and unkempt hair, he looked frustrated as he bent forward with his hands on his knees in another image.
A Santa Fe Sheriff's Department official told Deadline on Thursday evening, "Mr. Baldwin was questioned by investigators and released. No arrests or charges have been filed."
The accident happened during the filming at the Bonanza Creek Ranch, a famous movie ranch, in Santa Fe, New Mexico earlier on Thursday. Officials said sheriff's deputies were dispatched to the set at around 1:50 P.M. MST, following a 911 call that indicated an individual had been shot.
It was initially reported that a principal castmember cocked a gun during rehearsal, unaware that there were live rounds in it. The Sheriff's office later said in a statement that Hutchins and Souza "were shot when a prop firearm was discharged by Alec Baldwin, producer and actor."
Hutchins died after she was airlifted to University of New Mexico Hospital for stomach surgery, while Souza remains in emergency care after being transported by ambulance to Christus St. Vincent's hospital. He was reportedly hit in the clavicle.
Baldwin has not spoken up on the incident, while a production spokesperson said in a statement released immediately after the accident, "There was an accident today on the New Mexico set of 'Rust' involving the misfire of a prop gun with blanks. Two crew members have been taken to the hospital and are receiving care. Production has been halted for the time being. The safety of our cast and crew remains our top priority."
The Sheriff's Office also said in its initial statement "The Santa Fe County sheriff's office confirms that two individuals were shot during filming of a scene on the set of the movie western 'Rust'. Detectives are investigating how [the prop firearm was used] and what type of projectile was discharged."
Meanwhile, the International Cinematographers Guild, Local 600 mourned Hutchins' tragic death. "We received the devastating news this evening, that one of our members, Halyna Hutchins, the Director of Photography on a production called 'Rust' in New Mexico died from injuries sustained on the set," John Lindley, the president of the guild, and Rebecca Rhine, the executive director, said in a statement.
They continued, "The details are unclear at this moment, but we are working to learn more, and we support a full investigation into this tragic event." Expressing their condolences, they said, "This is a terrible loss, and we mourn the passing of a member of our Guild's family."
Source: Read Full Article