While we anxiously await the name of Meghan Markle and Prince Harry's baby, we were gifted with the moniker of another new arrival!
Amy Schumer and her husband Chris Fischer welcomed their own "royal baby" on Sunday night, and his name is…
Gene Attell Fischer!
Adorable!
The new momma revealed his name in a sweet photo of her son and husband late Tuesday evening on Instagram, and he's already a total cutie: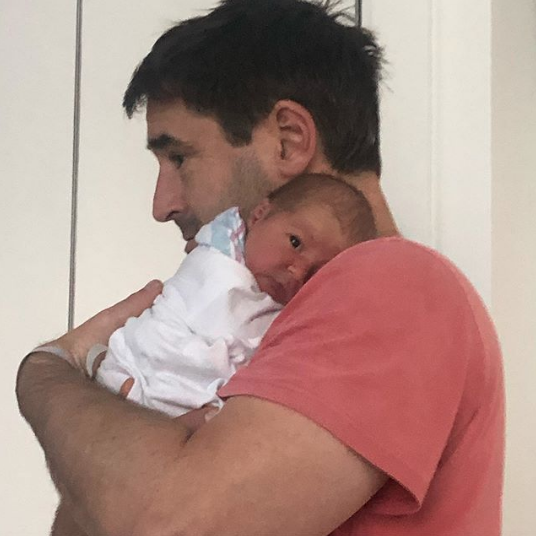 As we previously reported, the 37-year-old kept the gender a secret throughout her well-documented pregnancy before announcing hours before giving birth that they were welcoming a boy! However, she chose to share the news in plea for her followers to join in boycotting the fast food chain Wendy's. Schumer wrote on Instagram:
"Hey! We love @chancetherapper and hate to be the ones to tell him that Wendys is the only fast food chain refusing to protect farmworker women from sexual assault and rape in the fields. This is true. Please read that sentence again. Message for the people in charge: Instead of spicy nuggets, we want food that is harvested with dignity NOT violence. Please join the @fairfoodprogram and #BoycottWendys link in my bio of how you can help. Also we are having a boy."
After it was rumored she had already given birth, the I Feel Pretty actress shared on IG on April 23:
"Amy Schumer And Chris Fischer set pulses racing while the heavily pregnant Schumer flaunts her growing bump. Amy is still pregnant and puking because money rarely goes to medical studies for women such as hyperemesis or endometriosis and instead goes to things like dicks not getting hard enough or old guys who want harder dicks. ? ???"
You're not alone, girl!! Some fellow celebrities who have also suffered from hyperemesis gravidarum, which is a complication of pregnancy characterized by vomiting, severe nausea, and dehydration, have included Kate Middleton, Kim Kardashian West, and Kelly Clarkson.
Maybe Gene and Baby Sussex will have a play date one day… with Kim and Kanye West's new son. LOLz!!
How amazing would that be??
Highly unlikely, but it's possible Schumer's son and the reality TV stars' baby boy will hang out in the future! Or even end up in school together!
Source: Read Full Article