Grilling season is here. For many grill aficionados that means trying to make the perfect burger. Celebrity chef Bobby Flay is here to help get one step closer to achieving that goal. After all, the popular Food Network chef knows a lot about grilling.
He's hosted multiple cooking shows about grilling, including Grill It! With Bobby Flay, BBQ With Bobby Flay and more. Use his easy trick to get perfectly melted cheese on a burger. 
Bobby Flay prefers American cheese on burgers for 2 reasons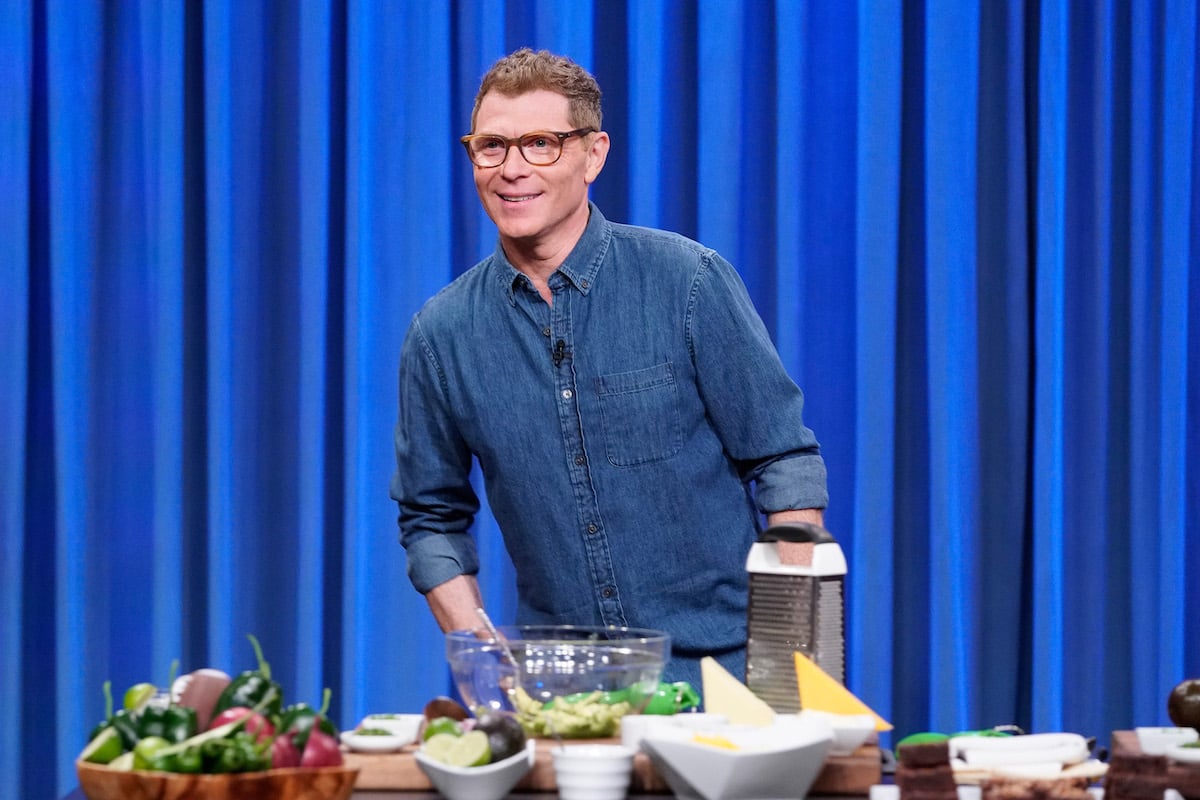 Flay's made all sorts of dishes as a cookbook author and restaurant owner but when it comes to burgers he wants them to be classic. To him, that means serving them with American cheese and maybe a slice of white cheddar.
"I'm not afraid to say I love American cheese," Flay once told Today Food as he shared his tips for making the perfect burger. 
The reason behind Flay's choice of American cheese is two-fold, which he explained during his Burger 101 class on the Food Network Kitchen app.
"When it gets right down to it, I want American cheese on my burger, because it melts well and it reminds me of my childhood," Flay said, according to FN Dish.
Bobby Flay's easy trick to melting cheese on a hamburger is using water
Flay doesn't use any special gadgets to get cheese to melt on a burger. He simply uses water. Here's the catch, for this trick to work, it can't be done on the grill.
Flay prefers making burgers using a cast iron skillet because "cast iron has excellent heat diffusion and retention and produces evenly cooked burgers with a really great crust," he told Today Food. 
Back to Flay's trick. He adds some water to the pan and puts the lid on. The water creates steam which melts the cheese evenly over the patty. For him, perfectly melted cheese is a must-have when it comes to burgers.
Flay feels so strongly about it he has a sign in all of his restaurants to remind kitchen staff to melt the cheese: "In my restaurants, there is a sign in each kitchen that says: 'Bobby Says Melt the Cheese Completely.' It has to be melted to have the perfect cheeseburger."
Other celebrity chefs have their own tips for making the perfect burger
Flay's not the only celebrity chef with tips on making the perfect burger. Other Food Network stars have shared their own tricks. Among them is longtime Barefoot Contessa host, Ina Garten. 
Garten's tip for making better burgers she discovered while developing a recipe for her latest cookbook, Modern Comfort Food. Playing around with her recipe for Smashed Burgers With Caramelized Onions she learned that putting the patties in the freezer makes a big difference.
Because of that her recipe calls for chilling the patties for 15 minutes before cooking. What does it do? When the cold meat hits the heat a caramelized crust forms.
Source: Read Full Article