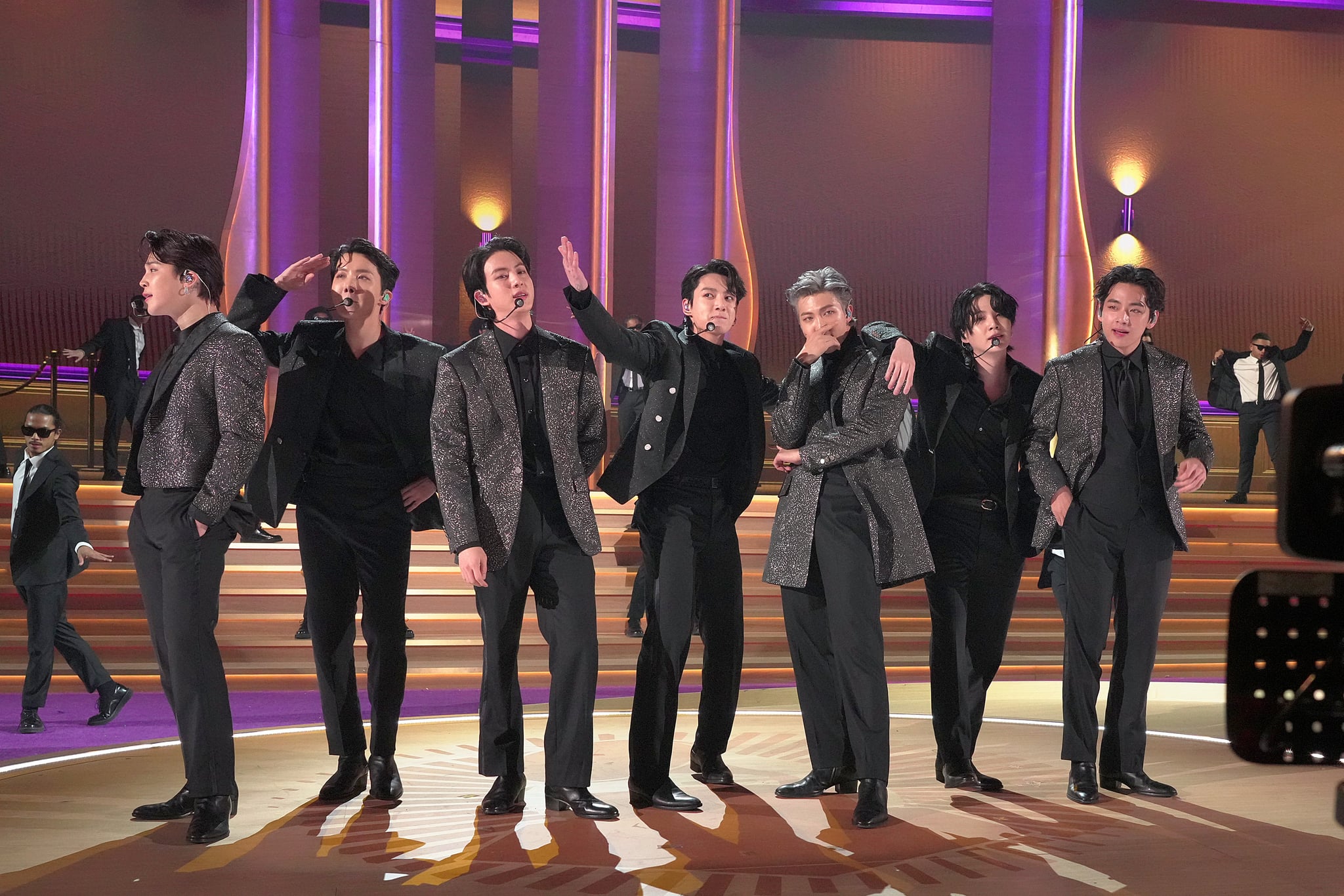 After years of speculation, it's been confirmed K-pop boyband BTS will enlist in the South Korean military for national service starting this year, beginning with Jin. A statement released by the band's management on Oct. 17 on Twitter reads, "BIGHIT MUSIC is proud to announce today that the members of BTS are currently moving forward with plans to fulfill their military service."
All able-bodied men between the ages of 18 and 28 must serve around two years in South Korea. It has been widely debated whether BTS members RM, Jin, Suga, J-Hope, Jimin, V, and Jungkook would be given an exemption from compulsory service, a move that would have required a change in Korea's military laws. As it stands, exemptions are only granted to high-achieving sports stars and classical musicians. The band was previously granted a deferral in 2020, allowing BTS to delay their duties until the age of 30. This milestone has been fast approaching, with the band's ages ranging from 24-29. BIG HIT's announcement that all seven members will carry out their military duty comes ahead of the Korean government's official decision regarding possible alternative options to traditional military service for BTS, which they have been deliberating on for years. An official decision on the matter was expected to come by the end of 2022.
"BIGHIT MUSIC has focused to the milestone moment when it would be possible to respect the needs of the country and for these healthy young men to serve with their countrymen, and that's now," the statement continues. "Jin will initiate the process as soon as his schedule for his solo release is concluded at the end of October. He will then follow the enlistment procedure of the Korean government. Other members of the group plan to carry out their military service based on their own individual plans."
On June 20, BTS released their anthology album, "Proof," and four days later, they released their final FESTA content, a video of the group gathering for dinner and drinks to celebrate their ninth anniversary. They revealed they would take a hiatus as a group to focus on various solo projects. However, the group hiatus is looking likely to be a little longer than expected, with the group not expected to come together again until 2025. "Both the company and the members of BTS are looking forward to reconvening as a group again around 2025 following their service commitment," the statement includes.
Many fans are interpreting BIG HIT's announcement to mean all members of BTS will enlist by mid-2023 after the release of their individual projects so that they'll all have completed their military service ahead of a planned 2025 group comeback. When POPSUGAR reached out for additional comment, a HYBE representative was unable to give a firm timeline on the remaining members of BTS's enlistment plans at this time.
On Oct. 15, BTS held their highly anticipated "Yet to Come" concert in Busan to promote South Korea's bid to host the 2030 World Expo. Attended by 50,000 ARMYs in person, the concert live streamed to tens of millions of fans, further proof of BTS's global success. "'Yet To Come (The Most Beautiful Moment)' is more than a track from their latest album; it is a promise, there's much more yet to come in the years ahead from BTS," the statement ends.
While BTS's fans are, of course, sad about the prospect of the members being away for a year and a half while serving in the Korean military, they knew this day would come and are overwhelmingly supportive of BTS's decision. In the meantime, fans can look forward to BTS's solo projects that are still in the works. Jin is set to release a solo single ahead of his enlistment, which he announced at the end of the group's Yet to Come in Busan concert. Meanwhile, Jimin has also been documenting the process of recording his debut solo album on social media. The best is still yet to come!
Source: Read Full Article