The 'Cravings' cookbook author doesn't get why people 'are so f**king riled up over any little thing' that she does after she revealed her latest transformation.
AceShowbiz –Chrissy Teigen doesn't mince her words when responding to criticism over her recent social media post. The model has fired back at haters who called her out after she posted about her eyebrow transplant surgery.
Taking to her Instagram Story, the 35-year-old posted a screenshot of a headline about the backlash she received for revealing her latest beauty transformation. One of the critics slammed her for being "so out of touch with reality it's literally disgusting." The critic added, "The things I see you post are non relevant. I always tell my 11 yr old not to look up to people like you or your type. You're seriously cancer. BTW, this is totally in response to the eyebrows post."
Another person tweeted, "Who give a dam! All these people suffering and trying to pay they bills. They have real problems. I don't have eyebrows. I have thyroid disease. And I don't care. That a real problem. Chrissy needs to disappear. For real."
Apparently the harsh comments left Chrissy baffled as she wondered in a caption of the screenshot, "WHY are people so f**king riled up over any little thing I do?" She went on cautioning her haters, "You're gonna give yourselves a heart attack."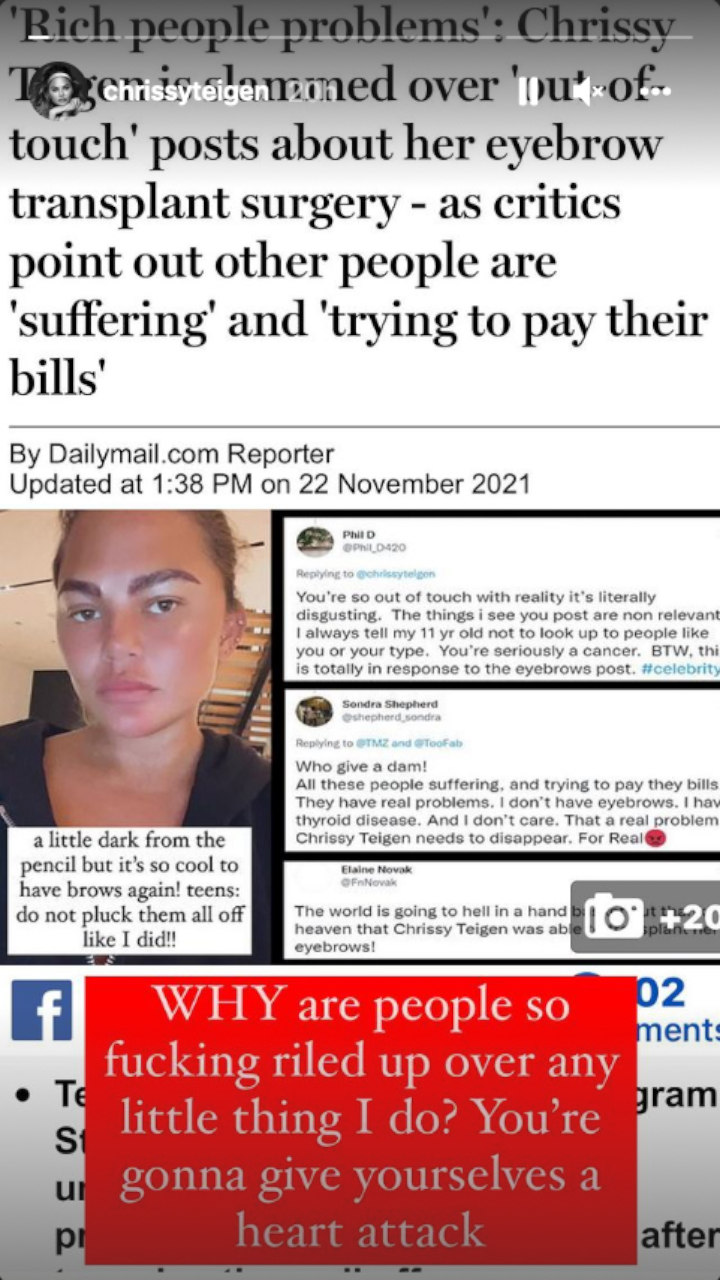 Chrissy Teigen clapped back at criticism over her 'out of touch' eyebrow transplant surgery post.
Chrissy got honest about the latest procedure that she underwent to enhance her look on her Stories several days before. In one of the clips she posted, she showed her look before the procedure while explaining why she chose to undergo the surgery, where hairs are taken from the back of a patient's head and placed on the face to create a fuller set of brows.
"I never wear makeup if I can avoid it so I was so excited for this eyebrow transplant surgery where they take hairs from the back of your head!" she captioned the image featuring her wearing a white outfit, seemingly ready for the surgery.
In the next Story, Chrissy revealed the result of the eyebrow transplant. She couldn't hide her excitement as she gushed, "This is right after surgery!! Crazy!!" The former "Lip Sync Battle" co-hosts later shared her beauty regret, "A little dark from the pencil but it's so cool to have brows again! Teens: do not pluck them all off like I did!!"
Prior to the eyebrow transplant surgery post, Chrissy came under fire for hosting a "Squid Game"-themed party.
Source: Read Full Article