You may have heard that country music stars Dolly Parton and Billy Ray Cyrus are good friends. But did their long-lasting friendship ever turn romantic?
Here's what Cyrus had to say about his relationship with Parton. 
Billy Ray Cyrus credits Dolly Parton for his success
Billy Ray Cyrus grew up in Kentucky, where he started singing when he was four years old. His father played guitar recreationally, but he was a politician and steelworker. He was also right-handed, so left-handed Cyrus couldn't play his father's guitar.
But Cyrus grew up surrounded by gospel and bluegrass music (his grandfather was a Pentecostal preacher). He started Georgetown College on a baseball scholarship before dropping out to pursue a music career. Seeing a Neil Diamond concert inspired him to follow his dream of becoming a musician.
He started his music career by playing in a band called Sly Dog, which was named after his one-eyed dog. Cyrus experienced a lot of hardships while trying to get his recording deal, including living in a neighbor's car. 
Cyrus and Parton knew each other in the earliest days of his music career. In an interview with Closer Weekly, Cyrus said, "I love Dolly. I probably wouldn't be doing what I'm doing without her.
"Keep in mind, she was there in 1992 when I went from living in my Chevy Beretta to recording my first album. Pretty soon after that, I was opening her shows! She sent a letter to my dressing room, and we just bonded from that night on."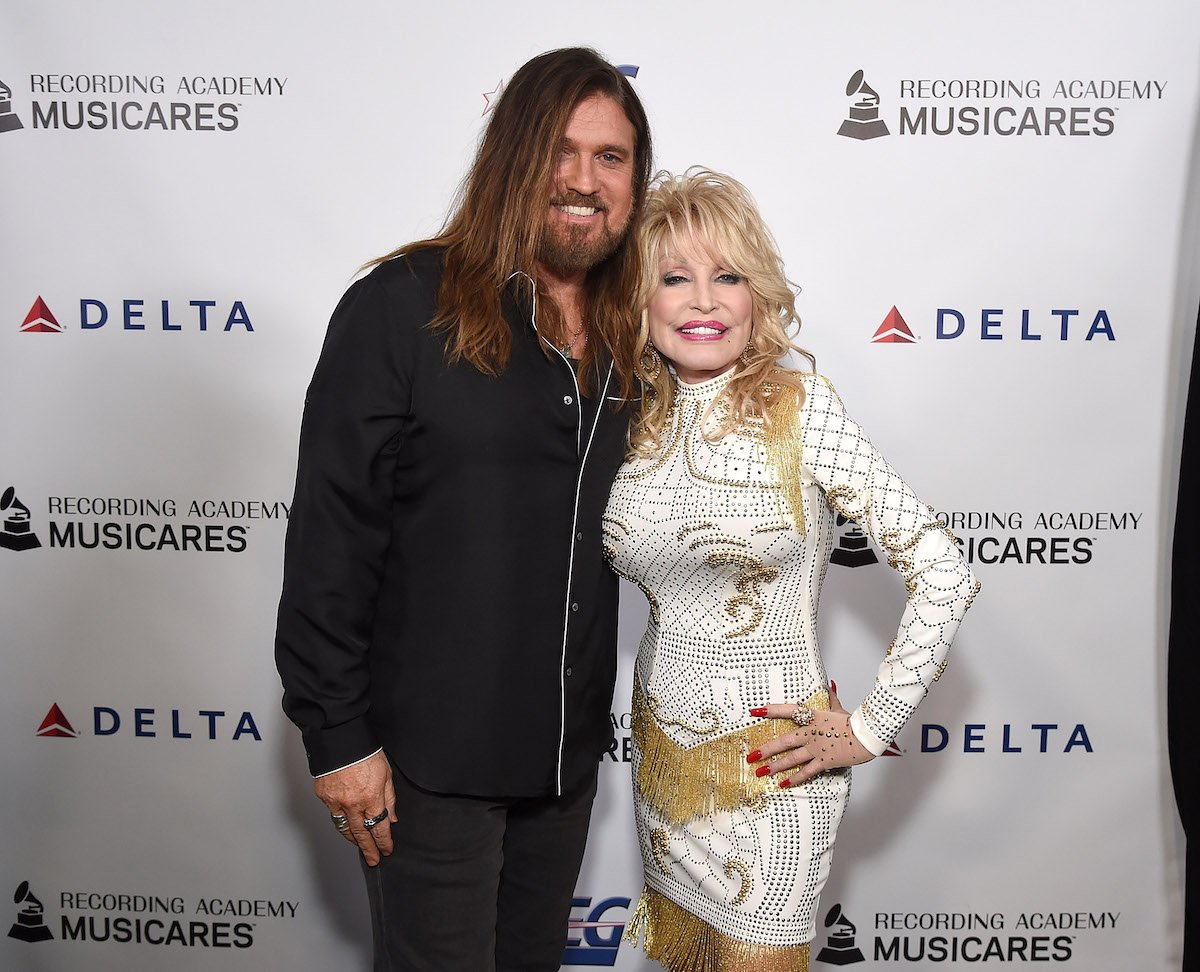 Dating rumors brought Billy Ray Cyrus and the '9 to 5' singer  together
Before the two musicians became friends or even met, rumors started swirling that they were dating.
When Cyrus opened for Parton, he saw headlines claiming that they were a couple. "When I was on her tour, there was a headline that she and I were romantically involved.
"My manager took me to meet her for the first time, and I said, 'I'm so sorry.' Dolly looked me straight in the eyes and said, 'Honey, that s— sells records!' Next thing I knew, Some Gave All was number one for 17 weeks in a row!" Some Gave All was Cyrus' 1992 debut album. 
The rumors only brought the two stars closer together, and they certainly boosted Cyrus' career. But Cyrus and Parton were never actually romantically involved.
The 'Achy Breaky Heart' singer asked Dolly Parton to be Miley Cyrus' godmother
Miley Cyrus has covered Parton's famous song "Jolene" and gushed about her in interviews. But did you know that Parton is Miley's godmother, thanks to her relationship with Billy Ray Cyrus? 
In an interview with SiriusXM's Just Jenny, Parton shared how working with Cyrus led to her becoming his famous daughter's godmother. 
"I worked with Billy Ray for all those years, when he had 'Achy Breaky Heart.' He worked with me on some shows we did in the early days. He opened some of my shows. We just got to know each other," Parton explained. 
"I wrote a song called 'Romeo' and had him in a video. We just kind of gelled because we're both country kids. We had a lot of fun just talking about that. And then when Miley came along, I said, 'She's got to be my fairy goddaughter.'"
Source: Read Full Article