Logan Paul and his younger brother Jake Paul are two of the most successful YouTubers of all time. The pair got their start on Vine with a few viral videos and from there, their careers took off. And when we say took off, we mean like seriously took off, launching them into superstardom. The two have not only started their own successful YouTube channels, clothing lines, and podcasts. but they've also gotten into boxing among several other things. 
Logan uploaded a video to his YouTube channel in May, where he shared with fans exactly why he and his brother Paul have been so successful, and it's all about hard work. "People just underestimate the amount of work we put into this sport. Like the amount of actual hours and dedication, what we put our body and minds through to make this happen," he shared before stating that over the past few years, he's gotten really good at fighting. "Floyd really underestimates me man, we got f***ing dangerous at this sport," he continued. "You do anything for three years, you're gonna be good at it. I just outwork motherf*****s. That's our secret, that's Jake's secret too, and everyone's so mad that we're winning." 
One thing is for sure — these two brothers do not lack any confidence. Keep scrolling to find out whose hard work has paid off more.
Logan Paul beats brother Jake by a hair…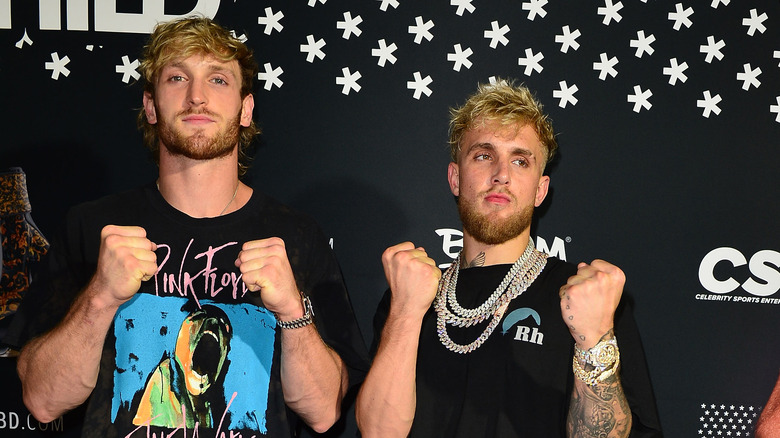 Logan Paul and his brother Jake Paul have both done incredibly well for themselves. However, when it comes to money, one has a slight edge over the other. Celebrity Net Worth reports that Logan boasts a fortune of $25 million. The influencer currently has more than 23 million subscribers on his YouTube channel, which has spiraled into other business ventures, including his clothing brand Maverick Apparel. On his podcast (via TubeFiler) Logan admitted that the company generated $30-$40 million in sales in the first year. He also has a successful podcast, "Impaulsive," which is another stream of income. In addition, Logan made a lot of money from his fight with Floyd Mayweather. Esquires shares that the star earned a $250,000 base and 20 percent of shares, which means he could have earned $20 million for a single fight night.
With all of the money he earns, it's no secret that Logan Paul has some pretty sweet real estate. In 2017, the Los Angeles Times reported that Logan dropped $6.5 million on a home in the celebrity-filled area of Encino, California. The home boasts 9,200-square feet of living space and sits on an acre of property. He is also renting a $13 million mansion in Puerto Rico for $55,000 a month (via New York Post). In comparison, Logan's fortune is a little larger than his brother's, but Jake still fares pretty well for himself. Keep scrolling for more details.
…but Jake Paul is also doing really well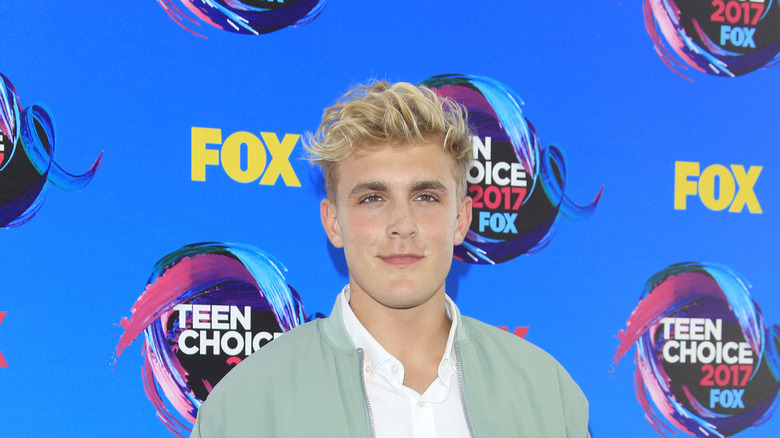 As for Jake Paul? He still does pretty well for himself though he has the lower net worth of the two siblings. Celebrity Net Worth lists Jake's fortune at $20 million, just slightly under his brother's. Jake has a huge fan base on YouTube with over 20 million subscribers. Like his brother, Jake has gotten into boxing, which has proven to be significant for him. Dexerto shares that his match against Ben Askren pulled in $65 million. It is unclear how big of a cut Jake got, but it had to be pretty substantial. In 2018, Jake made over $21 million and earned the spot of the second-highest-paid YouTuber in the industry.
Jake also owns some pretty sweet real estate, too. The Dirt reports that the star sold his massive 15,000 square-foot pad in Calabasas, California, for $6.15 million, which seems like a lot, but he lost $775,000 on it. He now reportedly lives in Miami to pursue his boxing career with fewer distractions — but it's unclear exactly where he resides and if he is renting a house in the area or if he opted to buy one instead. One thing is for sure — it pays to be both Logan and Jake Paul, who are two of the highest-paid brothers and YouTubers on the planet.
Source: Read Full Article