The royal baby is finally here!! Meghan Markle and Prince Harry welcomed a son this morning, which means it's time to find out every detail you possibly can about this little nug. Luckily, Lisa Stardust, a professional astrologer, is here to give you the official what's what on the royal baby's sign.
Baby Sussex is a Taurus with a Taurus ascendent, which means he'll be super strong-willed and vibrant but also competitive and athletic. So he'll be owning the polo field just like his dad someday. Also, he'll appreciate the finer things in life, which is perfect considering he is a literal royal.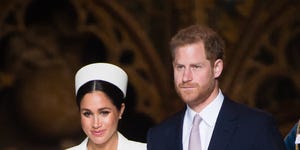 "Baby Sussex will most likely be a lover of fine art, food, and music—rebellious to the core—even aiming to rock the place, thereby shaping and transforming the views of the monarchy," Lisa said. "Baby Sussex will have a need for luxurious items but also will be a humanitarian at heart. Giving back to others and communicating with the public is where Baby Sussex will find joy—taking a note from mom Meghan Markle."
So cute!! Basically, it seems like he's going to be a perfect combination of his mom and dad. Meghan is a Leo and Harry is a Virgo. But wait, here's some piping hot royal tea: Lisa predicts that one day baby Sussex will rebel against his dad.
"Based on Baby Sussex's chart, he will go into business with his father and take the lead; he will be the boss," Lisa said. "However, whether he likes it is another thing. The child will most likely revolt against the rules set upon him by his father but view his father as playful and creative behind the scenes."
Wow, crazy, sounds like some other royal dude we know who spent the better part of his 20s in a club rebelling against his royal life, playing strip poker, etc. Funny how that works! Meghan, on the other hand, will feel like "home" to the baby.
https://www.instagram.com/p/BxIKMKWBUgo/
This afternoon, His Royal Highness The Duke of Sussex shared the news of the arrival of his and the Duchess' first born child. Their son was born early morning on the 6th of May, 2019 and weighs 7lbs and 3oz.Their Royal Highnesses thank you for your support and kindness during this exceptionally joyful time in their lives as they welcome their baby boy.
A post shared byThe Duke and Duchess of Sussex (@sussexroyal) on
"He will have a materialistic view on self-esteem ingrained in him by his mother, but he's a royal so it's not too out of the ordinary," Lisa explained. "His mother will challenge him and be more like a BFF than anything, offering advice throughout his life."
FYI, Queen Elizabeth, Princess Charlotte, and Prince Louis are all Tauruses too, so there must be something in the water at Buckingham Palace. Tauruses are the absolute best at royal responsibilities because they take their time in making decisions and don't go back on their word. Basically, it's looking great for Baby Sussex's future.
Congrats, Harry and Meg!!
Source: Read Full Article