After the only child of Elvis Presley was laid to rest next to her son Benjamin Keough on Sunday, January 22, hundreds of mourners walk by her grave at Graceland to pay their respects.
AceShowbiz –Oprah Winfrey joined thousands of people who honored Lisa Marie Presley on the day of her funeral. While she didn't show up in person, the former daytime talk show queen made sure her feelings be known as she left flowers on the late singer's grave.
In pictures of Lisa Marie's newly-unveiled tomb, a bouquet of white roses from the TV mogul was seen being placed in between Lisa Marie's grave and her son Benjamin Keough's. The only child of Elvis Presley was laid to rest next to her son, who died of suicide at age of 27 in 2020.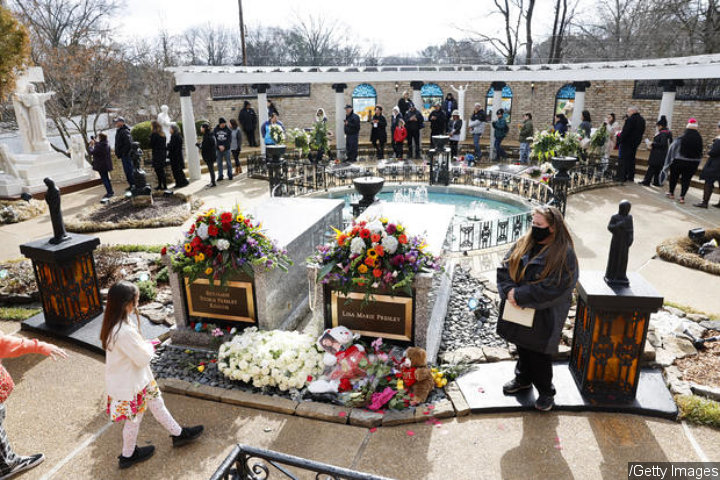 Oprah Winfrey left white roses on Lisa Marie Presley's grave at Graceland.
On Sunday, January 22, Lisa Marie was laid to rest in the Meditation Garden at Elvis' mansion Graceland. Her famous father, his parents Vernon and Gladys Presley as well as his twin Jessie, who died at birth, are also buried at the landmark.
At her memorial service, her mother Priscilla Presley read a poem by her granddaughter titled "Old Soul". It read, "The old soul in 1968, she entered our world – born strong but was delicate, filled with life. She always knew she wouldn't be here too long. Childhood passes by in the glimpse of a green eye. She then grew a family of her own. She then lost her second child, an angel of suspicion, she knew it was close to the end."
"Now she is home where she always belonged, but my heart is missing her love," the poem continued. "She knew that I loved her. I fear I'll never touch her, but the old soul is always with me. She doesn't drift above."
Lisa Marie's eldest daughter Riley Keough didn't speak at the service, but her husband Ben Smith-Peterson read a statement on her behalf. She revealed that she had secretly welcomed a child with her husband. "I hope I can love my daughter the way you loved me, the way you loved my brother and my sisters," her statement partly read.
Former Memphis Mayor A C Wharton and Sarah Ferguson, the Duchess of York, were among the speakers who paid tribute to Lisa Marie, while singers Alanis Morissette and Axl Rose honored the late musician with performances of the songs "Rest" and "November Rain". Austin Butler, who portrayed the King of Rock and Roll in "Elvis", attended the memorial service with his girlfriend Kaia Gerber.
You can share this post!
Source: Read Full Article