Looking good! "Teen Mom OG" star Tyler Baltierra is feeling himself following his recent fitness transformation. "YEAR 1 DOWN! 165lbs on the left & 199lbs on the right (still in the process of shredding my fat % down) my goal was to gain as much much muscle mass as I could with the least amount of fat as possible," he wrote via Instagram on June 10 on a side-by-side photo showing off his buff bod. "I'm not exactly where I want to be, but I have to remind myself to appreciate the journey & acknowledge where I started from. I can't wait to see what year 2 looks like! #IAmMyOnlyCompetition #FitnessJourney #FitnessTransformation."
Tyler first started updating his fans on his healthy habits in 2018, revealing he dropped some major pounds. "208lbs to 165lbs! I've been eating healthy for about 7 months (no processed foods/low carbs/no sugar) but I've only been working out for 3 of those months & I'm finally starting to see results from it!" he wrote on another previous transformation comparison picture. Keep scrolling for more details. 
Tyler Baltierra is feeling healthy and happy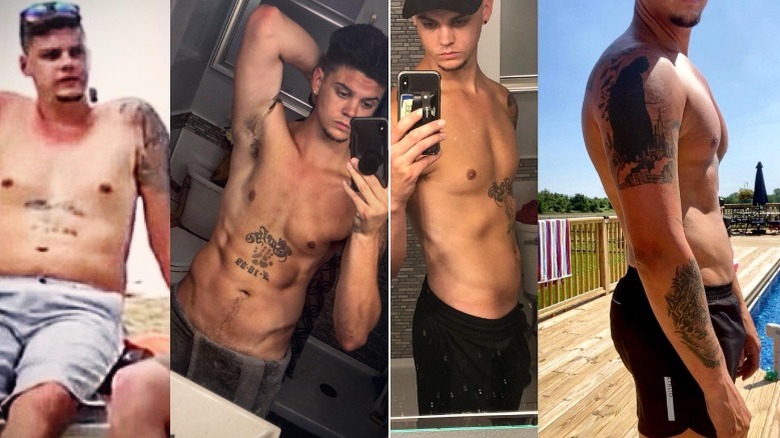 As "Teen Mom OG" dad Tyler Baltierra is working on his fitness, his wife, Catelynn Baltierra, née Lowell, seems to be feeling his new look. On Tyler's recent transformation photo update, the former "16 and Pregnant" star gushed over her man's progress, commenting, "Congratulations baby!! I admire your hard work and dedication," with a bunch of red heart emojis. 
In fact, it looks like Tyler's personal health journey has made his bond with his lady stronger. Prior to the mother's comment on her hubby's progress picture, Tyler took to Instagram to celebrate the couples' anniversary. "15 years together & you still make me feel as if we were goofy kids! I love you so much babe," he wrote on June 6, to which his beloved replied, "I simply adore you so much! Thank you for always treating me like a queen I LOVE YOU." It seems like Tyler's physical transformation changed a lot more for the dad than just his looks.
Source: Read Full Article