With all the media attention on Prince Harry and Meghan Markle, it's understandable why they wanted to keep all of the plans and details of the June 4 birth of their second child, Lilibet Diana, under wraps. 
In March, Page Six reported that Meghan was planning on having a home birth for her daughter, something the duchess had reportedly hoped to have with her first child, Archie. Per the outlet, Meghan planned to have a home birth at her and Harry's home, Frogmore Cottage, with a team of all-female midwives. However, as is fairly common with first children, Archie was a week overdue — and Meghan was taken to London's Portland Hospital, the preferred hospital of the royal family. She gave birth to Archie there on May 6, 2019.
And as recently as late May 2021, per SCMP, the rumor that the Sussexes were planning a home birth was still going strong. After all, Meghan and Harry have a gorgeous home in Montecito, California. But apparently, they were planning something else completely. Sneaky!
The couple spent months looking for the right hospital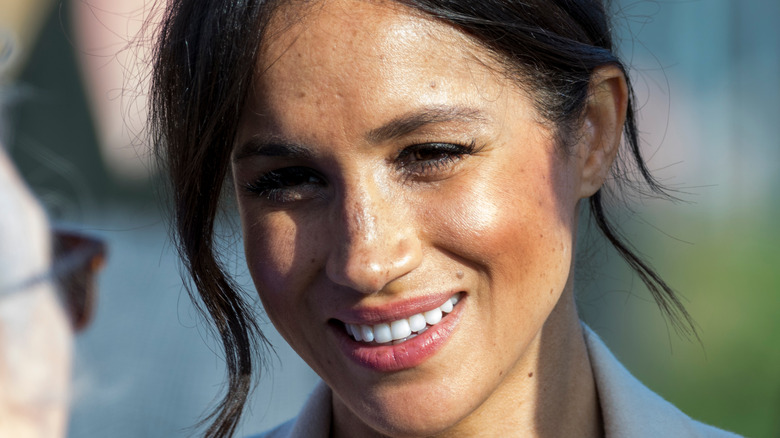 Prince Harry and Meghan Markle looked at several hospitals before settling on Santa Barbara's Cottage Hospital, per People, which is just a short drive from the couple's Montecito estate. Meghan reportedly was taken with the fact that the hospital was founded by women, the outlet noted.
Cottage Hospital's website revealed their women-centric origin story. "In 1888, a group of 50 Santa Barbara women recognized it was time for the growing community to have a hospital," the site reads. "A not-for-profit facility dedicated to the well-being and good health of all residents, regardless of one's ability to pay."
According to People, the hospital has a state-of-the-art childbirth center that takes a family-centered approach to birth. Meghan's California doctor, Dr. Melissa Drake, coordinated with Dr. Gowri Motha in the U.K. to help deliver baby Lilibet Diana, per the outlet. Dr. Motha oversaw Archie's birth in 2019.
The hospital they chose also accommodated the couple's security concerns, as Meghan and Harry have a large security team that needed to be present for their protection. 
All in all, "Meghan and Harry … could enjoy the birth in peace," an insider told People, noting that "things went smoothly."
As People reported, Meghan and Harry will be taking several months off to bond with Lili and introduce Archie to his little sister. Their Archewell Foundation offers 20 weeks of paid parental leave, which the Sussexes will surely be taking advantage of.
Source: Read Full Article