I don't want to cause mass panic, but the BTS Global Official Fanclub is open for business. Oh, what's the BTS Global Official Fanclub, you ask? Oh reader, if you don't already know, then you might not be ready for it. The official ARMY Fanclub gives you and all ARMYs exclusive access to everything BTS. It is the official paid club that loops fans deep into J-Hope, Jimin, Jin, Jungkook, RM, V, and Suga's world, and it's now more accessible than ever. BTS' official fanclub used to only be available in Korean on a forum called Daum fancafe, but now international ARMYs (particularly those who speak English and Japanese) can now experience the same access as BTS' OG fanbase. Praise be.
Beginning on Monday, July 15, Big Hit Entertainment opened up registration through Weverse, BTS' exclusive fan app. In the past, registration for the ARMY Fanclub was only open for a limited amount of time, but today, fans have unlimited access to jump on the bandwagon (though, if you register during the special registration period between Jun 15 to August 31, you'll get an extended membership because your membership won't expire until August 30 no matter when you registered within the promotion period).
If you want to register to join in on all of the fun, you will need to purchase the membership through BTS' fan merchandise shop, Weply, which will give you a year's worth of access. This means you'd have to re-up your membership 12 months after you register.
Frankly, for the very reasonable price of $30, the ARMY Fanclub comes with a staggering amount of perks. ARMYs who are on the inside will receive:
An official ARMY Membership Card
An ARMY membership kit
Opportunities to buy exclusive merchandise
Early access to lotteries and domestic performances
The chance to attend domestic music program broadcasts
Exclusive acess to BTS Weverse membership-only images, audio and visual content
Plus all other kinds of on and offline opportunities die-hards can really sink their teeth into.
Not too shabby.
One important note: fans need to use the same email address for both Weply and Weverse!
Which, speaking of, can we take a moment to appreciate Weverse and all its glory? Most K-pop stars use fancafe which is run by a third-party organization called Daum — a place where idols and fans can go to communicate with each other. However, fancafe isn't the most accessible for global fans since it's only available in the Korean language. Naturally, ARMYs have rallied together over the years to translate and communicate all BTS news to each other, but with the launch of Weverse, BTS went and cracked that dialogue wide open.
One of the key most exciting features on Weverse is that the app is available in three languages (for now): Korean, English, and Japanese. There's also a built-in translator that allows users to translate the boys' posts into their preferred language. It is equal parts so smart and "why didn't anyone think of this earlier?"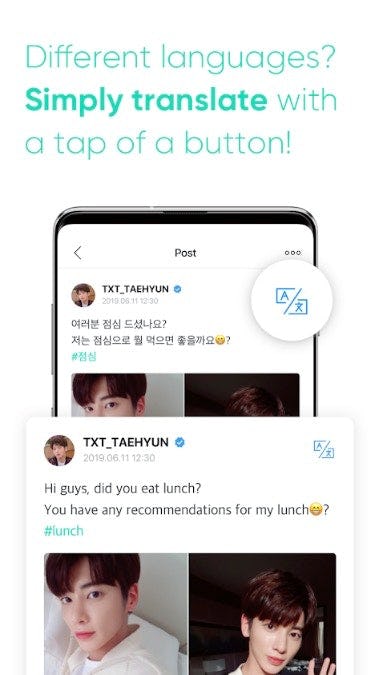 BTS' extensive fancafe still thrives today on Daum, but there is speculation it may close down once Weverse truly takes off.
If you haven't already downloaded Weply, enrolled in Weverse, and scooped up your BTS Global Official Fanclub membership by the time you reached the bottom of this article, what are you waiting for? Get out of here and go do it already!
I will see you guys (plus my BTS boys) out there.
Source: Read Full Article