Sunisa Lee is one of the biggest names to come out of the 2020 Tokyo Olympics, which were actually held over the summer of 2021. Sunisa, who also goes by the nickname Suni, was an unexpected star of the postponed event, even taking home more medals than the gymnastics G.O.A.T, Simone Biles (more to come on that relationship later).
Sunisa has plenty of support behind her, including the unwavering backing of her father, John Lee, who wasn't about to downplay her achievements before she jetted off to Japan. "It would be the greatest accomplishment of any Hmong person in the U.S. ever. It will go down in history," John explained to Elle in July 2021 of how the Hmong community would react should Sunisa take home an Olympic medal. Well, it's safe to say she exceeded all those expectations (more to come on that, too!).
While most people know the star is insanely talented in all aspects of gymnastics, there are plenty of things fans actually don't know about Biles' biggest rival. But what are they? Read on to find out what you didn't know about Sunisa Lee, the Tokyo Olympics' Team USA breakout star.
Sunisa Lee has big college dreams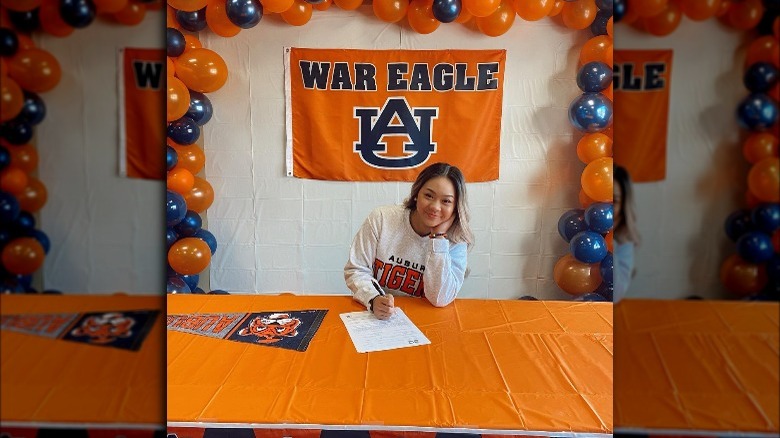 Though she's one of the biggest names in gymnastics and has all eyes on her after the Tokyo Olympics, that doesn't mean Sunisa Lee will be heading to Hollywood to live her life in the spotlight. Quite the opposite, actually. The big step she's taking after the Olympics is one that's next on the agenda for a lot of people her age — attending college.
Lee is set to attend Alabama's Auburn University in the fall of 2021 on (of course!) a gymnastics scholarship (per The New York Times). The star confirmed her plans in an Instagram post in November 2020 when she shared a photo of herself signing the all-important contract in front of a War Eagle flag and an arch of orange and blue balloons. She also included sweet snaps of herself posing alongside her coaches and family and wrote in the caption that she was "officially a tiger!!" while giving shout-outs to her "family and coaches for everything they've done for [her]." She added, "can't wait to be apart of the auburn family [sic]" alongside an eagle emoji and the hashtags #explore and #auburntigers.
Lee also shared her excitement for the college experience with The New York Times in August 2020. "I do want to go to college and have fun and kind of get away from this elite atmosphere because it's so crazy. And I know that college is going to be way better," she told the news outlet.
Sunisa Lee is a big time TikToker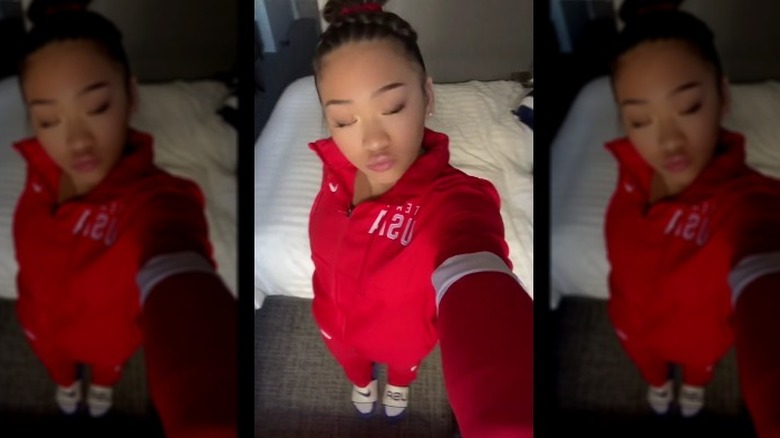 Sunisa Lee is big time on social media — no, seriously, big time. The gymnast is a huge hit on the short video sharing platform TikTok, where she's acquired 1.5 million followers as of August 2021. Her fun and quirky videos are popular far beyond her followers, though.
Lee's videos regularly rack up millions of views, so much so that it's not unusual for her to see upwards of 20 million views on some clips. On July 29, 2021, she shared an upload where she danced around her room at the Tokyo Olympics with her gold medal. The video racked up over 6 million likes and more than 26 million views within a couple short weeks. Another video, in which Lee poses for the camera, brought in 22 million views. After she won a bronze medal for the uneven bars final, Lee mentioned her passion for TikTok. She called it her "getaway app" and said it was "just so fun" (via People).
Sunisa Lee is also super popular on Instagram, where she boasts 1.5 million followers at the time of writing. A photo shared on July 29, 2021, showed Lee planting a kiss on her gold medal, quickly gaining a million likes. The same day, a carousel post showed the champion getting emotional, highlighting the people she competes for, including her family members. "The people i do it all for, I LOVE YOU," she wrote.
YouTube sparked Sunisa Lee's passion for gymnastics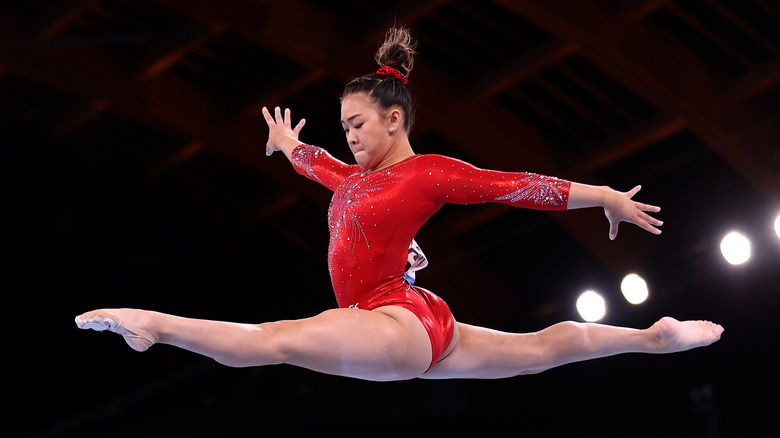 Sunisa Lee had a fascination with gymnastics from an early age. Speaking to The New York Times, Lee revealed that she was only 6 years old when she first saw other people practicing gymnastics in YouTube videos — and she became instantly hooked. She shared how she'd repeatedly watch the routines on the platform and "just couldn't stop," adding, "It looked so fun, and I wanted to try it myself."
Lee's mom, Yeev Thoj, shared how her daughter's love of watching gymnastics clips inspired Suni to start doing flips outside during trips to the park. Thoj recalled to Bleacher Report in June 2020 that Lee started to become "addicted to doing backflips" as she watched "all the super-good elites and Olympians" doing their thing, such as former Team USA champions including Nastia Liukin and Shawn Johnson, who inspired her to start trying out similar moves.
It was then that Thoj decided to take her daughter to a gym to practice gymnastics, where Suni would be able to "exert her energy safely," Bleacher Report explained. At Midwest Gymnastics, Suni Lee met her longtime coach, Jess Graba, the twin sister of Jeff Graba, who will be her coach at Auburn University (per The New York Times). What a small world!
The rest, as they say, is history, and we have YouTube to thank!
Sunisa Lee comes from a big family and very close community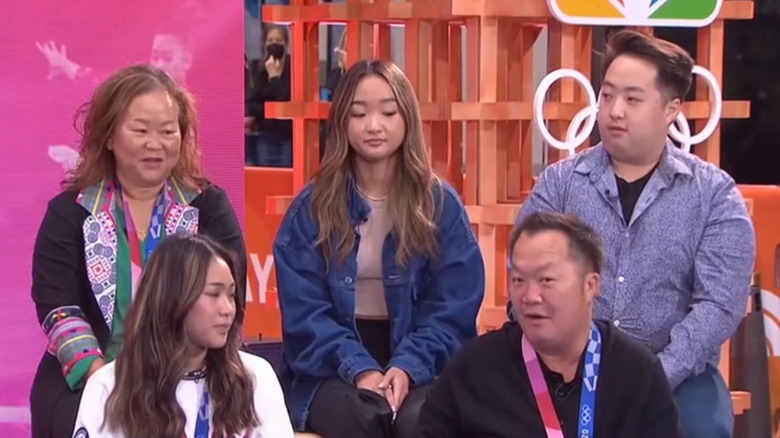 It's all about family and her close-knit community for Sunisa Lee. The athletic superstar is a member of the Hmong community in Minnesota. She has been very vocal about the importance of staying close to those nearest and dearest to her. She also strives to be a positive representative for her community, who regularly gathered together to hold watch parties while she was competing at the Tokyo Olympics.
Sunisa's sister, Shyenne Lee, opened up about their close-knit family in an interview with ESPN, revealing that the group gathers years after year for a summer camping trip, where it's not unusual for more than 150 people to attend. Sunisa also spoke about the annual gathering with Elle, sharing that the number has gone as high as 300 people while describing her community as being "really close."
Sunisa has expressed her strong desire to do more for the community. "I hope I can inspire people. Being the first Hmong-American to make the Olympics is a really big deal. I'm so excited to represent the Hmong community," she told Star Tribune before the Tokyo Olympics.
As for her immediate family, Yeev Thoj, Sunisa's mother, met John Lee when Suni was 2 years old. Through John, Suni gained a sister, Shyenne, and a brother, Jonah. John and Yeev also have three children together, Evionn, Lucky, and Noah (per MPR News). Everyone belongs in this loving family.
Sunisa Lee doesn't have a twin, but she often gets mistaken for one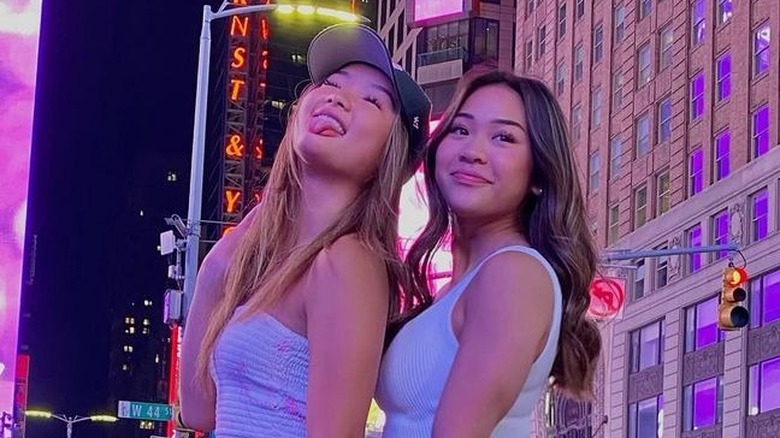 This one sounds a little bizarre, but it's true. Although Sunisa Lee doesn't actually have a twin, she's revealed that she often gets mistaken for an identical one when she's with her stepsister, Shyenne Lee, despite the two not being biologically related. Lee discussed the coincidental resemblance with ESPN in July 2021, revealing that her classmates at school would often mistake her and Shyenne for womb-mates because they look similar and are very close in age (Shyenne is merely 12 days older than Suni).
Sunisa Lee joked about the twin thing on TikTok in August 2021 with a clip that showed herself and Shyenne going from casual to glam as they posed in their outfits. "Back [with] my twin," the gymnast captioned the upload. It seems like life with these sisters is a lot of fun.
The twin confusion can also be attributed to the fact that Sunisa and Shyenne share the same last name even though they don't biologically share the same father. Though John Lee and Yeev Thoj never legally married, Sunisa made it clear that she was happy to be a Lee. "She wanted his last name," her mother told ESPN. The teen continues to share a special bond with John, whom she calls her dad.
Sunisa Lee earned three Olympic medals at the Tokyo Games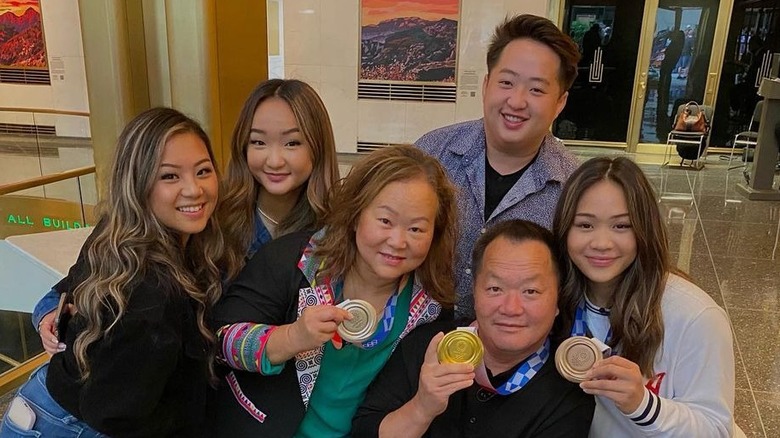 While most athletes dream of winning just one medal at the Olympic Games, Sunisa Lee went well above and beyond that. The star earned herself an incredibly impressive three medals at her very first Olympics, racking up a gold, silver, and bronze at the delayed 2020 Tokyo Olympics in the summer of 2021.
Lee took home the all-important gold medal for the Women's Artistic Individual All-Around Final and earned a bronze for the Women's Uneven Bars Final. Alongside Simone Biles, Jordan Chiles, and Grace McCallum, she earned her silver medal in the Women's Team Final.
Lee proudly showed off her medals on social media, and she particularly couldn't contain her excitement after winning her first gold. In a momentous Instagram post with her winning emblem, Suni Lee's caption reads, "OLYMPIC ALL-AROUND CHAMPION. so surreal. i can't thank you all enough for the love and support." She added, "thank you to everyone who has believed in me and never gave up on me. this is a dream come true," alongside crying and heart emojis. Lee signed off on her clearly excited message by adding in all caps, "WE DID IT."
She then went on to show off her family's pride over her achievements the following month, posting a photo to Instagram of them holding all three of her medals between them.
Sunisa Lee already has a very impressive net worth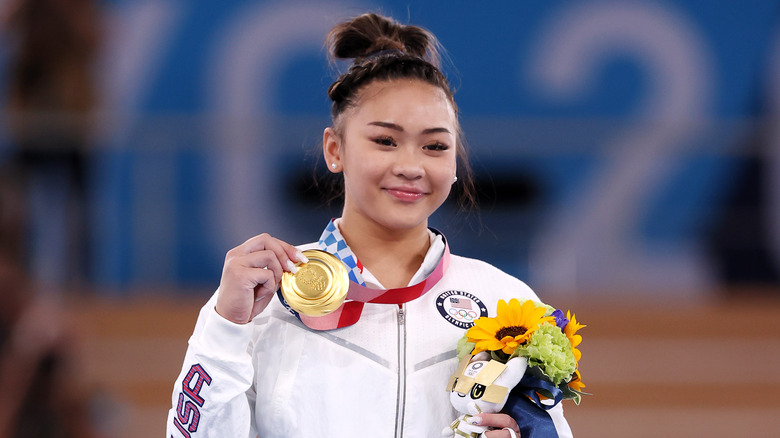 It's safe to say that Sunisa Lee has earned herself more money at 19 years old than the vast majority of other teens her age. Wealthy Spy estimates that Lee's net worth is $2 million — this wouldn't be bad at all for someone who's not yet old enough to celebrate with a legal drink! As for how she reached that estimated net worth a whole two years before her 21st birthday, she has her out-of-this-world gymnastics skills to thank for that. 
Sunisa Lee is likely to have added thousands to her net worth by winning big at her first Olympics. According to Team USA, medal payments were doubled in 2017 and are as follows: $37,500 for gold, $22,500 for silver, and $15,000 for bronze. Per CNBC, team medalists split their earnings. Since Suni Lee fits each of the medal categories, it looks like she took home at least $58,125 from Tokyo.
What makes Lee's financial success even more impressive are her humble beginnings. John Lee revealed to "Today" in July 2021 that he actually had to build his daughter a beam to practice on because he couldn't afford to buy one.
The gymnast still has a ways to go to catch up with Simone Biles. Celebrity Net Worth puts Biles' net worth at $10 million as of August 2021, though we think Lee will catch up to that pretty quickly.
Simone Biles is Sunisa Lee's biggest rival, but also her confidant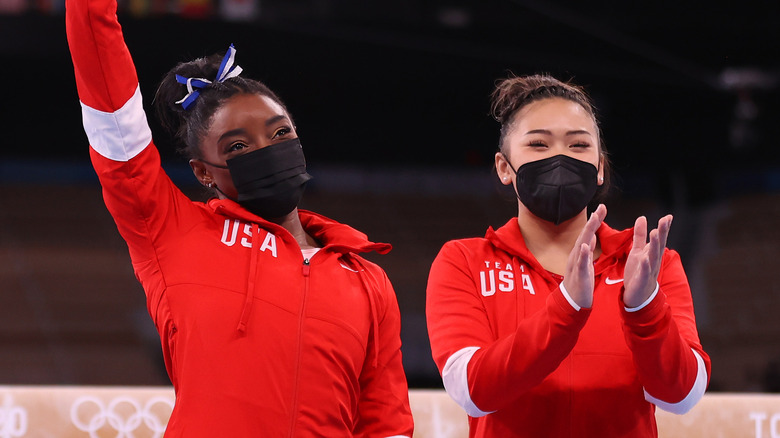 Simone Biles and Suni Lee are quite close. Despite the two being each other's biggest rivals in the gymnastics world, they have a bond that only grew stronger when they headed to Japan for the Tokyo Olympics.
The two appeared to start developing a close friendship following the U.S. World Championships in 2019. The following year, the Olympic Games were postponed due to the coronavirus. The two gymnasts started contacting each other more since they understood what the other was going through. "To have that taken away from us without having any control is very hard. I went through a depressed phase, and it was hard to get out of," Lee told Elle. It was Biles who helped to lift her spirits, and Lee shared that the star "was there for [her]" as they would Snapchat and text one another after the world went into lockdown.
When the two eventually hopped on a plane to Tokyo, they seemed like the best of friends. Biles even shared a photo on Instagram in July 2021 of herself and Lee with their silver medals; she congratulated Lee and sweetly referred to her as "PRINCESS." Lee returned the favor with the same photo alongside a touching message for Biles, who was very open about her struggles and decision to withdraw.
A horrific accident left Sunisa Lee's dad paralyzed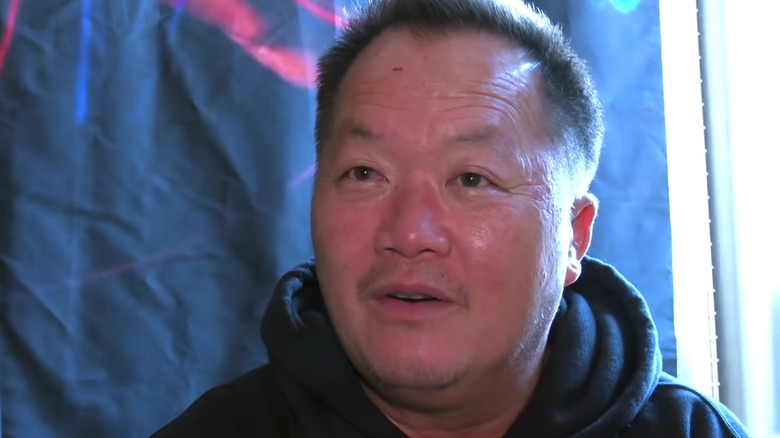 Sunisa Lee's dad, John Lee, suffered a horrific accident in August 2019 mere days before Suni's huge competition. John fell off a ladder while helping a friend trim a tree and his lower body became paralyzed (via ESPN). Suni was supposed to be heading to Kansas City for the U.S. championships and, understandably, almost didn't go after the serious accident. But it was John who urged his daughter to leave his bedside and compete.
"[Sunisa] and her coach came over and I woke up and said, 'You worked so hard for it, just go,'" John recalled while speaking to CBS Minnesota in July 2021. Sunisa ending up not just competing but actually finishing in second place, behind none other than Simone Biles. "I was thinking of my dad the whole time, and to do it for him because I knew that he would be so proud," Suni explained afterwards (per NBC Sports). Making it even more amazing is the fact it wasn't just John who was injured. Sunisa herself had a hairline fracture to her tibia that was only partially healed, but she fought through to do her best for her dad.
As for how John's doing today, he's confined to a wheelchair but told ESPN in July 2021 he hopes to walk again. "Hopefully in the future, if I have upper-body strength, with the use of an exoskeleton, I can do a little walking. That's my goal," he said.
It wasn't just Sunisa Lee's athletic talents that caused a stir at the 2021 Olympics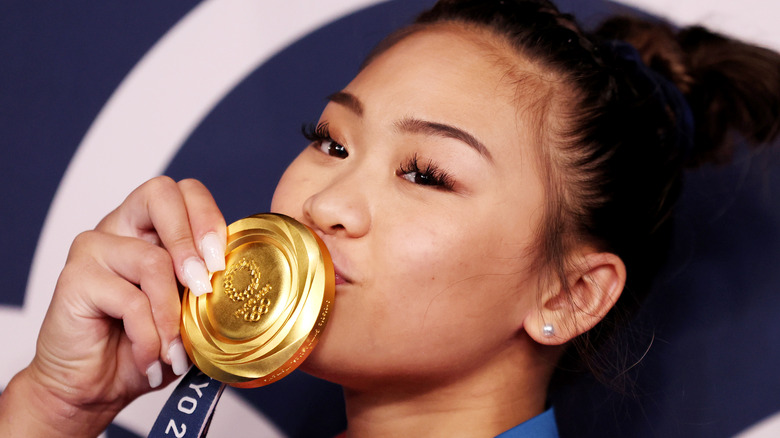 While pretty much the whole world was dazzled by Sunisa Lee's stunning display of athleticism in the 2021 Tokyo Olympics, it actually wasn't just her gymnastics efforts that had fans talking. Fans were just as amazed by her uber-glam appearance as she took on multiple spins, twirls, and flips wearing full makeup, false eyelashes, and even long, manicured nails.
Per Daily Mail, Twitter was flooded with comments praising the star for still being herself while competing and managing to pull off such tough moves without even breaking a nail (or, seemingly, a sweat!). "I can't even type with acrylic nails on and Suni Lee be out here winning gold, silver, and bronze in various gymnastics events with acrylic nails what an absolute queen," one person tweeted.
As for why she likes to keep things glam, Lee revealed to NBC that she considered her long nails "good luck," also explaining, "Whenever I miss the bar, it hurts really bad, so it makes me catch the bar. That's why I get them."
As for her penchant for full makeup? Well, she told Bleacher Report in 2020 that it's part of her pre-gymnastics ritual. Suni Lee does her own hair and makeup before every meet, before having what the outlet described as a solo "adrenaline-boosting dance party," which is all part of her superstitious pre-show routine. 
Superstition plays a big part in Sunisa Lee's mindset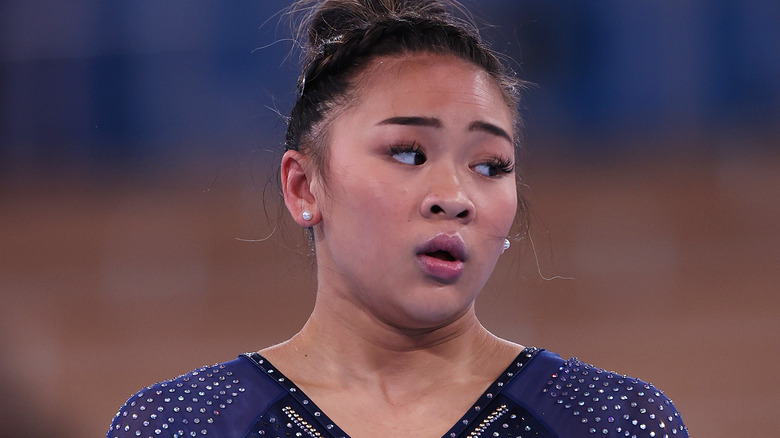 Sorry, Stevie Wonder, but for Sunisa Lee, superstition IS the way. The gymnast has been open about the fact that superstition plays a big part in her game plan, even telling Bleacher Report in June 2020 that she has a drawer in her bedroom full of leotards she considers to be bad luck. The "unlucky" ones are one-pieces she wore during a "bad practice or a competition where she fell," and she probably won't ever wear them again. As for the other leotards, they have the honor of being hung up in her wardrobe alongside the "lucky" one from Simone Biles' line, a piece which must be considered super lucky.
"I'm very superstitious," Lee admitted during the in-depth interview with Bleacher Report, recalling how she believed she didn't do as well as she'd hoped during the 2019 World Artistic Gymnastics Championships because her lucky pink water bottle had broken. "I'm convinced that I fell on bars at worlds because my pink spray bottle is my lucky spray bottle and it broke the day before, so…" she joked, teasing that "it just wasn't the same" without it.
Sunisa Lee is a big Harry Potter fan and also loves Finding Nemo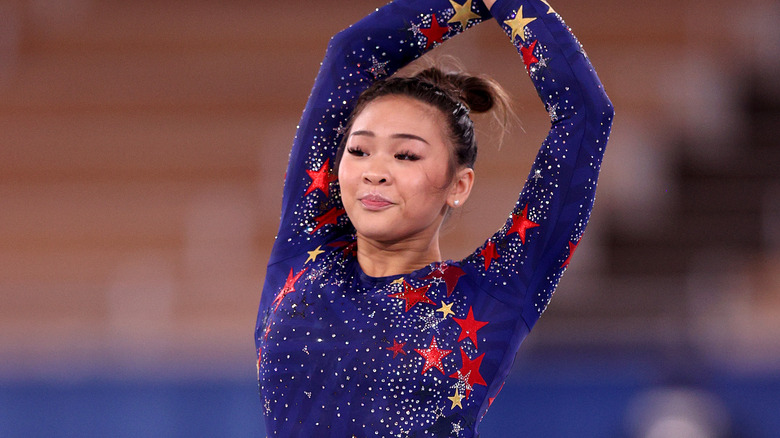 It turns out that Suni Lee is a big Harry Potter fan. The star revealed that she loves J.K. Rowling's iconic magical world involving the world-famous British wizard in her USA Gymnastics bio, where she shared that the novels are her favorite books. It sounds like she may not be quite as a big fan of the Daniel Radcliffe-led movies, though. When it comes to her favorite films, those honors went to the 2003 Disney/Pixar animation "Finding Nemo" as well as a 2011 Jennifer Aniston and Adam Sandler romcom, "Just Go With It."
As for the other little tidbits Lee revealed in her official bio? Well, we also know that her favorite TV show is the now-canceled spinoff/reboot of the 1990s sitcom "Full House," "Fuller House," while her go-to music genre is pop. Lee shared that her favorite food is pasta, and it sounds like the gymnast is also a total outdoor girl at heart as she's shared that her favorite hobbies and activities are camping and fishing (after gymnastics, presumably). Who knew!?
Source: Read Full Article