Our gal Blake Lively is undoubtedly a goddess, but she has also proven time and time again that she is naaaaaht afraid to show behind the veil of hair, makeup, and general glam.
Remember that time her daughter gave her a kid's Barbie makeover and she literally shared it with her casual 29.2 million followers? Or the time she shared insights into her unplucked eyebrows and matted hair to destigmatize lockdown glow-downs? Oh, and the time she shared a snap of herself with a bowl cut and stage makeup designed to make her look exhausted, and everyone thought it was a makeup-free selfie?
…And let's not forget the time she enlisted her husband Ryan Reynolds to bleach her roots, sharing a video of the situation captioned: "That time I f*d my hairdresser." Ryan responded to that bit of low-key trolling (at this part an essential element of their relationship) with his own commentary, adding:
"Nothing more terrifying than that request. I felt like, let's just shave the thing. She was coaching me every second of the way, which is just a nice way of saying she was yelling at me…"

Anyway, back to the topic at hand: Blake just dropped a pic to her Instagram Stories, documenting herself rescuing a turtle baby, (I know, adorable) and in it she looks suuuuper fresh-faced without a filter in sight.
Though Blake still looks like a goddess, it's so nice to see her natural skin texture, free-spirited smile, and authentic glow, no?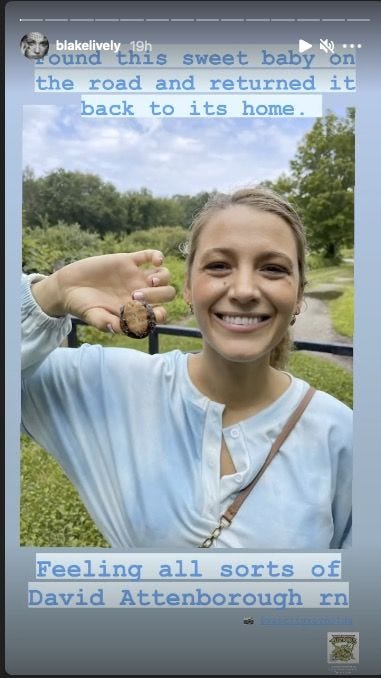 Blake, if you wouldn't mind dropping that skincare regime? We'd be much obliged…
Source: Read Full Article