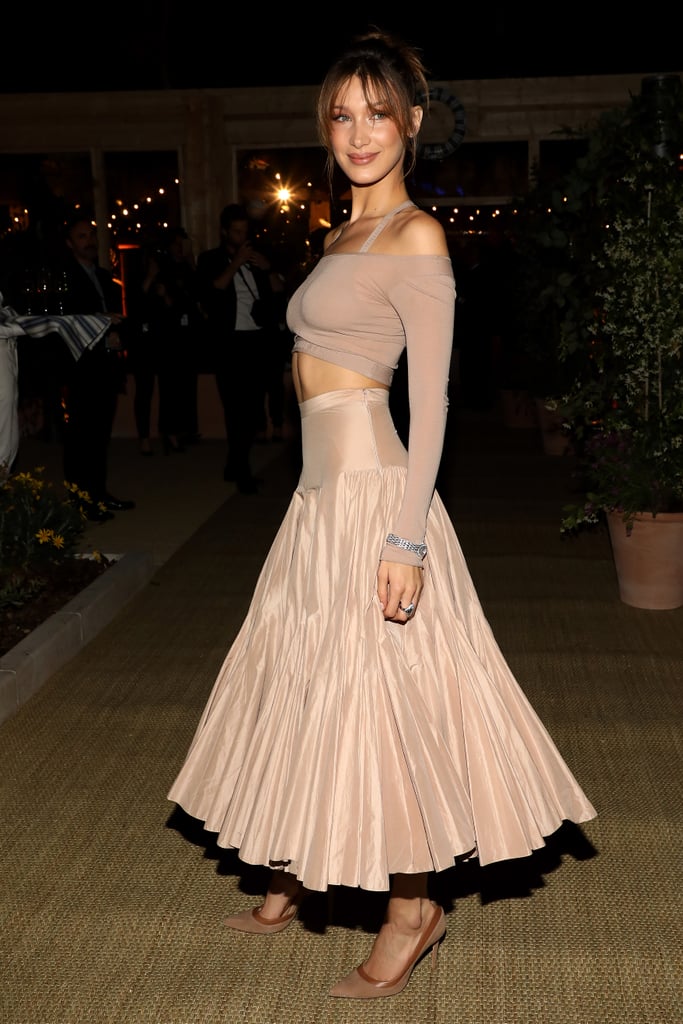 Bella the Ballerina? The Model Practically Danced Through Cannes in This Gorgeous Dior Outfit

Bella Hadid could wear a brown paper bag and look hot, so when she showed up to a dinner at Cannes in an all-beige outfit, I was not at all surprised by how stunning she looked. Obviously this Dior ensemble — straight from the Spring 2019 runway — is much fancier than a paper bag, but the point is, she managed to make a monotone outfit anything but boring.
Her flowing A-line skirt and stretchy, sheer, long-sleeved crop top with straps looked like something out of a ballet rehearsal. Instead of opting for silk ballet slippers for the Dior and Vogue Paris dinner at Fred L'Ecailler, Bella wore two-toned beige stilettos to tie together the muted look, and she oozed radiance.
While at first glance the top and skirt seem entirely plain, if you look closely, you'll see "Christian Dior" printed on the straps and the band of the top. I'd volunteer to wear this whole outfit (handbag included) if I were invited to a Dior party, too. See photos of Bella's angelic look ahead, and catch up on some of the best fashion at the Cannes Film Festival this year.
Source: Read Full Article