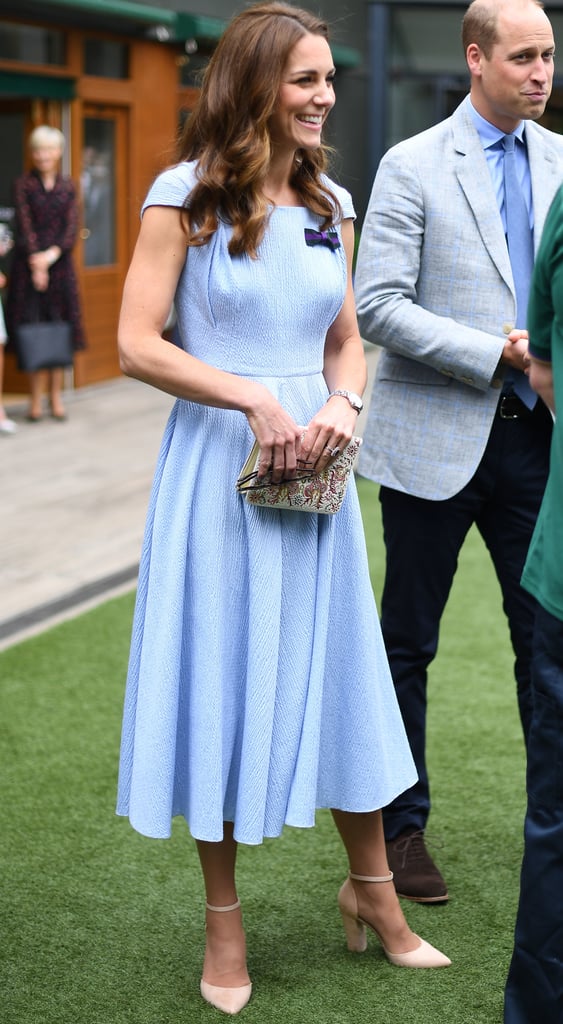 Kate Middleton's $80 Aldo Shoes Just Won Wimbledon, Everyone Can Go Home Now

Kate Middleton joined Prince William for the men's Wimbledon final between Roger Federer and Novak Djokovic, and Kate was dressed in a gorgeous Emilia Wickstead number that reminded us of a classier, more elegant version of Disney princess Belle's blue dress. If that doesn't excite you, perhaps her intricately beaded paisley print clutch will. Oh, or the affordable $80 Aldo Nicholes heels she wore in bone, which are still available to shop.
When Kate sat down, we noticed she accessorized with her go-to Ray-Bans, but she also added her In2Design pearl drop earrings, her engagement ring, and a silver watch, making for a fancy finale outfit, if we do say so ourselves. Prince William certainly got the color palette memo — he coordinated his own blues with a gray checked jacket to complement the duchess's dress.
Kate finished her ensemble with her official Wimbledon badge, which she matched to her Dolce & Gabbana button front midi one day before. The Duchess of Cambridge was also presented with tiny green and white Adidas Stan Smiths — which you can catch a glimpse of in some photos ahead — obviously part of a gift she'll bring home to her children. If that's not sweet enough for you, purchasing Kate's shoes after the jump should make you a very happy camper.
Source: Read Full Article