Gwen Stefani and Blake Shelton have quickly become the most talked about couple in Hollywood. This unlikely couple met on the set of The Voice and were brought together through hardships. They were each going through messy, painful divorces at the time that they met one another and ended up offering support to one another during their challenging moments. It was immediately obvious that there was a connection between them, and their romance quickly took form. News of their engagement took the world by storm and fans are eagerly awaiting an announcement about the date of their upcoming nuptials. This power couple has seen success in their own individual careers, but combined, they're worth a jaw-dropping $250 million.
Country Music Video reports that Shelton and Stefani tend to live a bit more low key than most other celebrities do, and Stefani and her children have spent much of their time at Shelton's Oklahoma ranch. Even while living the simple life, they live luxuriously, and have some interesting spending habits you'll want to learn more about…
6

The Engagement Ring

A post shared by Gwen Stefani (@gwenstefani)

The most talked about expense that is shared between Gwen Stefani and Blake Shelton is definitely her stunning engagement ring. Blake Shelton is head over heels in love with Gwen Stefani, and he spared no expense when it came to purchasing this very special ring. He proposed with a custom designed 6 prong, 6 carat solitaire which appears to be on either a platinum or a white gold band. While no official dollar value has been official released to indicate the appraisal amount of the ring, Talent Recap suggests that experts estimate Blake spent somewhere between $500,000- $800,000 to officially make Gwen his fiancee.

RELATED: Blake Shelton's Ex Was Obsessed With Gwen Stefani
5

Property

A post shared by Blake Shelton (@blakeshelton)

Gwen and Blake had their own respective multi-million dollar mansions when they first met. Since becoming a couple, they've acquired an impressive real estate portfolio. They spend quite a bit of time in enjoying the serenity of Blake's Oklahoma ranch, but as a gift for his beautiful fiancee, Shelton also purchased an LA mansion for Gwen. It sits on 11,500 square feet and has plenty of room for Gwen, her children, and Blake to co-exist harmoniously, and with all the luxuries of life surrounding them.

This incredibly lavish residence is worth just over $13 million and comes equipped with a cabana, a spa and a 4 car garage. There is also a theatre in this massive estate, making it virtually useless to ever have to leave.
4

Jewelry

A post shared by Gwen Stefani (@gwenstefani)

Blake is all about spoiling his lady,  and he tends to gravitate towards very expensive jewelry to show Gwen Stefani how much he admires her. He purchased an absolutely stunning diamond Cartier necklace for her that is valued at $60,000 to demonstrate his love, and he has gifted plenty of other jewelry pieces along the way as well.

Forever in puppy love, Shelton took the cute-route when shopping for Gwen, and had a diamond necklace made in the shape of the #5 This was meant to represent the 5 years they had spent dating one another.
3

Cars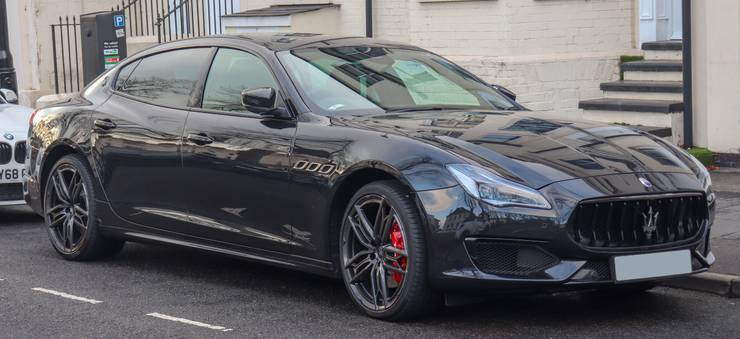 When it comes to their cars, Blake Shelton stays true to his country routes and humbly drives a  Nissan Titan. Gwen Stefani, on the other hand, tends to spend more lavishly on her vehicles, suggesting she knows a thing or two about cars, or simply loves driving in a powerful luxury vehicle. She has a Porsche Panamera, Maserati Quattroporte, a Range Rover, and a G Wagon in her car collection.
2

A Horse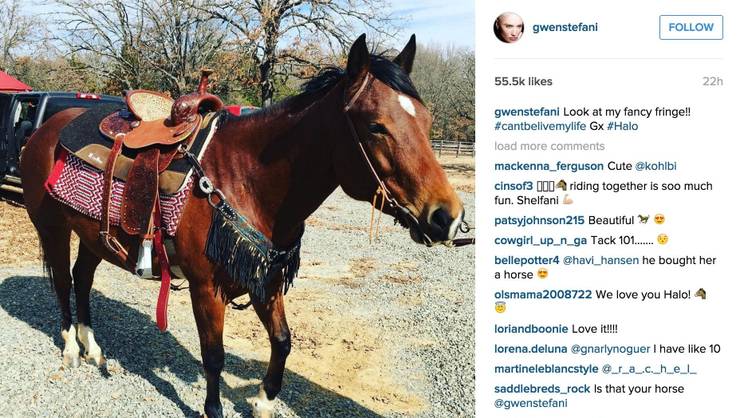 With an endless supply of cash on hand, and eager to win the heart of the lady he loved, an eager Blake Shelton gave Gwen a very expensive and incredibly unique gift when they first started dating. He gave her a real-life, very expensive horse! Of course, he bought one for himself as well, and the two enjoy going horseback riding together.
Shelton's Oklahoma ranch boasts the perfect space for their horses, and Gwen seems to have fit right in to the serene, country living lifestyle.
1

Spoiling One Another

A post shared by Gwen Stefani (@gwenstefani)

This adorable couple takes pride in spoiling one another at every opportunity. Recently, Gwen Stefani took full advantage of her ability to spoil her man on his birthday, and spent $50,000 on gifts alone. That didn't include any of the other elements that were part of his special celebration, that was gifts, alone!

Stefani dropped $30,000 on a vintage watch and her children bought him 2 top of the line bikes worth $10,000 each. Apollo, Kingston and Zuma love their time with Shelton, and were eager to pitch in.

READ NEXT: 10 Highest Paid Country Musicians To Date

Sources: Country Music Video, Talent Recap, Celebrity Insider

Source: Read Full Article