Brad Pitt is newly (officially) single, which means some people aren't shying away from asking about his future relationships—or past ones.
A paparazzi recently shot a video of the Once Upon a Time in Hollywood star walking towards his Tesla SUV in his Los Angeles neighborhood. Pitt kept it casual in his signature newsboy cap, black pants and a white long-sleeve shirt that he wore under a gray shirt. Pitt sort of acknowledged the paparazzi, who spoke over the loud clicks of another person taking photos.
The man taking the video asked Pitt about his upcoming Quentin Tarantino movie and then said, "There's one thing I gotta ask. Everyone wants to know. Are you and Jen getting back together?"
Pitt chuckled and merely replied, "Oh my God." He then opened his the doors to his sleek Tesla and drove off.
It may be sad news to those who ship Brad Pitt and Jennifer Anistonbut on the bright side the exes don't have bad blood brewing between them.
Pitt and Aniston got married in August 2000 in Malibu and the ceremony reportedly had 200 attendees and cost about $1 million. They split five years later.
She talked a bit about the divorce a few months later and told Vanity Fair, "I love Brad; I really love him. I will love him for the rest of my life. We spent seven very intense years together…a beautiful, complicated relationship…I really do hope that someday we can be friends again."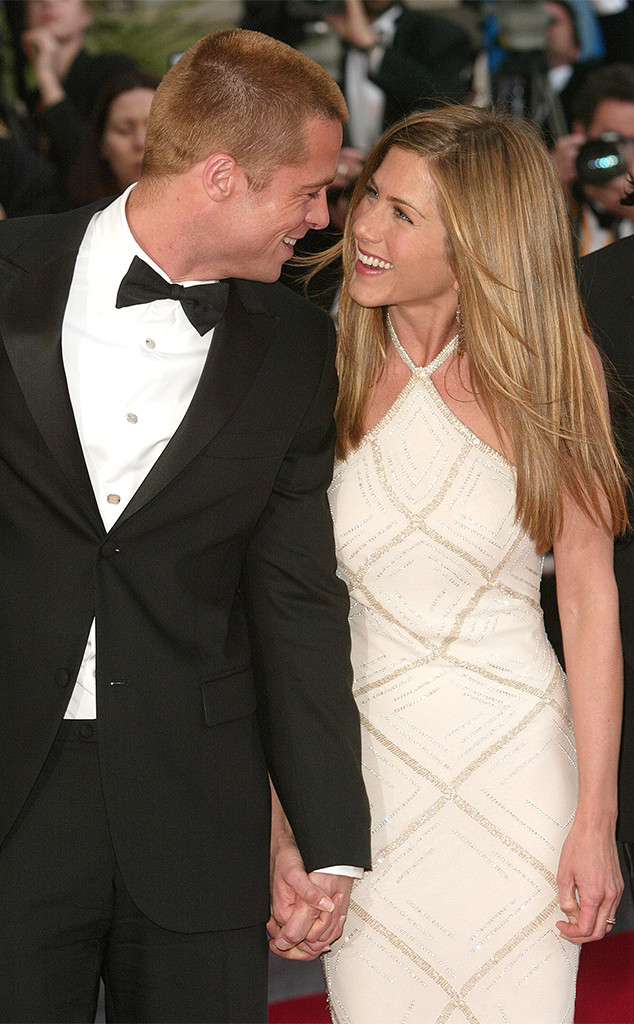 Evan Agostini/Getty Images
Aniston told Vogue in 2008 that they have been "unbelievably warm and respectful of each other."
The years have been relatively kind to Pitt and Aniston's relationship. The Moneyball star attended Aniston's star-studded 50th birthday party in February and joined the likes of Gwyneth Paltrow, Kate Hudson, Reese Witherspoon, Robert Downey Jr., Katy Perry, John Mayer and Orlando Bloomat the Sunset Tower for the big celebration.
A source explained to E! News at the time that Pitt accepted an invite to the birthday bash because he "wanted to support Jen and it was a momentous occasion."
Pitt and Aniston reportedly "talk or text once in a while" but it's nothing to write home about.
The insider asserted that his presence at her party was in solely a platonic sense. They shared, "That's the extent of it. It was a social evening with a lot of people who have been a part of her life. They definitely aren't dating or on that path. They are friendly, but that's it."
The source added, "If something comes up like a birthday or a big occasion they will reach out and congratulate the other. They show support or exchange funny stories if something comes up. They don't talk or see each other all the time. They aren't a big part of each other's lives currently, but they wish each other well and have fond memories about the good times they had together."
The duo has had their fair share of ups and downs when it comes to their respective relationships. Not long after their divorce, Pitt became an item with Angelina Jolie and they tied the knot in 2014 in a secret ceremony in France. Jolie filed for divorce in 2016. The parents of six have not yet finalized their divorce but they did reach a temporary custody agreement at the end of November.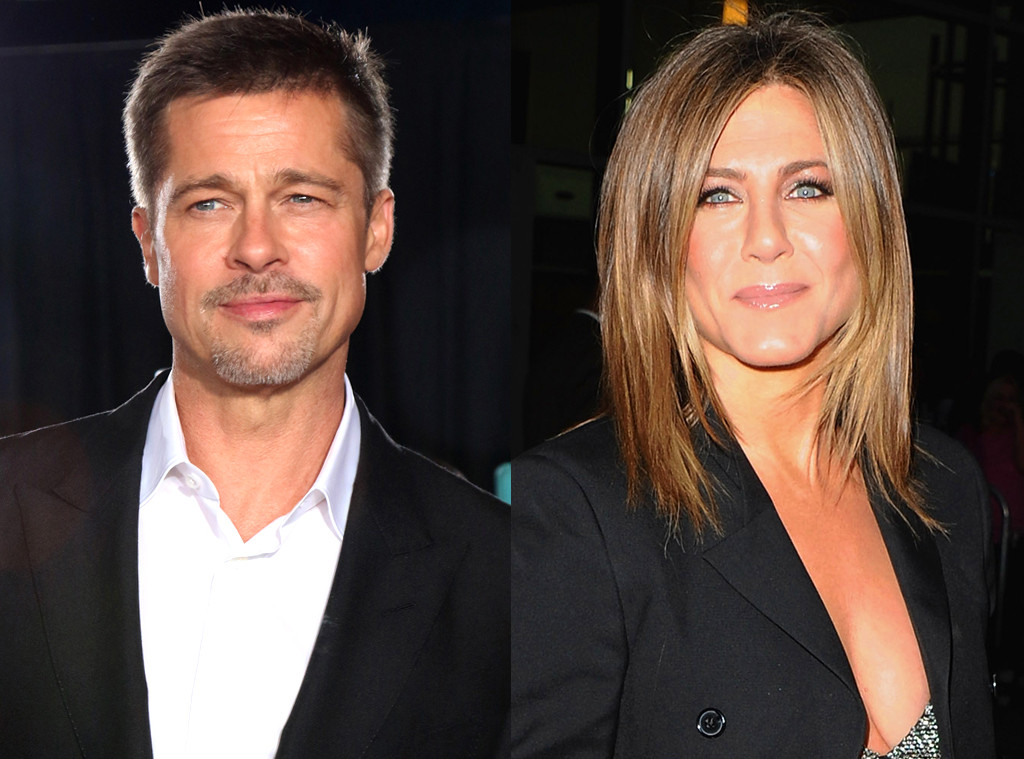 Kathy Hutchins/Newscom via ZUMA Press; Jon Kopaloff/FilmMagic
The Friends star moved on from her marriage to Pitt with a few other celebrities, including Vince Vaughn and John MayerShe began dating Justin Theroux and the two of them got married in 2015 in a secret wedding (a recurring theme). They split up, however, less than three years later in February 2018.
Aniston recently opened up to Harper's Bazaar about her career, finding love and why she refuses to give up on the search.
"Am I on OkCupid? No. I have zero time, to be honest," she candidly told Tig Notaro, who interviewed the star. "My focus has been on the show, so dating has not been one of my first priorities. I feel like whatever [romance] looks like, it will present itself, and it's not about seeking it out, you know?"
The 50-year-old explained that if love were to find her, it would be "welcomed" and she wouldn't slam the door in its face. "I would say I don't find any of my past has given me a reason to harden up and create a shell or a wall of 'No more, that's it, I'm closed,'" she said.
Potential suitors: listen up. There are a few qualities Aniston really prioritizes.
"A sense of humor. Strong sense of self-worth, confidence, kindness, generosity," she told Notaro.
Another reason why Aniston hasn't given up on love after two marriages is because she doesn't believe in the idea of one soulmate.
She revealed, "I don't think there's one and one only. I think we have soul clusters."
Don't miss E! News every weeknight at 7, only on E!
Source: Read Full Article