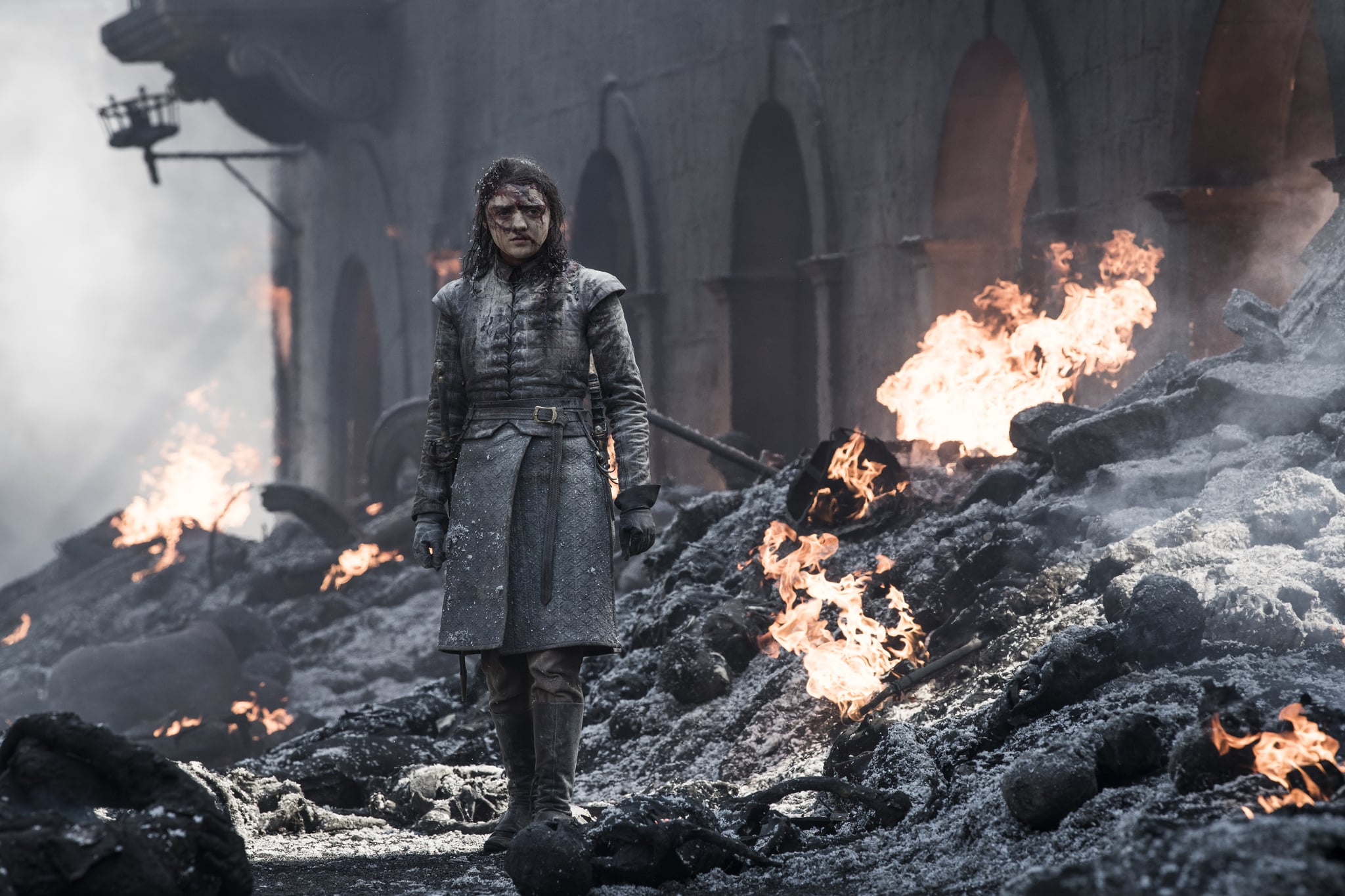 Warning: major spoilers ahead for Game of Thrones!
Of the many unpredictable, borderline absurd moments in the penultimate episode of Game of Thrones, Arya encountering a traumatized white horse and riding away into the ashy figurative sunset is perhaps the biggest head-scratcher. Where did this lone horse come from? Is it the only other living creature within the walls of King's Landing? Did the horse belong to the not-so-dearly departed leader of the Golden Company, Harry Strickland? Has Bran Stark warged into the horse to save Arya from the rubble? And most importantly, what does the horse — and Arya's relationship to it — mean for the series finale?
There are plenty of ideas about what the horse symbolizes, but one theory with Biblical origins stands out: the Four Horsemen of the Apocalypse.
The Book of Revelation introduces the concept of the Four Horsemen, each on his own horse, and each representing something different. Game of Thrones theorists have narrowed in on one horseman in particular, Death, who rides a pale horse. The section varies based on interpretation, but here is the passage from the English Standard version:
"And I looked, and behold, a pale horse! And its rider's name was Death, and Hades followed him. And they were given authority over a fourth of the earth, to kill with sword and with famine and with pestilence and by wild beasts of the earth."
Open-and-shut case, right? Arya rides a pale horse and thus, she must be Death. She's spent her entire time on Game of Thrones transforming from a child to a hardcore killer. It only makes sense that she's going to kill Mad Queen Daenerys and put this whole war behind Westeros, once and for all.
Except . . . she's not just riding a pale horse. She's riding a white horse. And within the Book of Revelation, the white horse has an entirely different meaning. Here's the English Standard Version of the verse:
"Then I saw heaven opened, and behold, a white horse! The one sitting on it is called Faithful and True, and in righteousness he judges and makes war. His eyes are like a flame of fire, and on his head are many diadems, and he has a name written that no one knows but himself. He is clothed in a robe dipped in[a] blood, and the name by which he is called is The Word of God. And the armies of heaven, arrayed in fine linen, white and pure, were following him on white horses. From his mouth comes a sharp sword with which to strike down the nations, and he will rule[b] them with a rod of iron. He will tread the winepress of the fury of the wrath of God the Almighty. On his robe and on his thigh he has a name written, King of kings and Lord of lords."
The parallels between this passage and the context of the episode are a lot stronger than the Pale Horse Theory. Arya may have symbolized Death throughout the series, but she has a major turning point when The Hound talks her out of killing Cersei. Not only does he save her life, but he also potentially saves her soul in that moment. She is "faithful and true," proving herself to be a kind and just person by trying to save the lives of women and children while the city crumbles.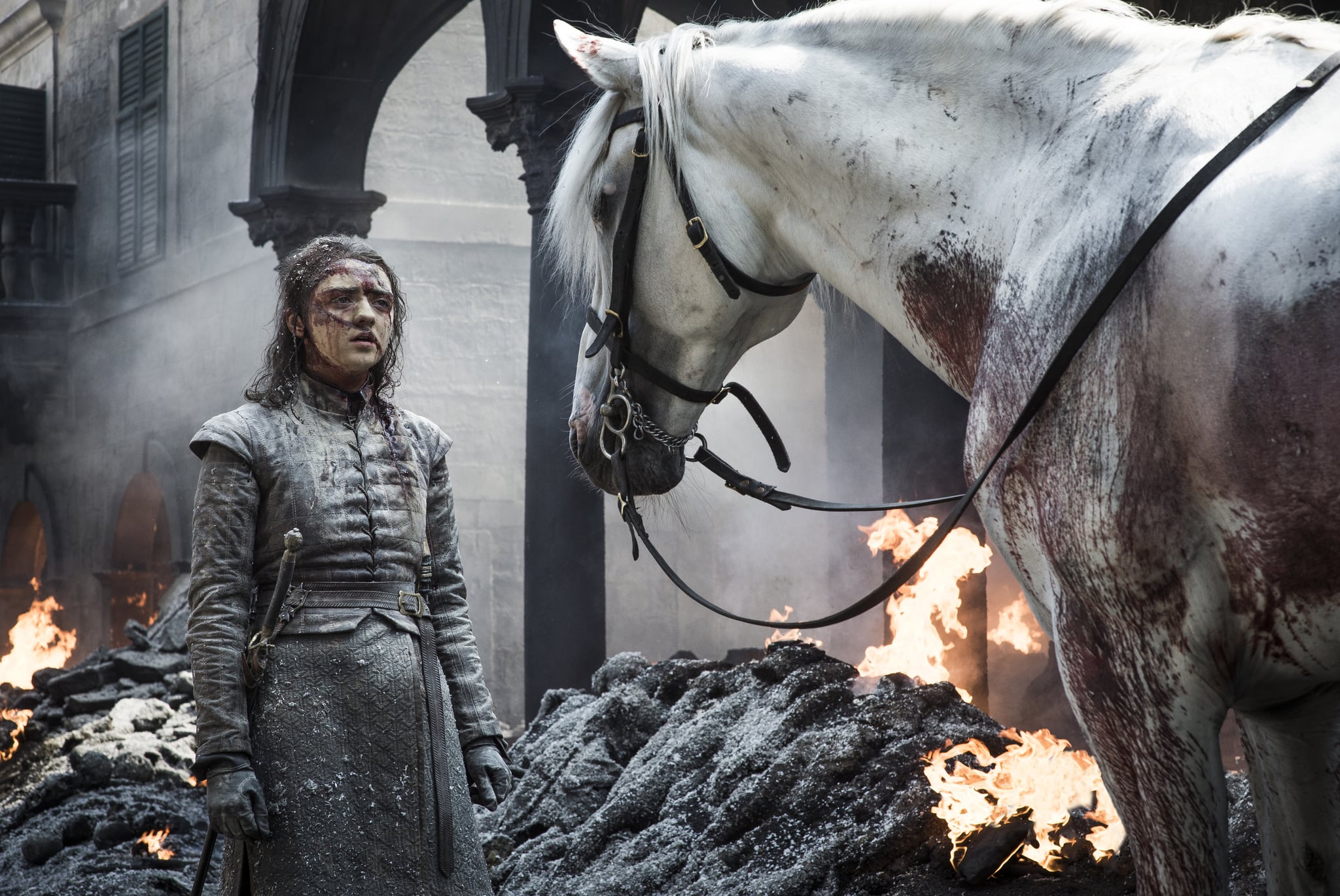 Arya may not have a literal crown (aka diadem), but the phrase "his eyes are like a flame of fire" mirrors the fact that flames are all around her, reflected in her own eyes. "He is clothed in a robe dipped in blood"? Come on, y'all — both Arya and that white horse are SPLATTERED in blood.
Arya is no longer Death; she is a Christ-like figure. After seasons and seasons of killing people, her new role on the show is one of peace, not violence. With one episode left, she isn't meant to murder Daenerys . . . though someone else might.
Source: Read Full Article