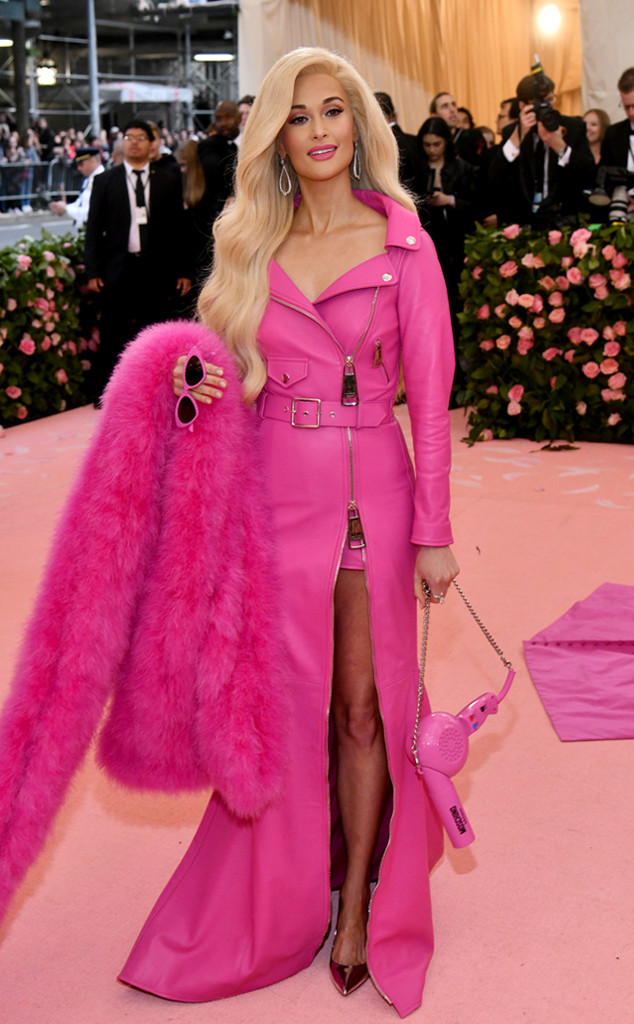 Charles Sykes/Invision/AP
She may not be "pageant material," but the 2019 Met Gala has Kacey Musgraves' name written all over it.
This year's theme is "Camp: Notes on Fashion," and who better to attend than the 30-year-old country singer, who is the queen of blending kitschiness with glamour. Making her way to the fabulous pink carpet at the Metropolitan Museum of Art in New York City, the "Velvet Elvis" songstress lit up the room with her dazzling hot pink leather gown by Moschino that served us Barbie realness!
"come on @Barbie let's go party," she tweeted before walking the event, alongside a photo of the iconic doll wearing her exact get-up.
Following through with the theme even more, her accessories also made a major statement, as she tied her outfit together with a hairdryer handbag (!!!), silver platinum shoes, pink sunnies and a fuschia feather boa. From her eccentric ensemble to her audacious hair and makeup (she went blonde, y'all!), it's safe to say no detail went unnoticed.
Luckily, Musgraves' stylist, Giovanni Delgado, shared exclusive behind-the-scenes details on her larger-than-life hairdo, and how this Barbie-inspired vision came to life.
"Jeremy [Scott] had the vision, and I was inspired by my sister's Barbies from the '90s: the hyper glamorous ones," he told E! News exclusively of Musgraves' look, adding, "She texted me the sketch and my soul left my body! Who wouldn't wanna be Barbie for a day?"
He said they talked about her look "weeks before" the Met Gala. "I love that it's always so collaborative with her, she always has amazing ideas."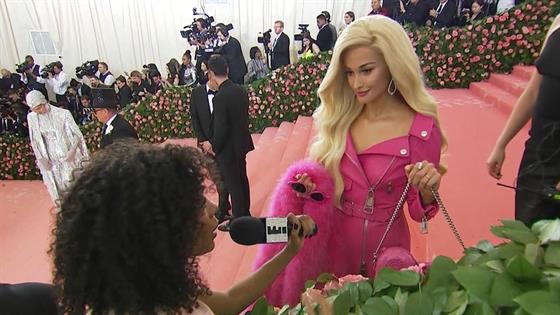 Unlike some celebs, Delgado said Kacey is always "down to try" new looks.
"She's the best person to dream up ideas with and is so down for whatever," he explained. "She's the most perfect canvas."
Of her actual hair and that gorgeous blonde wig, the celebrity stylist said he was "prepping for days!" "I had to custom make that wig for her and that took a while, from customizing the hairline to getting that perfect barbie golden blonde."
Thankfully, us normals can recreate her already iconic hairdo, even if you don't own a long blonde wig. "Styling a wig is just like styling your own hair," Giovanni explained. "I had to choose products and tools that would really take care of the hair." Hot tip: he used T3 hot tools to get the job done.
"Using my trusty T3 Cura Luxe Hair Dryer, I round brushed the hair using a medium sized round brush. Once dry, I used a wand from the T3 Whirl Trio and set the wig. This iron really brings amazing shine out of the hair and creates the most perfect Barbie curls!"
He continued, "I then brushed out the style and sculpted the waves," and added, "I finally finished by setting it all with Davines This Is A Strong Hairspray for a red carpet hold."
So can fans expect to see Kacey rock more colorful wigs? Delgado thinks so!
"It's honestly so on brand for her and we're having a lot of fun with blonde," he told us. "Maybe we'll do it again…maybe in a pastel color?"
Among the sea of celebrities hitting up the Met Ball, it's clear that the "Slow Burn" star went above and beyond with her hair, makeup and ensemble. We stan a celeb who follows through with a theme!
Don't miss E! News Tuesday, May 7 at 7 p.m. for a full recap of fashion's biggest night!
Source: Read Full Article