Queen of reinvention Kim Kardashian just took things to the next level – to the point where we actually can't quite believe what we just witnessed.
In a video shared on TikTok with her 5.9m followers, the reality star partook in a viral challenge which saw her piling on heavy layers of makeup and lip synching to Blackpool grime artist Millie B's M to the B diss track.
While exaggeratedly chewing gum Kim first tied her hair in a messy topknot and then went in to give her brows a bulky boost, harking back to the dark pigment and squared-off inner corner look that dominated the early 2010s – essentially 'slug brows', for anyone in desperate need of a reminder.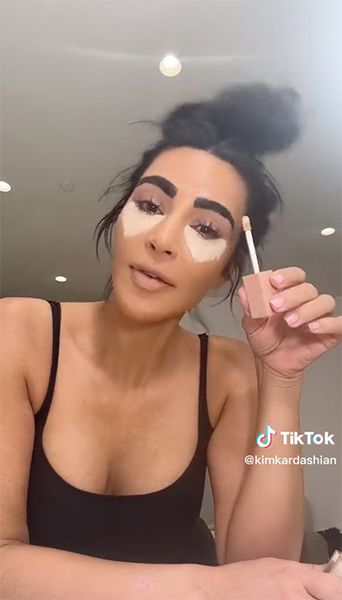 Kim gave herself an extreme TikTok makeover
She then applied a foundation several shades darker than her actual skin tone, expertly followed up with under eye concealer that was far too light.
The SKIMS founder then stepped back in time and baked her face with a makeup sponge and loose powder, finally topping off her look with an unadulterated 2010s teenage classic: concealer on the lips. A nice touch.
Predictably, the comments section did not disappoint. "I did not expect to open the app to this but it's iconic," one fan wrote. Another said: "Kylie is going to send a cease and desist for using Kylie cosmetics." Better still: "Kim did north force you?" asked a concerned third. We literally have so many questions. First and foremost, is Kim about to stage a Maybelline Dream Matte Mousse revival? Paging Love of Huns…
MORE: Kim Kardashian rocks the most unreal diamond jewels by Tiffany & Co. at the Baby2Baby Gala
In other Kim K news, the 42-year-old recently acquired a unique piece of jewellery favoured by Princess Diana. The entrepreneur bought the Attallah Cross at auction for a whopping £163,800 ($197,453). "The amethyst cross was competed for by four bidders in the last five minutes of Sotheby's Royal and Noble sale," Hello! Fashion's Natalie Salmon explains.
MORE: What Kim Kardashian's Milan Fashion Week wardrobe has taught us about vintage power dressing
"Ultimately, landing in the hands of a representative of the reality-star-turned-entrepreneur at more than double its pre-auction estimate."
Taking style tips from Princess Diana and Millie B? Looks like Kim's developing a sartorial penchant for all things British…
Source: Read Full Article