The video shows the skier fall into the hidden crack in the glacier and then be rapidly swallowed by the seemingly endless hole
Terrifying footage has been released by ski group Les Powtos of a skier falling into a crevasse.
The video, captured on an helmet camera, sees the clearly advanced skier slip into the deep crack and swiftly fall dozens of feet as he attempts to slow himself down by digging his hands and skis into the sides of the crevasse.
Thankfully, he does come to a stop, his skies wedged into the sides of the large opening.
Waiting for your permission to load the Instagram Media.
Instagram Media Unavailable
Later the same ski group shared a video in the comments section of their Facebook post of the dramatic rescue.
According to Les Powtos, the man used pick axes and crampons, which he had in his pack, to climb out — his friends also sent a rope down, which you can see in the Facebook video.
Waiting for your permission to load the Facebook Video.
Facebook Video Unavailable
The accident happened at La Grave glacier in France last year, but was only recently shared to social media.
The group of skiers were thankfully well-equipped for such an event.
The skier who fell into the depths of the glacier was visibly wearing a Monster Energy Drink branded helmet and sources tell us he is getting a large shipment of gear for his troubles from the company.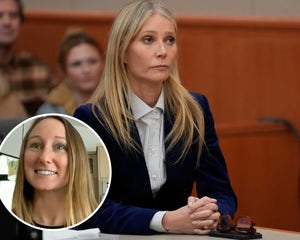 Juror in Gwyneth Paltrow Ski Crash Trial Speaks Out
Source: Read Full Article