As soon as word got out, the lines started to build, and within a few minutes they were already snaking around the block as thousands of rain-sodden festivalgoers tried to make it into surprise pop-up gigs across Byron Bay.
After receiving the devastating news that the first day of the first Splendour in the Grass since 2019 had been cancelled due to torrential rain, 50,000 revellers were desperate to party – wherever they could.
British indie sensations Wet Leg performed in front of 300 revellers at the Brunswick Picture House in Brunswick Heads.Credit:Osman Faruqi
Within hours of festival organisers officially confirming the main stages at the North Byron Parklands site would be closed, senior figures in Australia's ever-resilient music industry kicked into gear to make sure at least some kind of live performances would go ahead, booking events in pubs and venues across the Northern Rivers region.
Early rumours of a secret house party somewhere in Byron Bay DJ'd by Gorillaz, who were due to headline on Friday night, helped rebuild the spirits of festivalgoers left disappointed by the news that the first day of the festival had been cancelled. Though that party never eventuated, the actual shows that were put on – organised within a couple of hours – showcased the best of what Australian music has to offer.
The Brunswick Picture House, ordinarily a circus, cabaret and comedy venue in Brunswick Heads, opened its doors for punters to catch hastily arranged sets from locals Nice Biscuit, The Lazy Eyes and British indie sensations Wet Leg.
The latter were expected to draw big crowds at the festival on Friday before the event's cancellation, but when news of their pop-up show at the Picture House spread, hundreds flocked to Brunswick Heads.
Australian label I OH YOU organised one of the biggest sideshows at Byron's Beach Hotel.Credit:Liam Pethick
The small venue's capacity of just 300 made it first in, best dressed, but all the acts put on an energetic, upbeat show that helped revellers put aside the disappointing weather that had thrown their plans into chaos.
"The world's f—ed, but I'm watching Wet Leg play in front of 300 people!" one attendee remarked from the dance floor. Hundreds more gathered outside the venue after it reached capacity, sharing horror stories from the day's mud-filled catastrophes, dancing in the street and munching on lemon chicken from nearby Far East restaurant.
In Byron Bay, thousands of people quickly began lining up outside pubs and bars across town, looking for shelter, a beer and hopefully some live music.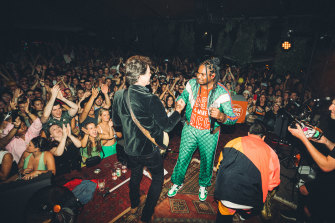 Baker Boy and Powderfinger frontman Bernard Fanning performing at Byron's Beach Hotel.Credit:Liam Pethick
The Beach Hotel was already the venue of choice, but when local label I OH YOU announced a pop-up show headlined by Rolling Blackouts Coastal Fever, Confidence Man and Baker Boy, patrons flocked to the pub as fast as they could.
All the acts were set to perform at Splendour on Friday, and their performance at the Beach Hotel was a generous and spirited consolation prize for everyone still reeling from news of the cancellation. Powderfinger frontman Bernard Fanning also made a surprise appearance, joining Baker Boy onstage to the delight of the crowd.
"It's not easy to pull shows like that together in a matter of hours, but when you have that many talented people, from the artists, to sound techs to venue managers, all moving in the same direction with no motivation other than to do something great … it's amazing what can be achieved," said Johann Ponniah, the founder of I OH YOU and organiser of the Beach Hotel sideshow.
"Last night just felt like another example of the strength that exists in the Australian music industry. There's a spirit that connects us, it's a special thing to be part of."
A cultural guide to going out and loving your city. Sign up to our Culture Fix newsletter here.
Most Viewed in Culture
From our partners
Source: Read Full Article