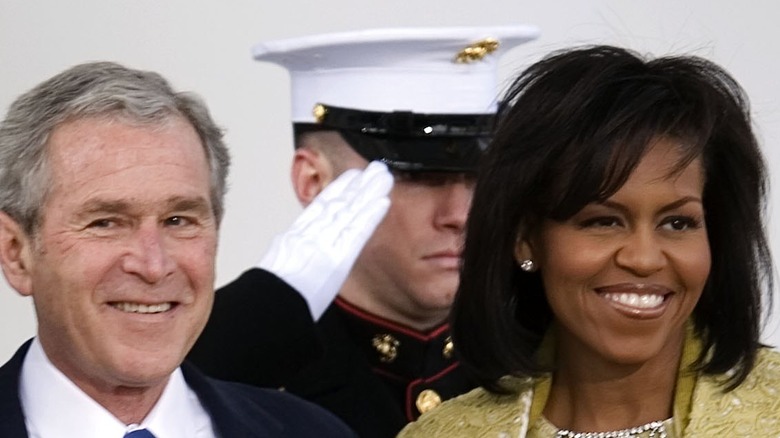 It was an unusual friendship that nobody expected, and it started the day George W. Bush left the White house and the new first lady, Michelle Obama, moved in. At Barack Obama's inauguration in 2009, Michelle, her mother, and her daughters were seated right behind the outgoing president, and photos taken that day show Michelle and former president Bush in an animated and happy conversation (via Business Insider). Since then, the media has been fascinated by the fact that two people on such opposite sides of the political spectrum can remain friends.
While some could say the friendship is based on the fact that they are assigned as seating partners at big national events, Michelle explained that their affection for one another goes beyond protocols. "He is my partner in crime at every major thing where all the formers gather," she told Today. "I love him to death. He's a wonderful man. He's a funny man."
One joyous photo of Michelle Obama and George W. Bush practically broke the internet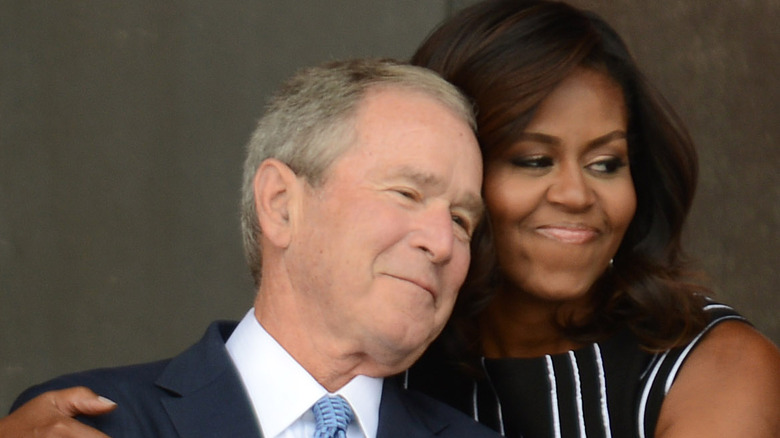 In 2016, just a few months before President Barack Obama left office, he and Michelle Obama attended the opening of the Smithsonian's National Museum of African American History and Culture. George W. Bush and wife, Laura Bush, were also in attendance. That's when the press snapped a photo outside the museum of Michelle giving the former president a sweet hug with him smiling brightly.
When asked about the public reaction to that photo, Bush seemed perplexed and told CBS News in early 2021 that he doesn't think it's healthy that Americans think people from two different political parties can't get along.
"We got in the car and I think Barbara or Jenna said, 'Hey, you're trending!' The American people were so surprised that Michelle Obama and I could be friends," he said. "I think it's a problem that Americans are so polarized in their thinking that they can't imagine a George W. Bush and a Michelle Obama being friends."
George W. Bush became known for sneaking Michelle Obama cough drops during events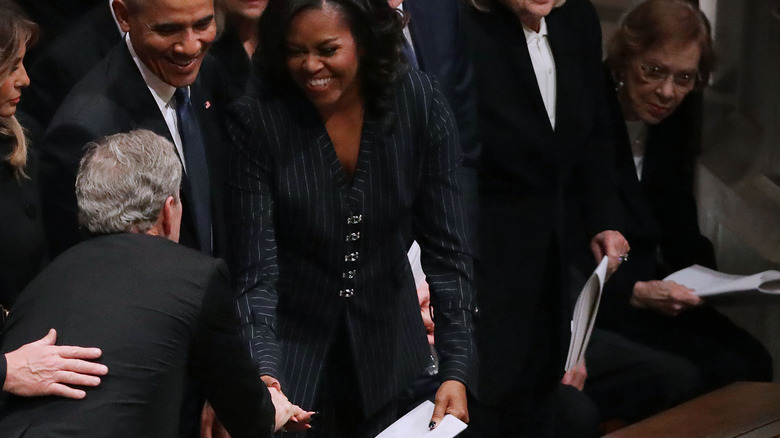 Other moments at major events help illustrate how friendly Michelle Obama and former President George W. Bush are. It was a somber time in 2018 when former presidents and first ladies attended the funeral of the late senator John McCain. During the long service, Laura Bush asked her husband for a cough drop, prompting Michelle to ask for one too.
"It was a simple gesture," she told Today of Bush giving his wife a cough drop. "I looked over and I said, 'Hand me a cough drop' … I will add, they were old cough drops," she explained as she recalled seeing a White House logo on the box. "I said, 'How long have you had these things?' He said, 'A long time; we've got a lot of these."
When Michelle mouthed a silent "thank you" to her husband's predecessor, the moment went viral.
Later that year at George H.W. Bush's funeral, the Obamas were again in attendance when the Bush family laid the 41st president to rest. While they were not seated together this time because the family had their own rows up front, W. Bush did pass a cough drop to Michelle as he passed her in the aisle leading to his seat (via Business Insider).
George W. Bush and Michelle Obama reunited for Joe Biden's inauguration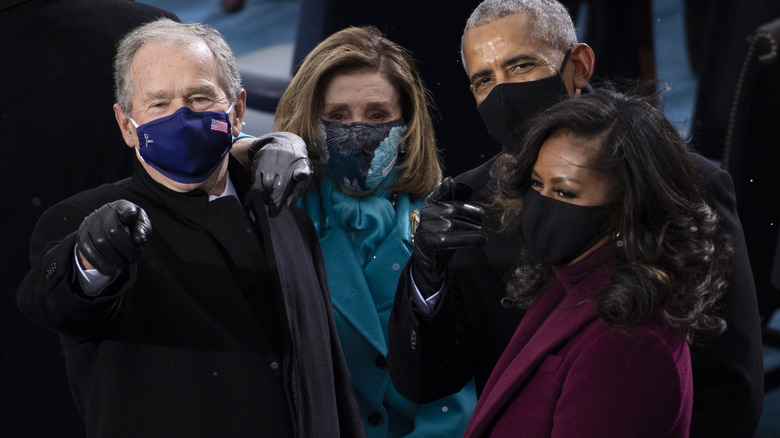 They may have been socially distanced and not sitting as close to one another as usual on January 20, 2021, when Joe Biden was sworn in as the 46th president, but that didn't mean George W. Bush and Michelle Obama didn't squeeze in a little time for catching up with one another, as well as some photos — with masks on, of course, as Business Insider noted.
Bush also never has anything but praise for Michelle. "She kind of likes my sense of humor. Anybody who likes my sense of humor, I immediately like," Bush told People. "I can't remember where else I've sat next to her, but I probably have a few wise cracks and she seemed to like it okay." The former president went on to say that due to the fact that the Obamas are often "around serious people," the lightheartedness of his relationship with Michelle was natural. We have to say, we love to see these two together. 
Source: Read Full Article