Netball Australia has expressed its disappointment at the AFL for scheduling the Swans-Giants final at the same time as the Super Netball grand final.
The Giants take on NSW rivals the Swifts in Saturday's netball decider, with the scheduling clash causing particular consternation given the close affiliations of the clubs involved.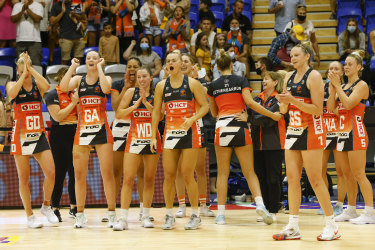 Frustration: Netball Australia fears the Swans Giants AFL final will lure eyeballs away from the Swifts-Giants netball decider.Credit:Getty
As well as the link between the Giants' netball and AFL teams, the Swans also have a close relationship with the Swifts, and there are fears eyeballs could be lured away from the Super Netball decider.
Netball Australia chief executive Kelly Ryan said the AFL's decision to put the Sydney derby on at the same time as the netball showpiece was "disappointing".
"I would love to have them aligned, so there was no clash," she said. "But we do appreciate what everyone's going through in the sport."
The AFL originally scheduled a bye week ahead of the first week of the finals, but got rid of the break as a result of COVID-19. Ryan said Netball Australia was not given a heads-up by the AFL and was only made aware of the clash after seeing it online.
"What our fans will need to demonstrate is how to operate two screens."
"Obviously it would have been better if we worked together," she said. "It would have also been fantastic from a sport in NSW perspective considering what NSW is going through."
Giants general manager Tim Underwood said he had hoped GWS fans would not be pulled away from the netball and hoped spectators would figure out how to work two screens before Saturday.
The Super Netball grand final broadcast is set to start at 2.30pm but will not actually begin until 3pm. The AFL clash is scheduled to kick off at 3.20pm.
"It's obviously disappointing. We would love it to be scheduled differently, but it's not easy for us to control," Underwood said.
"What we are going to demonstrate and what our fans will need to demonstrate is how to operate two screens. I would hope it doesn't actually impact our viewership as a total code."
Underwood said this week was originally considered perfect timing for the Super Netball grand final, given there was no AFL scheduled.
He said that despite the inconvenience, he understood the struggle of every sporting code to overcome COVID-19-related obstacles and get its season completed.
"It's probably disappointing [the AFL] didn't consider us, but I wouldn't think they would think of us. The reality is that all sport is just doing their best to get their competition away as best as they can. It's just unlucky."
Most Viewed in Sport
From our partners
Source: Read Full Article