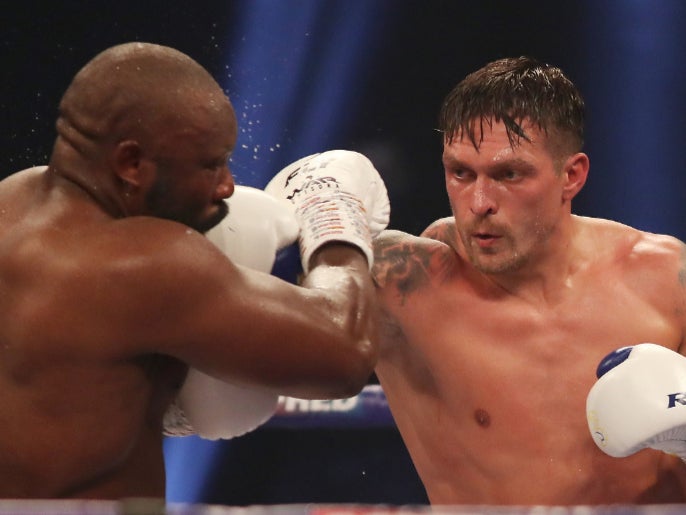 Oleksandr Usyk lands a punch on Dereck Chisora
Chisora did have a perfect start, the start he promised and the start that David Haye, now his manager but once his enemy and opponent, predicted. Haye was furious at the final verdict, genuinely outraged and that type of blinkered conviction can be contagious – it can also be dangerous. A second watch, in a darkened room with a camomile tea, will probably reveal the painful details of Del Boy's lost cause.
Usyk was caught and pushed back and shocked by Chisora's opening pace in rounds one and two. It was the ideal start, the way for Chisora to use his years in big, big heavyweight fights, and his three-stone weights advantage, to make an immediate impression on the Ukrainian, a man being grandly pushed as the future of the heavyweight division. Usyk stumbled, moved, ran, turned away, smiled and was relieved to hear the bell to end the first round; at that point, after one completed round, Chisora's chance had gone. It might sound harsh, but it is true because the element of surprise was removed from the fight. The speedy opening gambit was gone, Usyk knew then exactly what he had to do, he knew the threat level. Usyk might never be a great heavyweight, but he will always be a great thinker in the ring.
Once Usyk had his feet and hands working together, once he had measured the wild arcs of Chisora's looping shots, he slowly transformed the fight. It was not a beating, but it was not close, not even remotely. Chisora was made to miss, touched with punches, caught with counters and hit with enough power to leave his face swollen at the very end. In round seven he was badly hurt, which he denies, just before the bell sounded and he stumbled as his inexperienced corner team sat him down. It was a worrying moment, dismissed at the end.
Chisora stopped throwing body shots after round three, seldom led with a jab and simply tried to repeat the success of the first round. A brief reprieve in rounds ten and eleven only added to the discontent when the verdict was read – Chisora still lost the rounds, but he did better in rounds ten and eleven than he had done in rounds three through nine. It is a delusional way to score a fight, a system based on improvement and not control; Usyk had to concentrate and work hard, but he had control.
There is a big, bold argument that Usyk won ten of the twelve rounds and an even stronger argument that Del Boy, without the emotion of attachment, lost ten of the twelve rounds. Eddie Hearn, the promoter, sat with Haye and thought it was real tight, but he admitted that he would sit down in silence and watch it again. It is a sensible, emotion-free plan and he will see a different fight.
The scores were 117-112 and 115-113 twice in Usyk's favour. He is now a heavyweight after unifying all the belts at cruiserweight. Del Boy will go away, keep the momentum going for a rematch and then find another heavyweight mask for when he returns. He will be welcomed back and people will talk about the night he was robbed in his fight with Usyk.
Source: Read Full Article