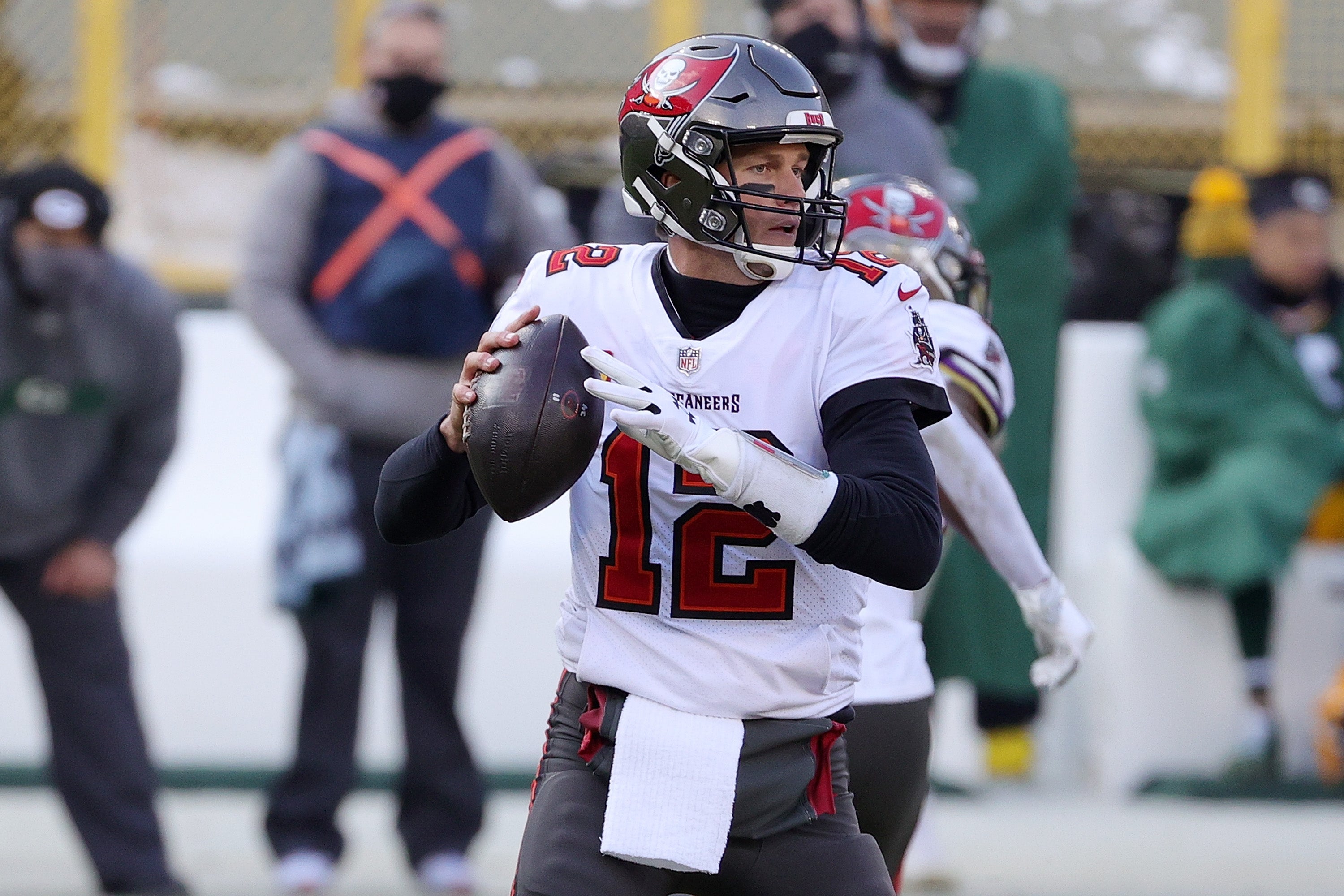 Tom Brady is going for a seventh Super Bowl title
Meticulous game planning by Chiefs defensive coordinator Steve Spagnolo, who held the same position for the Giants at Super Bowl XLII, can put a team in contention to knock Brady off, but it takes even more than that to put down the greatest to ever do it for good.
The Chiefs will require brilliance from their offense, which they have fortunately grown accustomed to in the shape of All Pro receiving duo Tyreek Hill and Travis Kelce. Both players are capable of executing jaw-dropping plays like Mario Manningham's unfathomable toe drag in double coverage while hauling in a 38-yard pass from Eli Manning on the sidelines in Indianapolis.
On top of that look for a healthy dose of luck, notably David Tyree's 'Helmet Catch' four years previously in Glendale, Arizona, while it always helps to come out on top following the beautiful chaos during a fumble, as demonstrated when New York scooped up the ball to save Hakeem Nicks and Ahmad Bradshaw's blushes in 2012.
READ MORE: Tom Brady praises 'endearing' Tampa Bay Buccaneers head coach Bruce Arians ahead of Super Bowl
In both Giants victories over Brady in the Super Bowl, the Patriots were restricted to 45 yards and 83 yards on the ground, but Umenyiora has rejected any emphasis on taking away Brady's rushing game.
"No, our only thinking was we have to take his head off, period," he replies. "Whatever scoring they wanted to do, that's on them. Our issue was we have to get to this quarterback and we have to eliminate this guy as quickly as possible.
"I think in the course of doing that, that was what enabled us to keep the scoring down."
Offensive lineman Tristan Wirfs, last year's first-round draft choice, has kept Brady clean in the pocket, conceding just one sack in 769 pass-block snaps throughout his entire rookie season to date, which makes for a compelling subplot against Chris Jones and co.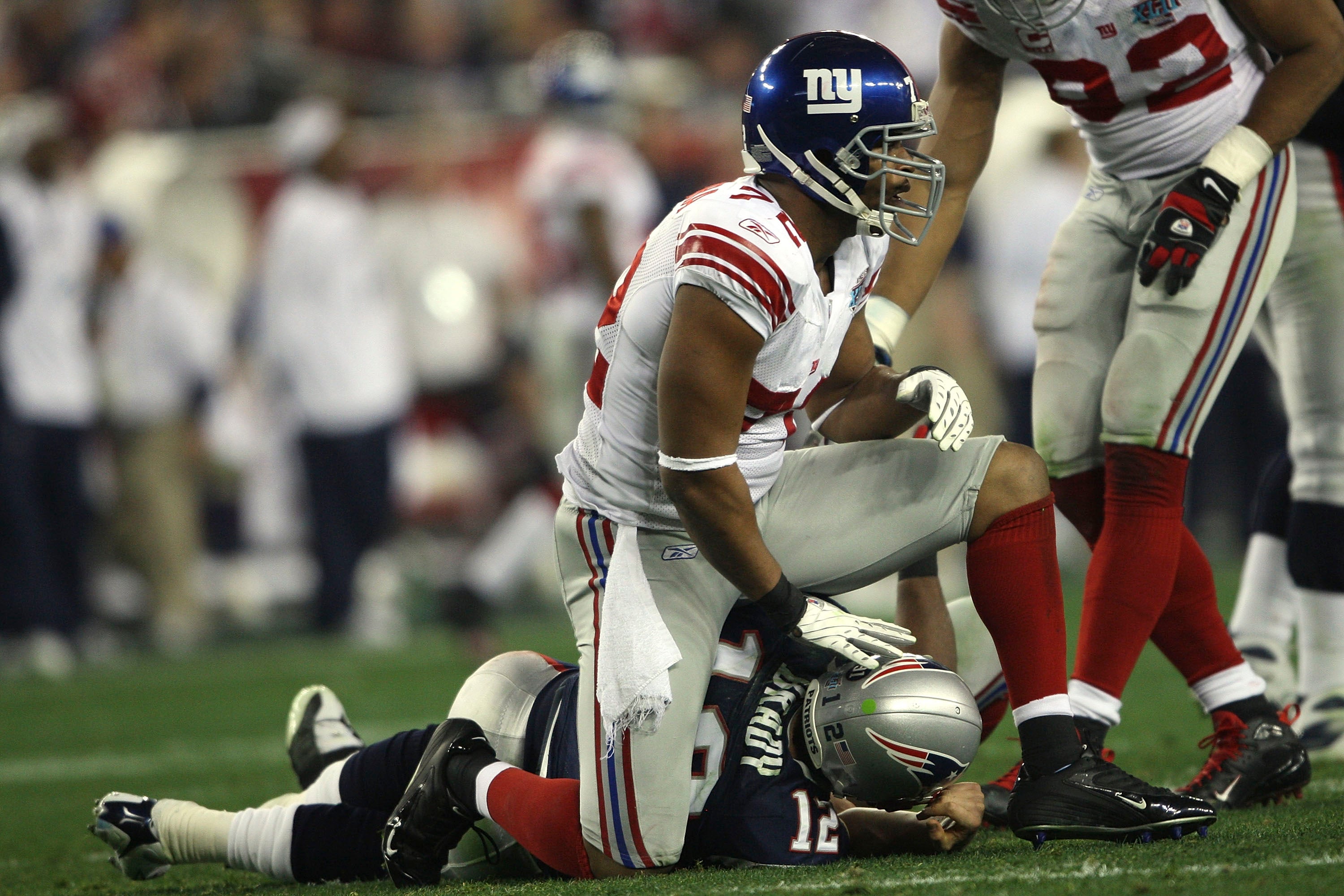 Osi Umenyiora sits on Tom Brady in 2008
Umenyiora, who spoke to Brady for the first time in his career on Monday, was able to showcase an array of moves to befuddle the Patriots' pass-blockers, including "the chop slide, the speed rush and timing the snap count", all of which were drilled thousands of times until he could execute them with his "eyes closed".
And despite the evolving nature of the NFL nine years on from his second Super Bowl triumph, Umenyiora maintains his defense would be "even more ferocious" if tasked with stopping the six-time Super Bowl champion this week.
"I think the approach would be the exact same," Umenyiora claims. "It's never really changed from the way we beat him, from the way I saw the Denver Broncos do it in 2015.
"It was all pressure, relentless pressure off the edges and up the middle and Philadelphia was able to do it, even though he played very well in that game. At the end of the game, you can see that defensive line start to really impose their will on the New England Patriots. I don't think anything will change."
Super Bowl LV is live on BBC One and BBC Radio 5 Live on Sunday, February 7, kick-off 11.30 pm GMT
Source: Read Full Article