Christina Haack seemed to have found her fairy tale after heartbreak when she fell madly in love with Ant Anstead a few months after splitting with her husband, Tarek El Moussa. The "Flip or Flop" stars' seven-year marriage ended in a pretty explosive fashion when they announced they were going their separate ways following a widely reported incident that allegedly saw Tarek leave the couple's home with a gun. (Christina allegedly thought he was suicidal, but Tarek later explained to Dr. Oz that he was going out to "scout trails.")
"Like many couples, we have had challenges in our marriage. We had an unfortunate misunderstanding about six months ago and the police were called to our house in an abundance of caution. There was no violence and no charges were filed," they told People in a joint statement in December 2016 while announcing their split.
But Christina appeared to find someone to confide in with Ant when she told People that he wasn't phased by everything that stemmed from her very public breakup with Tarek and saw herself marrying him. "We basically do the same thing, so he gets what my world is like, and he's just rolled with the punches and handled everything so well," she gushed in July 2018.
Christina and Ant did go on to get married in December 2018, but, sadly, their relationship just couldn't go the distance and ended in divorce. Read on for the signs the twosome's romance was doomed from the start.
Both Christina Haack and Ant Anstead were married to other people when they got together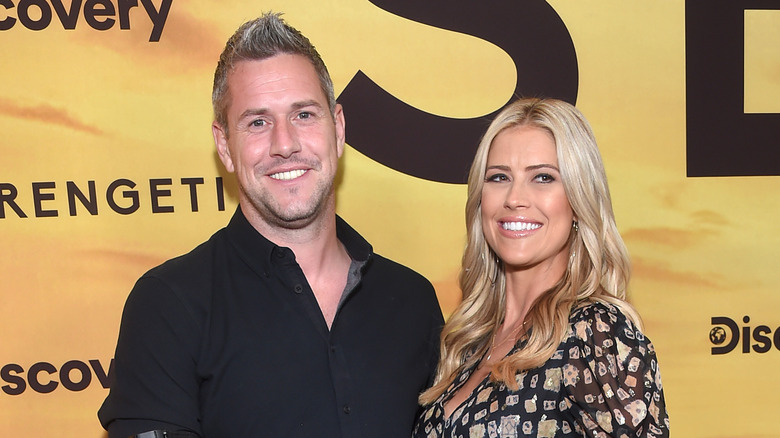 Though it's certainly not always the case, the first sign a relationship maybe isn't off to the best start is when both are technically still married to other people. That's what happened here, as Christina Haack and Ant Anstead quietly started their romance in October 2017, per House Beautiful. And while Christina announced her separation from Tarek El Moussa in December 2016, their divorce wasn't officially finalized until January 2018, three months after she started dating Ant (via People).
As for the "Wheeler Dealers" host, he was previously married to Louise Anstead. Ant confirmed they'd gone their separate ways in an October 2017 tweet, around the same time fans began to speculate he was seeing Christina. In the message, he revealed he and Louise had actually been separated since July 2017. Exactly a year later, in July 2018, People reported that Ant was "still in the process" of finalizing his split with Louise, as Christina gushed to the publication, "I can see myself getting married to him."
Christina Haack continued to work with her ex, Tarek El Moussa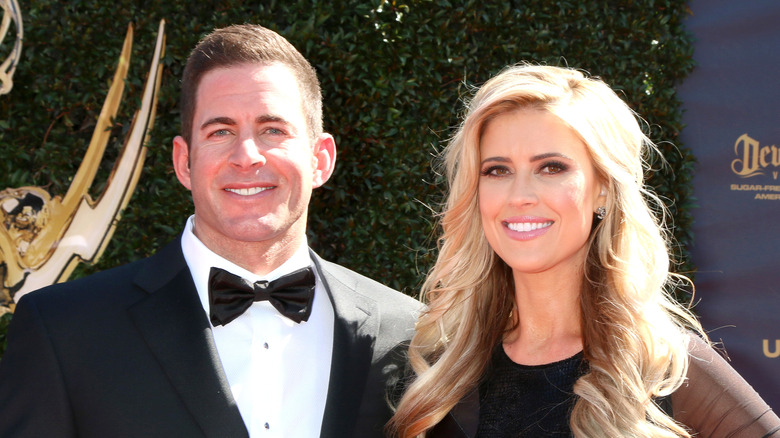 Even after going their separate ways romantically, Christina Haack and Tarek El Moussa very much remain in each other's lives, which maybe wouldn't be ideal for a lot of former couples. As well as keeping in contact to co-parent their two children, son Brayden and daughter Taylor, Christina and Tarek continued to spend a lot of time together to continue filming their HGTV series, "Flip or Flop."
Tarek admitted that working together after splitting was an "up and down" decision for the two during a joint interview with "Today" in December 2018, while Christina added, "Most importantly, we have two amazing kids together. So it's just easier to work together and get along."
As for whether the two actually wanted to work together as they moved on in their personal lives is another matter. Christina appeared to suggest that keeping their professional lives entangled was a bit more of a business decision than it was a personal one while speaking to People about her divorce in 2018. "Tarek and I were so tied together on everything: real estate, the show, our children, our house. It was so stressful, and everyone was worried that it was going to explode," she said.
No doubt all that stress that can't exactly have been ideal when it came to her relationship with Ant…
Christina Haack and Ant Anstead's relationship moved quickly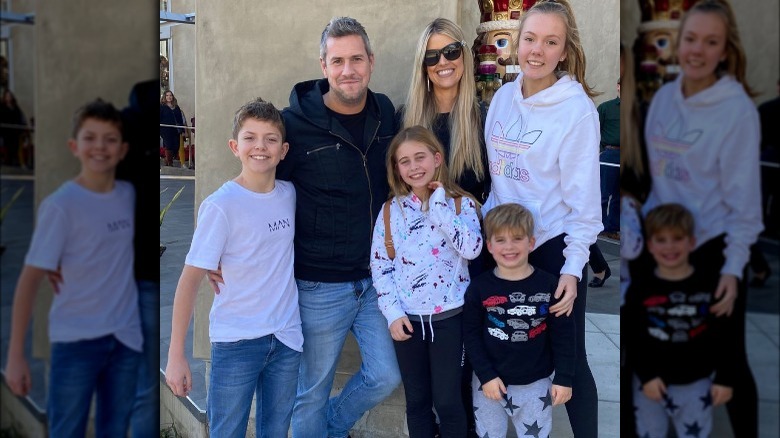 Christina Haack and Ant Anstead didn't exactly take things slow — which probably isn't too surprising seeing as Christina told Good Housekeeping she moved in with Tarek El Moussa the same day they started dating. Yes. The same day.
Christina and Ant went Instagram official in January 2018, three months after they started dating. Things then went at a pretty quick pace, with Ant showing Christina around his hometown with a trip to England in March 2018 (via People), and, in December 2018, Christina and Ant officially married in a surprise ceremony. Fast-forward to March 2019 and Christina confirmed she was pregnant, and they became parents again in September 2019 with both confirming the news on Instagram.
Christina herself seemed all too aware things were moving quickly. Taking to Instagram to gush about their one-year anniversary in October 2018, she wrote, "Wise men say only fools rush in … but I can't help falling in love with you" (via Today). The post has since been deleted.
An Entertainment Tonight source alleged the speed of their romance was one of its biggest downfalls. "[Christina] went through a very painful, very public divorce and never took the alone time to find herself, to rebuild her strength… before she was planning a wedding and a baby shower," they said. They also claimed friends supposedly urged her to slow down, noting that seeing her with Ant "was like watching a fairy tale in fast motion."
Becoming parents reportedly only added to Christina Haack and Ant Anstead's tension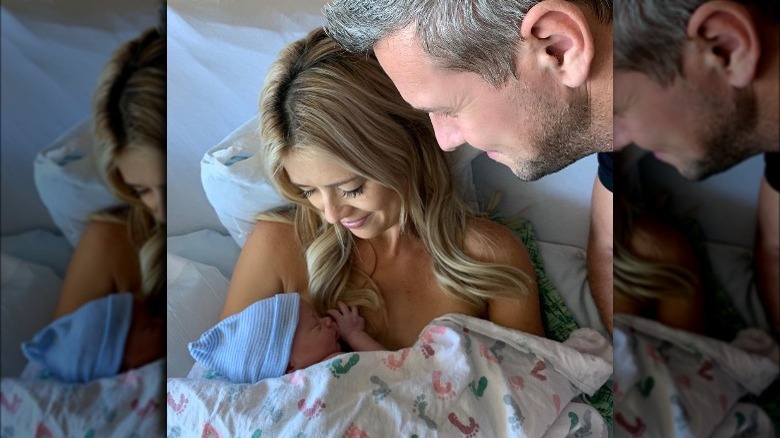 Pretty much every parent can attest to the fact bringing a baby into the world is one of the biggest tests of a relationship — and it sounds like that was no different for Christina Haack and Ant Anstead. Fans of the couple did a lot of speculating about what went wrong after the now former couple went their separate ways, and sources were quick to dish on what apparently happened.
According to an insider who spoke to People, the two supposedly "started having conflicts" after welcoming their son, Hudson, into the world in September 2019. Christina is reported to have been feeling "lonely and unhappy" in her relationship with Ant before they announced their separation, with the source adding that she supposedly "found it difficult to balance everything." Christina admitted she went through something similar after welcoming her second child with Tarek in a February 2017 interview with People.
A second source shared a similar sentiment to E! News. "Bringing home the new baby was extremely difficult and challenging. It's been a very difficult year with a lot of hard times," they claimed. The insider also said that Christina never planned to give up on things so quickly and tried to make things work with Ant, but it reportedly "quickly became clear" to her that their relationship was over.
Ant Anstead may have been more into his relationship with Christina Haack than she was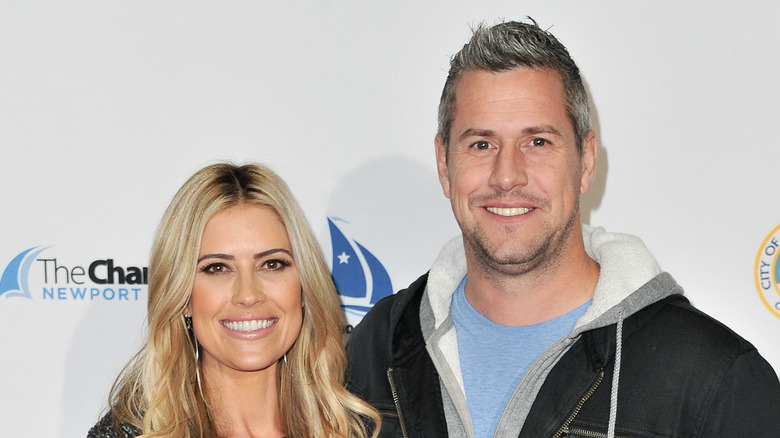 As they say, it takes two to tango, but was Ant Anstead more willing to fight for his marriage to Christina Haack than she was? He definitely appeared to suggest that was the case after the his and Christina's split hit the headlines in September 2020.
That month, the TV presenter shared a black and white photo of himself and Christina to Instagram and referred to their separation as being "Christina's decision" in the caption. "I have remained silent while holding on to hope. I never gave up on us," he wrote.
Ant later opened up about the tough breakup in an interview with People, where he admitted "everybody knows this was not [his] decision" and claimed the whole thing "really hit [him] hard." He added, "If you ask anybody that knows me properly, they know that I give myself fully" and claimed he "had so much love for" the reality star.
For her part, Christina seemed a little more eager to distance herself from the relationship after things turned sour. She officially filed for divorce two months after they announced their separation (via People) and then changed her last name back to Haack (she previously went by Christina Anstead) on Instagram a few weeks after filing, while also deleting photos from their time together.
Did too much exposure contribute to Christina Haack and Ant Anstead's split?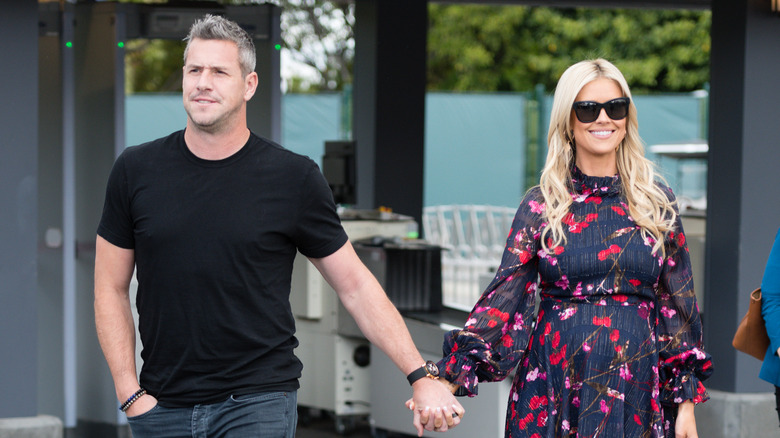 Christina Haack has 1.6 million followers on Instagram as of July 2021 and hasn't been afraid to share much of her life with them, as well as on reality TV through her various shows, including "Flip or Flop" and "Christina on the Coast." But it sounds like Ant Anstead may have preferred to keep things a little more on the down-low.
Christina often shares personal moment on her Instagram account (including sweet photos of her kids), though Ant seemed to struggle a little more with being so open. In August 2020, he took a social media break after telling fans in an Instagram post (ironically a video of Christina) that he had blocked 100 people for leaving negative comments on his page. "For all the good things social media has it also carries a toxic element!!… Humans are lashing out. And it saddens me!" he wrote in the caption. "So I am going to take a little break! Use the time to pamper the wife, annoy the kids, eat a vast about of carbs and watch movies that were made in the 1980's! Be kind to each other and seeya soon."
Ant also attested to maybe wanting to keep his personal life a little more private when he confirmed his split from Christina on Instagram the following month. "Anyone who really knows me knows that I don't like to share private matters publicly," he wrote.
Christina Haack and Ant Anstead had very 'different backgrounds'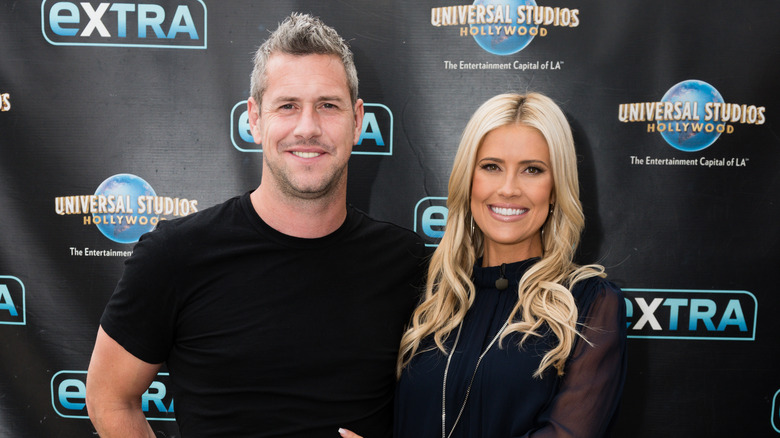 It's hardly a secret that Christina Haack and Ant Anstead likely had different childhoods. The former was born in the sunny climes of Anaheim, California, while Ant was born more than 5,000 miles away in Plymouth, England. While that's hardly a massive dealbreaker (hello, Emily Blunt and John Krasinski!), a source claimed after their split that their experiences growing up contributed to the demise of their marriage. "They're very different people from totally different backgrounds, and that definitely played a factor," they told Life & Style.
What could also have played a part was Ant still having a number of family members in the U.K., including his two eldest children, Amelie and Archie, who he shares with his former wife, Louise Anstead. Things can't have been easy for Ant towards the end of his marriage to Christina, as seeing his two oldest children became even more difficult due to coronavirus-related travel restrictions between the U.S. and the U.K. from March 2020 onwards (per People).
Ant was also open about the effort he'd have to go to in order to get back to the U.K. to see his kids prior to the pandemic. "Well it's taken around 6,000 miles of planes, trains and automobiles! One crappy hotel. And some serious amounts of coffee!" he captioned an Instagram video in May 2018. "From [U.S. to U.K.] to surprise my incredible little girl @amelieanstead at her netball finals in Newcastle."
Ant Anstead didn't have 'a relationship beyond pleasantries' with Tarek El Moussa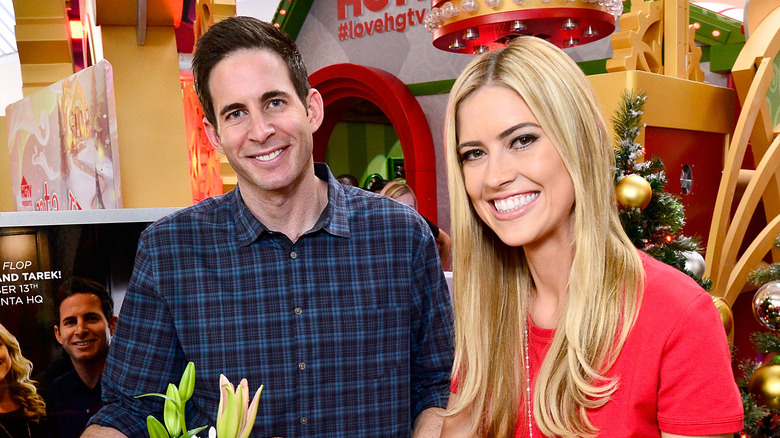 Could Ant Anstead's relationship, or seemingly lack thereof, with Christina Haack's former husband, Tarek El Moussa have affected their marriage? Tarek and Ant haven't spoken a whole lot about one another over the years, though People reported in January 2019 that the two didn't "have a relationship beyond pleasantries," with Tarek telling the outlet, "We say hi. That's about it."
The two are said to have only really interacted when they met one another at school events for Christina and Tarek's kids, but that doesn't mean Tarek had anything bad to say about his ex's ex. "Of course I ask my kids about things they do, and what's going on, and they always say good things about [Ant]. So as a father, it's good to know that there's hopefully a good man in my kids' lives besides me," he said.
Christina seems to have a better relationship with Tarek's wife-to-be, "Selling Sunset" star Heather Rae Young. On Mother's Day 2021 the two even exchanged gushing social media tributes to one another after exchanging bouquets of flowers. "Happy Mother's Day to the best mom ever! We love you so much!" Heather wrote from Christina's kids, alongside her bouquet.
Keeping a blended family together surely can't be easy, but if Christina and Heather's relationship is any indication, maybe things will be okay with Christina and Ant while they co-parent as well. 
Christina Haack has gone through 'traumas' in her past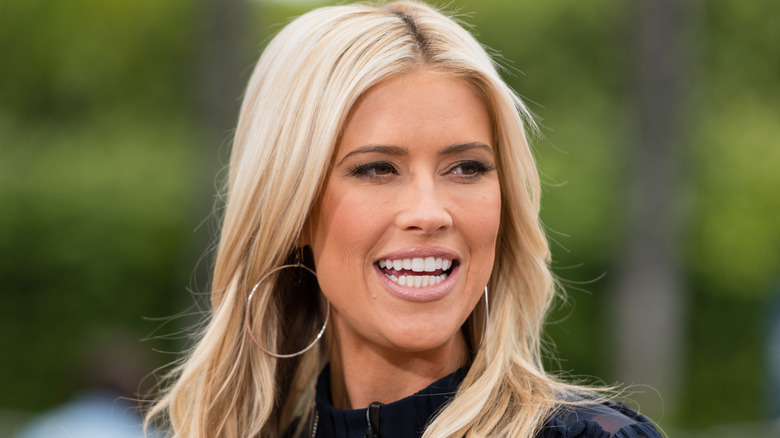 Christina Haack opened up about her new life in the wake of her second divorce in January 2021 on her Discovery+ show, "Christina: Stronger By Design." She explained on the series that she had taken a year to "really dive deep into releasing past traumas and getting to know me again and what makes me happy," via People. Could any of these traumas have affected her relationship with Ant Anstead? Possibly.
Christina also shared that she'd been working with a "holistic doctor" and a "spiritual coach" who had helped her to "really work on getting healthy and grounding [herself]." "I actually feel like me again and like I'm fully present in each moment. It's the best feeling," she added. 
Today, both she and Ant have moved on romantically with different partners. Christina is now dating Joshua Hall, while Ant is getting serious with Renée Zellweger. (Yes, that Renée Zellweger.)
Source: Read Full Article