It's is finally finally happening! It has been 20 years since Harry Potter and the Sorcerer's Stone was released in theaters around the world, and the cast of every millennial's fave film series is officially returning to the Wizarding World. The original cast will be together once more, and they get to chat and reminisce about the good ol' days at Hogwarts. OH—and I cannot stress this enough—MY GOD.
IDK about you, but I've been fragile since I first heard this Harry Potter reunion news. I'm going to have tissues ready for waterworks, a blanket to stay cozy while walking down memory lane, a mug of hot chocolate for added effect, and a group of friends to be nostalgic with. These are basically my New Year's Day plans.
If you're planning to make this a whole event, then you might want to know all the important deets that come with how to watch the Harry Potter reunion. We've got you covered.
When is the Harry Potter reunion and how can I watch?
If you didn't know already, the Harry Potter 20th Anniversary: Return to Hogwarts special is going to exclusively stream on HBO Max. So if you don't have a subscription already, you may want to sign up. Sadly, the platform doesn't have a free trial but if you're a Hulu subscriber you can add on HBO Max and get a seven-day free trial.
SUBSCRIBE TO HBO MAX
" data-vars-ga-product-id="2a06e3a6-5242-4695-9f8a-b39add455277″ data-vars-ga-product-price="0.00″ data-vars-ga-product-sem3-brand="" data-vars-ga-product-sem3-category="" data-vars-ga-product-sem3-id="" data-affiliate-network="" data-affiliate="true">SUBSCRIBE TO HULU
When is this happening?
Talk about a great start to the new year! The special premieres on January 1, 2022, so if you want something feel-good to put on the TV while you're with a few friends and family, then this is perfect. But of course, you could always save it for later. (Though IDK why anyone would wait any longer to see this. It's been long enough!!)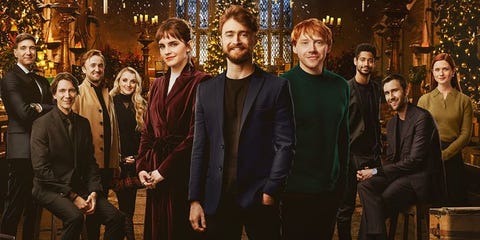 Who's gonna be there?
One of the reasons why this reunion is such a big deal is the stars are really aligning to be there. And it's been a while since this has happened! Expect to see the absolutely iconic trio: Daniel Radcliffe, Emma Watson, and Rupert Grint. They will be joined by Tom Felton, Matthew Lewis, Evanna Lynch, Bonnie Wright, James and Oliver Phelps, Helena Bonham Carter, Robbie Coltrane, Ralph Fiennes, Jason Isaacs, and Gary Oldman. (Harry Potter author JK Rowling is notably absent from this lineup amid her transphobic comments.)
Source: Read Full Article