Zooey Deschanel and Jonathan Scott may have seemed like an unlikely match at first, but the "New Girl" and "Property Brothers" stars are proving that their romance is definitely withstanding the test of time!
It all started in August 2019, when Deschanel and her sister, Emily Deschanel, filmed an episode of James Corden's "Carpool Karaoke" along with the Property Brother twins, Jonathan and Drew Scott. According to Insider, this is when Deschanel and Scott first met, and Scott even commemorated the day with an Instagram post. At the time, Deschanel was still married to now ex-husband Jacob Pechenik, though the duo formally announced their separation in September 2019, via People. 
That same month, Deschanel and Scott seemingly started a casual relationship, with Scott confirming that he was seeing someone to Us Weekly but didn't necessarily specify who. "I am seeing someone," he told the publication. "I'm a very private person, so I don't typically talk about that. It's definitely special for me because I am the guy who raises the bar in what I'm looking for in a partner. I was caught a little off guard. It was definitely a pleasant surprise."
Sure enough, the "special" person in question was indeed Deschanel, and since then, the duo has gone on to be one of the cutest couples in Hollywood. Keep reading to learn more details about Deschanel and Scott's romance!
Things moved quickly between Zooey Deschanel and Jonathan Scott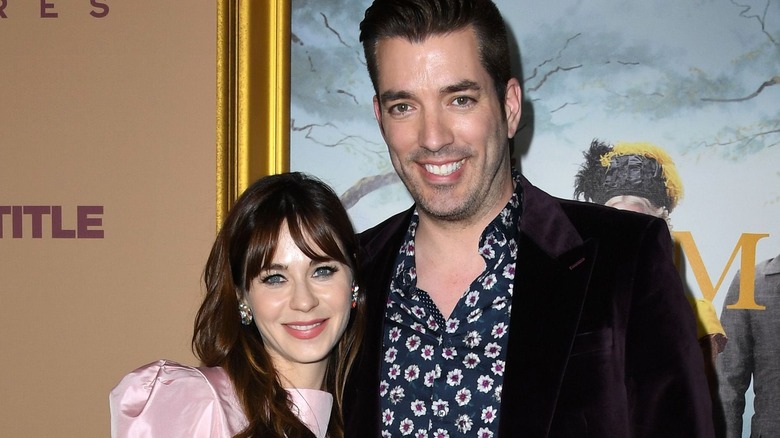 Zooey Deschanel and Jonathan Scott started dating roughly around September 2019, and from there, things moved very quickly for the love-struck couple!
Shortly after rumors started flying about the apparent new couple, the duo made their relationship Instagram official by posting a fun Halloween-themed photo. "Still processing how scared I was of these people dressed in spooky masks," Deschanel captioned the photo, in which Scott holds her while the duo looks shocked. 
While the Halloween photo was a pretty clear confirmation of their relationship, Scott made it even more clear on Thanksgiving 2019, when he posted an adorable tribute to Deschanel. "I am beyond thankful to be surrounded by such incredibly fun loving people & puppies. You bring joy to my life. I love you," Scott wrote in a Twitter post, alongside a few images, one being a selfie of him with Deschanel.
While Scott certainly developed feelings for Deschanel quickly, it seems that it was a mutual thing. By April 2020, Deschanel penned a heartfelt birthday tribute for Scott on Instagram: "This amazing person makes me truly happy every single day and fills my life with love and joy," Deschanel wrote alongside an image of her kissing Scott's cheek. It definitely sounds and looks a lot like love to us!
Zooey Deschanel and Jonathan Scott enjoyed spending quarantine together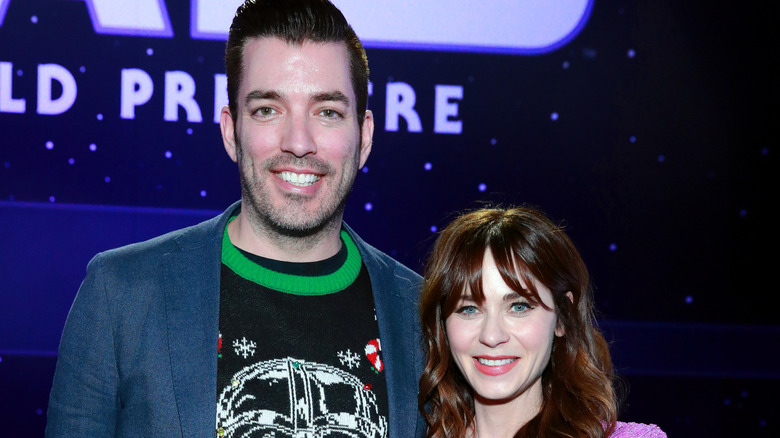 When the COVID-19 pandemic hit in early 2020, many people began quarantining in their homes — and Zooey Deschanel and Jonathan Scott were no exception. 
Though it can be overwhelming to be stuck at home all the time, especially with someone you just began dating, Deschanel and Scott adjusted to it pretty easily. "I kind of struck gold because quarantining with Zooey, she is this incredible chef," Scott told Today in September 2020. "She also loves board games. We even did a virtual escape room the other night, which was a lot of fun. So, really it's been nice to have this sort of forced break."
As for Deschanel, it seems that she had similarly positive sentiments about quarantining with Scott. "Even during the weirdest year for humanity I want a million billion more with you," Deschanel wrote in a sweet anniversary tribute to Scott, alluding to the fact that much of their relationship had overlapped with the pandemic thus far. The duo clearly didn't let the virus keep them down, and if anything, it seems that their time in quarantine only strengthened their bond!
Marriage may be in the cards for Zooey Deschanel and Jonathan Scott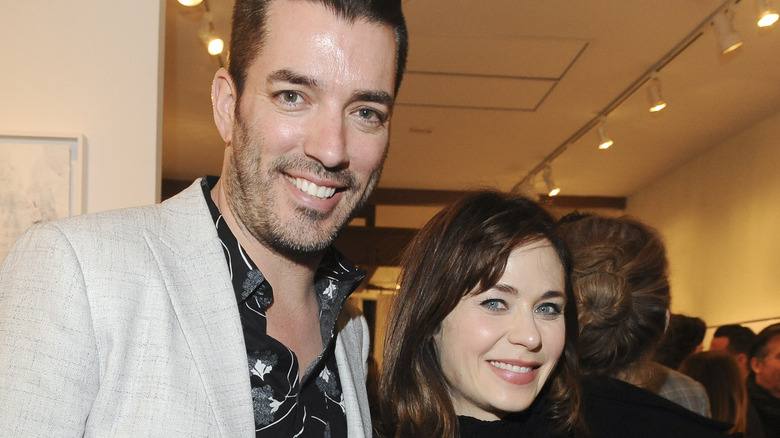 When Zooey Deschanel and Jonathan Scott first got together in 2019, neither of them were expecting or even necessarily looking for a serious relationship. Nearly two years later, however, things have worked out well for the couple, leaving many fans wondering one big question: will they ever get married?
Both Deschanel and Scott have been divorced in the past, but it seems like marriage may still be a possibility for the duo as they move forward. In November 2020, Scott cleared up rumors that he and Deschanel were engaged, though he didn't shut the door on the possibility. During an interview with SiriusXM's"The Covino & Rich Show," Scott joked about seeing constant tabloid speculation that he and Deschanel were engaged. "I'm pretty confident that I will ask my girlfriend to marry me before I tell a reporter," he quipped, before going on to describe how their relationship was still going very strong.
While marriage may not be in the immediate future for Deschanel and Scott, the duo are still enjoying their romance, with Deschanel posting another cute tribute to her beau in April 2021. "I love you always and in all ways," she gushed in the Instagram post, alongside and image of Scott. "I don't want too seem sappy or hyperbolic but the simple truth is: I'm the luckiest girl in the world."
Source: Read Full Article