There was a time when Megan Fox was known as one of Hollywood's rising stars, a sex symbol, and, not to mention, the entire world's "dream girl." In fact, it was extremely unusual not to see her body plastered like a pinup girl on the cover of some of the world's notoriously sex-clad publications. Fox's career was just as demanding as her effortless sexual magnetism after bursting onto the scene following her role in Michael Bay's 2007 box-office smash hit "Transformers."
In 2009, Fox's career became clothed in controversy after she publicly dragged Bay's name through the mud and was seemingly unable to salvage her tattered reputation. In an attempt to take on roles that would expand her realm of work, the "Midnight in the Switchgrass" star's outspokenness regarding misogyny and sexism in the industry was undermined as she continuously isolated herself from her image molded by the industry.
Fox isn't afraid to cause a rumble, which is likely why the public is also heavily critical of her every move, from the star's controversial private life to her stance on the #MeToo movement. Let's take a look at several other reasons the unapologetic star went from Hollywood's most desired to perpetually fired.
Megan Fox quit drinking after becoming 'belligerent' at the 2009 Golden Globes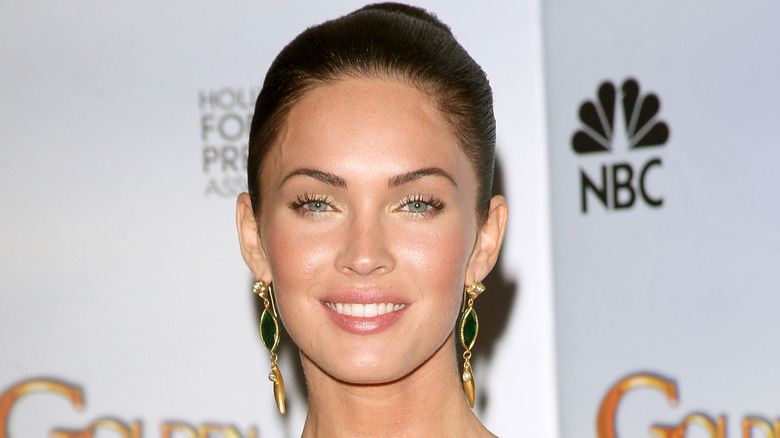 While award shows are typically a cause for celebrating the biggest successes of the year, Megan Fox admitted to partying a little too hard during the 2009 Golden Globes. During a recent interview with WhoWhatWear, Fox recalled sitting at a table with Blake Lively and the Jonas Brothers that contained "giant bottles of Moët champagne." "I went through multiple glasses of that," the "Transformers" star admitted, until she ultimately became so "belligerent and said a bunch of s—t [I] shouldn't have said on the red carpet."
Perhaps one reason why the "New Girl" alum felt the need to indulge in some liquid courage was her deep-rooted insecurities. "I'm so painfully insecure, like, I'm on the verge of vomiting right now," Fox spilled to E! News' Giuliana Rancic that same night. "I'm so horrified that I'm here and embarrassed … It's my first time [here]."
A major lesson was learned the night of the 2009 Globes as Fox now looks back on her past slip-up, saying to WhoWhatWear, "Now I don't drink, and this is why. I'm sure I got in a lot of trouble for what I said … I don't remember why but I know that I did."
Megan Fox caught some shade when she once referred to Donald Trump as a 'legend'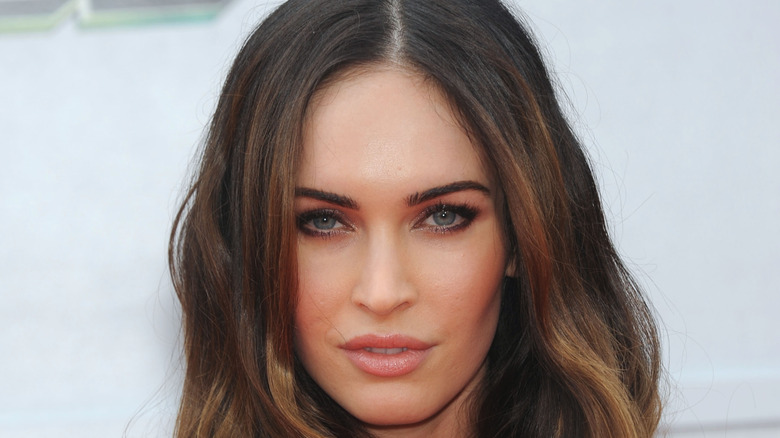 While in attendance at the highly anticipated UFC 264 fight between Conor McGregor and Dustin Poirier on July 10, 2021, Megan Fox detailed her many observations from the event during an episode of "Jimmy Kimmel Live" days later, including former President Donald Trump's widely talked-about cameo.
But, while chatting to guest host Arsenio Hall, what was meant to be an innocent conversation quickly resulted in a different type of "fight," with Fox as the target. "I was in a row with Justin Bieber, and Trump was also in my row," the "Midnight in the Switchgrass" star explained. "He had, like, thirty secret service with him. He was a legend. That arena was very supportive of Trump when he came in."
The Internet erupted into a firestorm of backlash over the fact that Fox had seemingly labeled Trump a "legend," to which she was forced to immediately clarify her remarks on Instagram. "I do not align myself with any political party or individual politicians," Fox explained via People. "I never said Donald Trump is a legend. I said he was a legend… in that arena (key part of the sentence)." She ended her statement in a condescending tone, adding how much she appreciates the "uneducated, mid-evil, pitchfork carrying, burn a witch at the stake mentality. The world needs more of that," Fox concluded.
Megan Fox was banned from Walmart after being caught shoplifting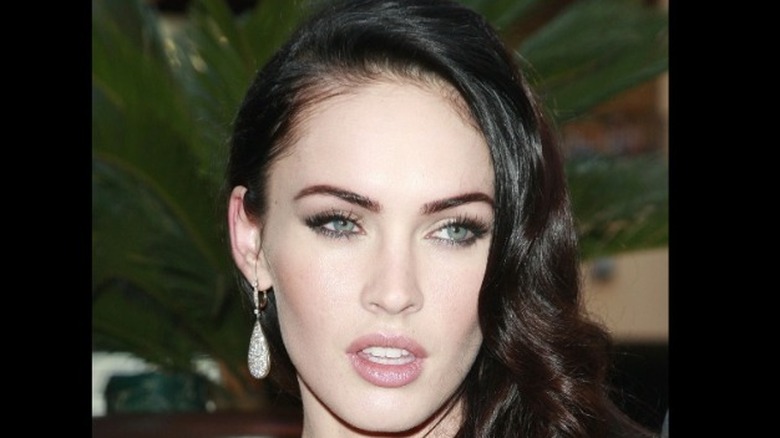 Megan Fox may have secured a spot on every "most desired women in the entertainment industry" list, but she's also well known in the retail industry, topping Walmart's most-wanted list as a teenager. The "Till Death" star recalled during an interview with Express that she was caught stealing cosmetics from the department store when she was 15 years old. "I don't know if the ban was for life, but when I was 14 or 15 I did get caught and convicted of stealing Mary-Kate and Ashley Olsen cosmetics from a [Walmart]," Fox admitted.
Although she was eventually let off the hook, Fox was even forced to appear in court and given two options: to "wear a sign that said I stole from [Walmart] and stand outside [Walmart] for three days" or to take a much less humiliating approach by "wrapping (gifts) for Christmas." Needless to say, the actress is now a master in the art of holiday gift wrapping. Plus, there are evidently no hard feelings between Fox and the Olsen twins, as she starred in their 2001 classic "Holiday In The Sun" shortly after the incident.
Megan Fox was fired from 'Transformers' for trash-talking Michael Bay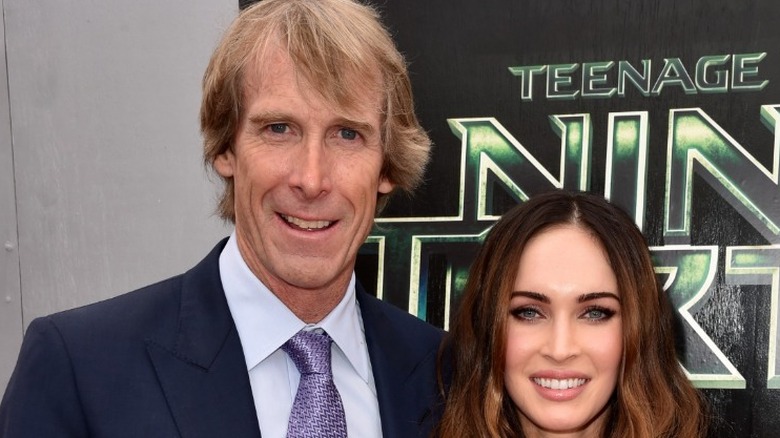 The box office smash-hit series "Transformers" shot Megan Fox's career to stardom, but unbeknownst to fans, major drama was brewing behind the scenes between Fox and her director. In a 2009 interview with Wonderland magazine, the actress compared Bay's on-set antics to "Hitler" and called him "a nightmare to work with." She continued to describe her former director as "Napoleon" who "wants to create this insane, infamous mad man reputation."
Her response was met with backlash from her own "Transformers" castmates, who published a letter in support of Bay, calling Fox "dumb as a rock," "classless," a "grump," and extremely unprofessional to work with (via Deadline). Bay opened up to GQ, claiming that fellow director Steven Spielberg urged him to "fire her right now." However, he admitted that he was very aware that, with regards to Fox's harsh claims, "Megan loves to get a response."
The damage had apparently been done, and Fox was immediately fired and prohibited from returning to the upcoming "Transformers: Dark of the Moon" in 2009, a time in her life she described to Cosmopolitan UK as "the low point of my career."
Megan Fox refuses to speak out on the #MeToo movement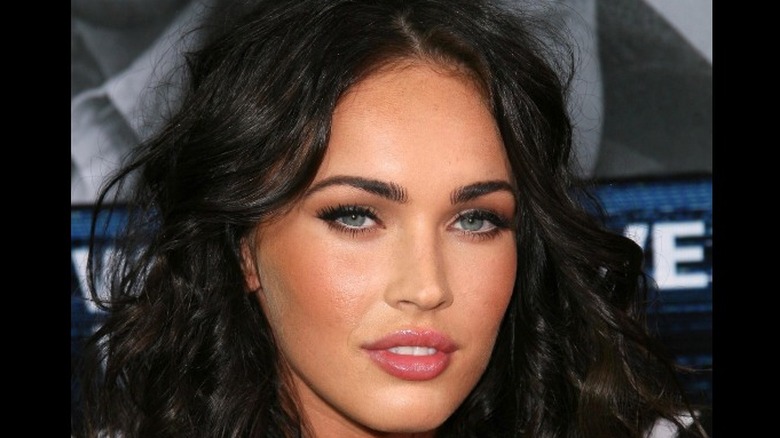 It's no secret Megan Fox and her "Transformers" director Michael Bay have endured an extremely rocky relationship after she tarnished his reputation in 2009 and later accused him of exploiting her during the film's audition. Her interview exposing the film director was met with massive criticism, as it was Fox who ultimately took the biggest hit.
Years later, amid the #MeToo movement, Fox stirred up more controversy when she spoke to The New York Times about why she refuses to speak out about her experiences, since her reasoning seemingly clashes with the entire purpose in which the movement was created. "I was ahead of my time and so people weren't able to understand," the actress explained. "Instead, I was rejected because of qualities that are now being praised in other women coming forward."
Because of how she was previously treated amongst her fans, Fox felt that if she spoke out now, she "just didn't think … that I would be a sympathetic victim," and although she admitted to having "quite a few stories" to The New York Times, her lips will continue to remain sealed. "My words were taken and used against me in a way that was—at that time in my life, at that age and dealing with that level of fame. Really painful."
Megan Fox lied about an experience she had while in her first years of living in Los Angeles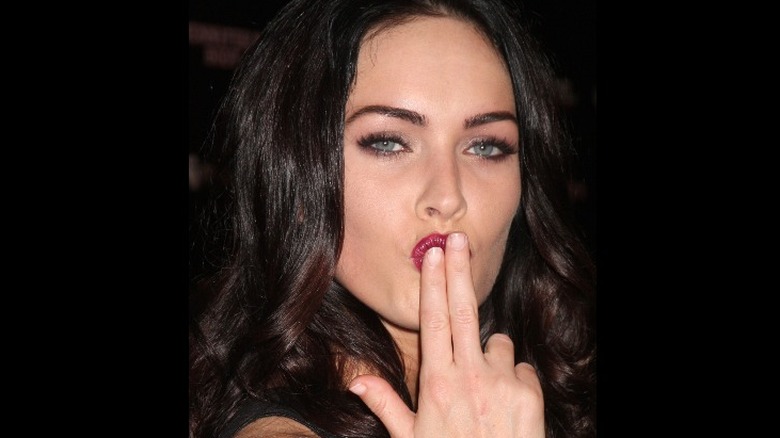 While Megan Fox's entire career is based on portraying fictitious characters, she's apparently also quite the expert storyteller in real life. In an interview with GQ, she gushed about her love life and her experiences a year after moving to Los Angeles. Fox made headlines after detailing her frequent visits to a strip club called the Body Shop, where she fell "in love with this girl" named Nikita. "I was there all the time… I would go there by myself," the actress explained. "I bought her things – perfume, body spray, girlie stuff."
Another article for The New York Times later exposed Fox for fabricating the events involving Nikita, to which the "Jennifer's Body" star addressed the odd admission in another GQ sit-down. "I didn't make that up but I totally made it more [colorful] than it was," she admitted. "It was made to seem [like] a very sexual thing. In reality, it wasn't. She was a girl and I was attracted to her, but it wasn't like we were rubbing oil on each other." Fox blamed journalists for taking her words literally, when, as a matter of fact, they "don't always convey what I say as a joke." Dually noted!
This is how Megan Fox really feels about being typecasted in Hollywood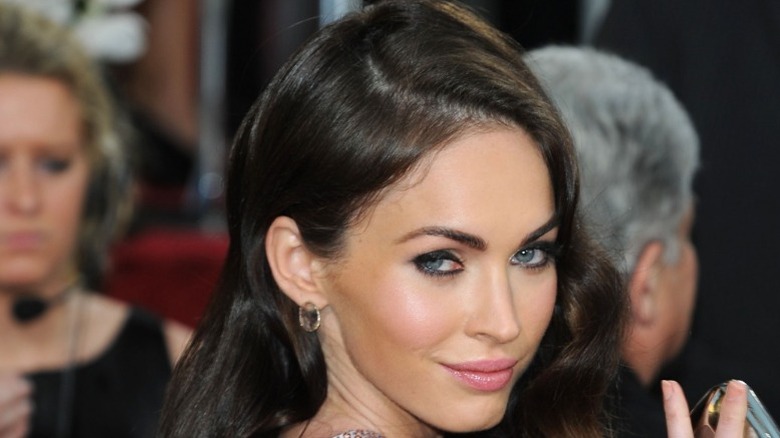 Not long after Megan Fox made her "Transformers" debut, a film that displayed her undeniable sex appeal, she attempted to "figure out what women want," according to The New York Times. Fox went on to star as a sexy zombie cheerleader in "Jennifer's Body," which didn't seem to help her image based on the low ratings and "feminist" thumbs-down reviews.
The Times revealed that Fox's team underwent major damage control by booking her appearances and talk shows in an attempt to try and build her image back up, but she felt the hatred amongst her fans, telling the outlet, "Girls think I'm a s***, and I've been in the same relationship since I was 18 … The instinct among girls is to attack the jugular."
However, Fox is very aware of her (and every female's) role within Hollywood and, in turn, admitted to using her sex appeal to her advantage. "All women in Hollywood are known as sex symbols," she explained to Entertainment Weekly (via Today). "That's what our purpose is in this business. You're merchandised, you're a product." While it may appear that Fox had contradicted her initial frustration, she clarified her statement regarding her industry stereotype by saying, "I think women should be empowered by that, not degraded."
Megan Fox and Machine Gun Kelly allegedly shaded the movie where they met on-set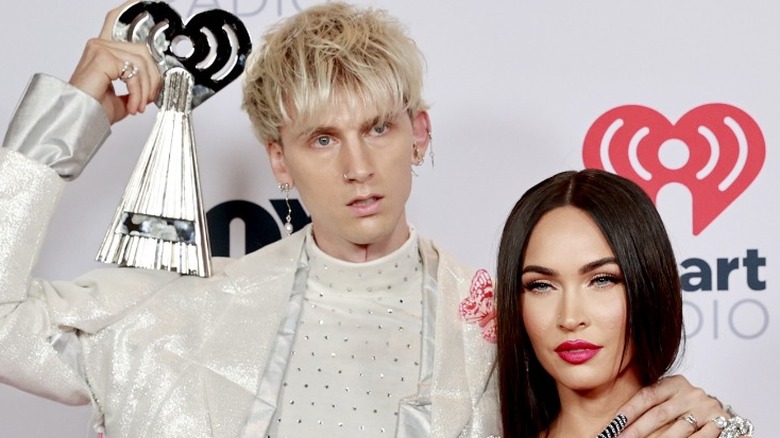 The moment Megan Fox and her boyfriend Machine Gun Kelly (legally named Colson Baker) met on the set of their upcoming film "Midnight in the Switchgrass," Fox admitted during a "Give Them Lala … with Randall" podcast episode, "I just felt it deep in my soul — that something was going to come from that." With that said, Fox and her "twin flame," as she labeled Kelly in the same episode, are still going strong, unlike the significantly low rating of the film.
With such ruthless criticism surrounding the actors' performances, Kelly conducted an Instagram livestream prior to the film's release in July 2021 where he explained that he would "never act in something he doesn't believe in." The "Bloody Valentine" singer proceeded to look over at Fox, who was off camera, saying, "Ha, except…" while laughing, to which she cut him off just before chiming in with, "Don't do that yet." This comes after Fox skipped out on the movie premiere after a rep cited COVID concerns, according to Buzzfeed.
These events caused speculation to arise amongst fans, who suspected that Lala Kent (the fiancée of the film's director Randall Emmett) threw shade at Fox by posting a photo in which she blocks the "Jennifer's Body" star on the film's movie poster, according to Us Weekly. It's safe to assume we now have an idea of what it truly means to "give them Lala."
Megan Fox scolded Brian Austin Green for posting photos of their children online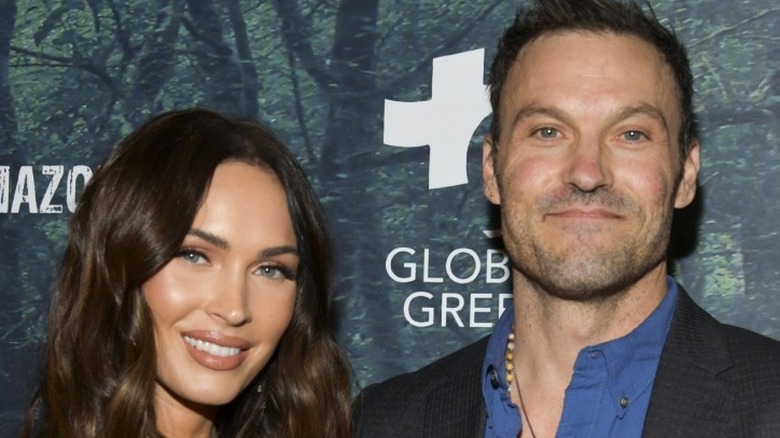 In October of 2020 — and in the midst of Megan Fox's divorce from Brian Austin Green — fans were shocked when Fox lashed out at him on Instagram (via TMZ) after he shared a now-edited photo of their youngest child, Journey, accusing him of using their children to make himself look better. "You're so intoxicated with feeding the pervasive narrative that I'm an absent mother, and you are the perennial, eternally dedicated dad of the year," the "Transformers" star wrote. "You have them half of the time. Congratulations you truly are a remarkable human!"
In a surprising turn of events, the Internet was less than thrilled with how Fox publicly handled the situation. The comments section of the cropped photos is overflowing with comments defending Green, one of which read, "You are a father. You are allowed to share with your fans a moment that brought you joy." Green eventually cropped their son out of the photo and reshared it, despite the popular opinion to leave the photo as is.
Megan Fox created a Facebook photo album to debunk plastic surgery rumors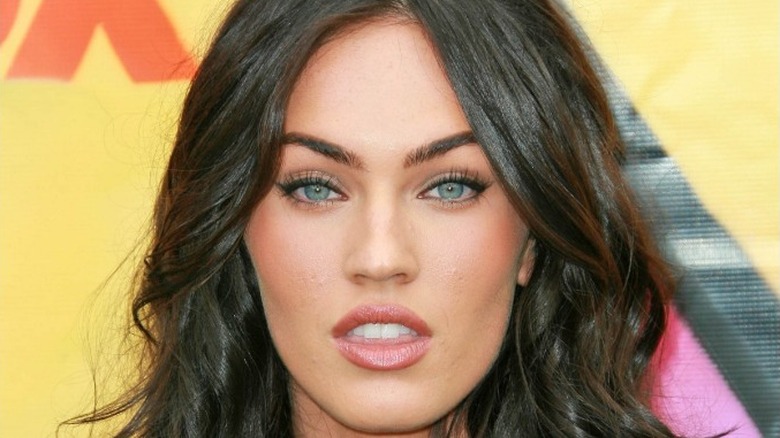 Megan Fox has been the center of plastic surgery rumors for years, but once speculation became too much for her to bear, she decided to take matters into her own hands and create a Facebook photo album in 2011 (via Marie Claire) called "Things You Can't Do with Your Face when You Have Botox." The album reportedly contained photos of Fox debuting a series of facial expressions to prove to fans that her face isn't frozen.
Fox's response, however, didn't exactly come out of left field, as she's previously been outspoken about her stance on plastic surgery. "I would encourage anyone to first speak with a therapist, to try and figure out where this want comes from, because a lot of times it's not related to your teeth or your nose or your chin," she told Allure in 2010. "The surgery is not going to alleviate that insecurity for you."
One month after Megan Fox split from Brian Austin Green, she was spotted with Machine Gun Kelly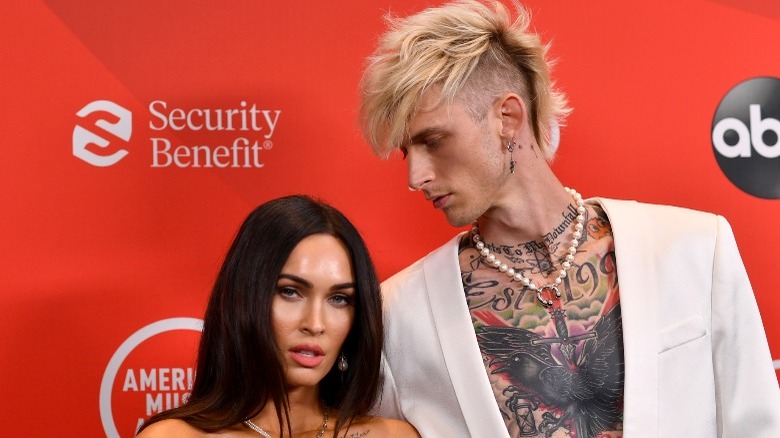 The world was truly shocked in 2020 after learning that Megan Fox and Brian Austin Green had decided to divorce after 10 years of marriage and three children together. The news was officially announced in May of 2020, but in a later episode of his podcast "…With Brian Austin Green" (via E! News), the former "Beverly Hills: 90210" star opened up about what led to their decision to split, admitting that he dreamt about Fox coming home from work and acting "distant" toward him.
Green's instincts were spot on as he then revealed Fox told him she feels "more like myself, and I liked myself better during that experience," after arriving home from a filming a movie and telling him that this life change was something she felt was worth pursuing. Although Green admitted he couldn't be angry at her for feeling this way, she raised eyebrows a month later after being spotted holding hands with Machine Gun Kelly, according to the Daily Mail. Kelly's not-so-subtle tweet referencing his "Bloody Valentine" lyrics seemingly sealed the deal, confirming their relationship.
Megan Fox dated Shia LaBeouf amid a previous split from Brian Austin Green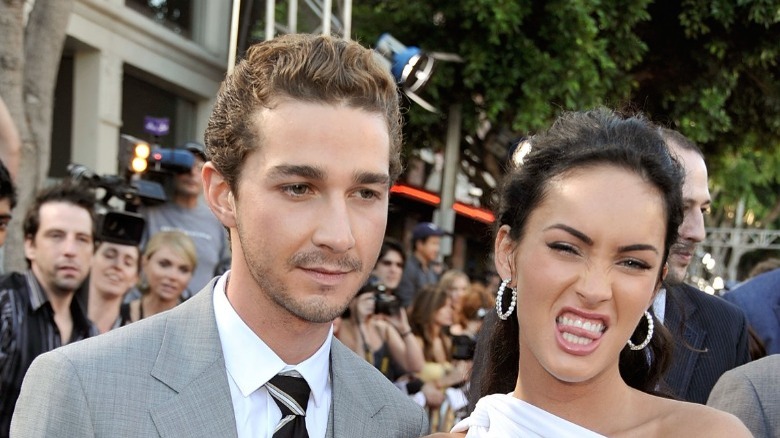 Megan Fox and Brian Austin Green endured a rocky relationship over the course of their 17-year history, but her shocking confession confirming a fling with her "Transformers" co-star Shia LaBeouf raised concern over the alleged overlapping timeline in which she and Green called off their engagement. During an appearance on Bravo's "Watch What Happens Live," Fox admitted to having feelings for LaBeouf. "I mean I would confirm that it was romantic," she said. "I love him, I have never been really quiet about that, I love him."
The co-stars filmed the original "Transformers" as well as the sequels in 2007 and 2009, respectively, just as Fox's career began to skyrocket. However, Green's busy work schedule wasn't forgiving of the ex-couple's newly engaged status, to which they quietly called off their engagement in 2009. Tabloid speculation ran rampant that Fox's on-set relationship with LaBeouf contributed to their decision to call it quits, but a source told People at the time that "the decision was mutual."
Megan Fox caused a stir when she gave Machine Gun Kelly a vial of her blood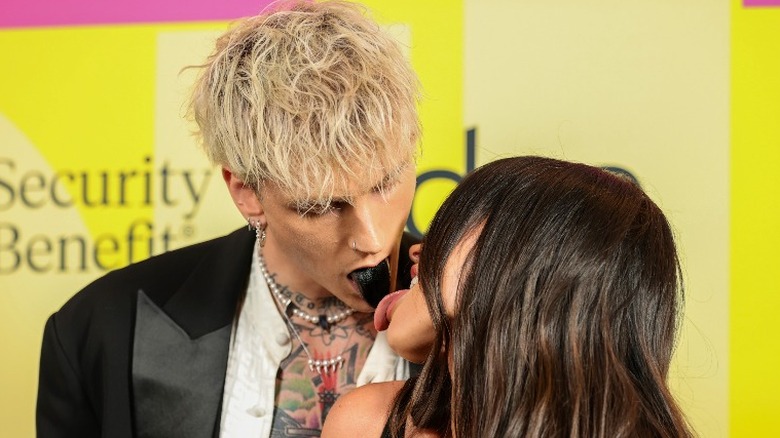 Hollywood trends come and go, but one in particular has caused many to teeter on the verge of "oddly romantic" and "utterly gruesome." In honor of Valentine's Day in 2021, Megan Fox's current boyfriend, Machine Gun Kelly, took a page out of Angelina Jolie and Billy Bob Thornton's book by posting a photo to Instagram featuring a droplet of her blood he now wears around his neck.
He later explained the meaning of the necklace during an appearance on "The Ellen DeGeneres Show," explaining that it was a keepsake in which to remember Fox when she was away. "Well, she was actually going out of town to film a movie, and this was really new in our relationship," Kelly revealed. "I didn't have a passport either, so she was going out to Bulgaria, and so I was kinda freaking out like, 'You're gonna leave and I can't even come see you.'"
Kelly was quick to realize that this wasn't your typical memento, adding, "Some people give a handkerchief to their partner, she gave me her DNA." May death do them part!
Source: Read Full Article