The news is finally out, and many fans already know that The Last Kingdom is currently in production in Hungary for season 5. However, it will be the final season. Despite the sad news, there is still one season left to go in the series before it's all over.
Eliza Butterworth, who plays Lady Aelswith, recently wished Jeppe Beck Laursen, who plays Haesten, a "happy birthday." We have all the details to know about it.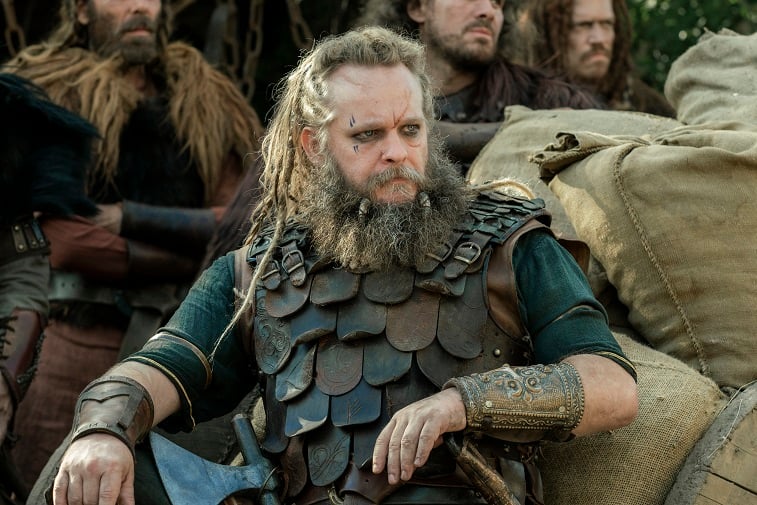 'The Last Kingdom's' season 5 will be the last season, but it's back in production
The story of Uhtred (Alexander Dreymon), son of Uhtred has been beloved by fans over the years. But the series will be cut short with season 5, which will be the final season. Deadline announced the news of the conclusion of the series with season 5, verifying the news with Netflix and Carnival Films. 
Despite the sad turn of events, that same day the news was released, a video was posted later on the official social media accounts revealing that the show is in production. Many fan favorites are in the video, and Alexander Dreymon made the announcement. Eliza Butterworth can be seen in the video as well as other cast members.
Eliza Butterworth (Lady Aelswith) wished Jeppe Beck Laursen (Haesten) a 'happy birthday'
Jeppe Beck Laursen's birthday is June 1, 1972, and he turned 49 years old. On that day, Eliza shared on her Instagram Story wishing him a "happy birthday" along with a previously posted cropped image of the two of them together. In it, Laursen is dressed as the Dane Haesten as he has an arm on Eliza and one around her as well. She stands by his side dressed as Lady Aelswith with her hair back and her lips in a kissing expression toward the camera. Their heads appear to be touching in the iconic moment.
She put a little "Birthday Boy" blue crown above Laursen's head in the post, and wrote, "Happy Birthday to the total legend warrior angel face that is @JeppeBlinsta," tagging his Instagram account in the post. She included some emojis as well along with it.
Lady Aelswith and Haesten in 'The Last Kingdom'
Aelswith is originally from Mercia. She is the wife of King Alfred the Great (David Dawson). She has two children, King Edward (Timothy Innes) and Lady Aethelflaed (Millie Brady), who is now ruler of the Mercians. Aelswith is poisoned by Lord Aethelhelm (Adrian Schiller) while they are held captive by the Danes. Although they are eventually allowed free, Aelswith falls, and her fate is unknown at the end of season 4.
Haesten is a Dane who plays both sides when it suits him. He causes all sorts of trouble over the years. Aelswith is even taken by Haesten with others and held captive by the Danes and Sigtryggr (Eysteinn Sigurðarson) in season 4. Haesten even tries to have Uhtred and his men killed, but that of course doesn't play out how he expected.
Hopefully Jeppe Beck Laursen had a great birthday.
Source: Read Full Article