[Spoilers ahead for the season two finale of Big Little Lies. If you're not caught up yet, you should probably GTFO of this post!]
The Big Little Lies finale was last night, and in case you haven't been on Twitter yet today, fans were not necessarily thrilled with how things ended.
The end of season one was basically the biggest plot twist in the history of plot twists, so the fact that this season didn't end in a similar way seemed to make the internet upset.
Let's start with that iconic door moment.
Meryl after Nicole Kidman shut the door on her at home #BLL2 pic.twitter.com/w1pDa5VnTU
People are already very thirsty for them to get Emmys.
nicole kidman and meryl streep on their way to get the golden globe, emmy and whatever after celeste destroyed mary louise at the court:#BigLittleLies #BLL2 pic.twitter.com/uAnGBSoGpe
Summing up Mary Louise's entire testimony quite well…
Mary Louise on the stand right now #biglittleliesfinale #BigLittleLies #BLL2 pic.twitter.com/S4n644YtdJ
She's beauty and she's grace…she verbally annihilated Mary Louise with a straight face.🤯 #BigLittleLies #NicoleKidman pic.twitter.com/xTwRM59Laj
Also, yeah, WTF was Celeste's lawyer doing that entire time??
Celeste getting Her lawyer
her full custody
in 15 minutes#BigLittleLies pic.twitter.com/DBRs1n9ao4
Me realizing Celeste's lawyer did absolutely nothing #BigLittleLies pic.twitter.com/kX06xgqyuz
Mary Louise's lawyer telling her to contact all the good lawyers not knowing Celeste was that bitch #BigLittleLies pic.twitter.com/It7VraSPyT
Nicole Kidman was GIVING it to Meryl tonight #BigLittleLies pic.twitter.com/7lhtkNsPKU
Celeste and her kids showing up to court with the video #BigLittleLies pic.twitter.com/aarr1tRX27
"You lost your boys you don't get to take mine" #BigLittleLies
Me: pic.twitter.com/eKxVIxSwD2
And these pictures of Nicole Kidman leaving her divorce lawyer's office after officially splitting with Tom Cruise are a BLL mood.
me when celeste got full custody #BigLittleLies pic.twitter.com/98GYyxRN5A
Moving onto the other moment the internet is clearly not done with, those few minutes where Renata absolutely destroyed Gordon.
When Renata Klein grabbed the bat #BigLittleLies pic.twitter.com/X51XaIF8WA
Loved the trailer for Maleficent 3: Rise of Renata. #BigLittleLies pic.twitter.com/6FMGbWYVJB
Renata said fuck them trains #BigLittleLies pic.twitter.com/ck3q8H7Zas
Gordon when Renata grabs the bat #BigLittleLies pic.twitter.com/n6cOORtZtN
WHEN RENATA WENT SICKO MODE ON GORDEN'S TOYS ….. I LOVE HER. #BLL2 #BigLittleLies pic.twitter.com/mskuBXLFgO
Maybe you should've shown a woman a little respect
Laura Dern es el tweet #BigLittleLies pic.twitter.com/90T67plLWR
Renata absolutely OBLITERATING Gordon's trains with that baseball bat…. #biglittlelies pic.twitter.com/wlmmF935fi
Yep. That pretty much captures it!
In case you were wondering whether there's going to be a third season of the show, it's looking like there might not be.
Recently, a very important guy at HBO gave an interview where he was basically like "everyone is too busy." Here's the exact quote: "I love this group of people — I would do anything with them. The reality is, they are some of the busiest actresses working in Hollywood. I just think it's not realistic."
That's totally fair. However, Nicole said yesterday that she'd love to do another season.
"I think we would love to do a season three because there is certainly ideas," she said. "But we would not do it without all of the same people involved … even the kids."
HMMM. So that's a hard… maybe? We'll see, I guess!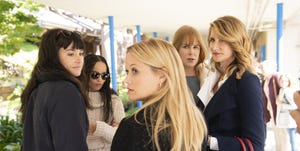 Source: Read Full Article