Running from 2008 to 2014, True Blood became a cult classic for vampire drama fans the world over. The instant HBO hit centered on a young woman, Sookie Stackhouse, and her uncanny ability to read the minds of people around her. Add in a vampire lover, a jealous boss, a flamboyant co-worker, an annoying and troublesome brother and several other not-so-nice vampires and fans found themselves a cult classic. 
While the show certainly centered on Sookie Stackhouse and her unnatural ability, it's the side characters who are all drawn to her that make the show so popular. Bill Compton, who became her lover, her brother Jason Stackhouse, Eric Northman, another vampire who favors Sookie, and her boss Sam Marlotte all want something from or for Sookie and they'll do just about anything to get it. 
While fans love all the drama, romantic and otherwise, that unfolded during the seven seasons of "True Blood," what is the story behind the cast's real-life loves? Keep reading for all the details. 
Stephen Moyer respects Anna Paquin's sexuality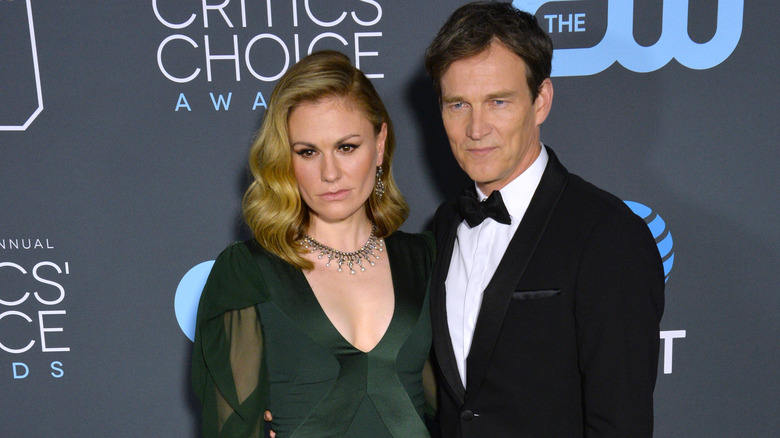 If you're a "True Blood" fan, you probably already recognize Anna Paquin's partner: it's her co-star, Stephen Moyer! The two married in 2010, the same year Paquin came out as bisexual. Throughout their relationship, Paquin has had to defend her sexuality simply because she's married to Moyer and has two children with him. When an Instagram critic stated, "I am getting tired of seeing 'bi' celebrities constantly advocate for it only to end up conventionally married to men with multiple children, living out the so-called white-picket-fence life," Paquin shot back, per People. "I'm a #proudbisexual who is married to a wonderful human who happens to be a man," she wrote.
Anna Paquin is graciously and unapologetically bisexual and doesn't deny that fact despite her happy and monogamous marriage to Stephen Moyer over the last eleven years. They share two children, Poppy and Charlie Moyer and still enjoy the "True Blood" fandom. As for Stephen's thoughts on his wife's sexuality, he told Playboy (via Us Weekly), "It's her business to talk about it, not mine. It doesn't change anything. I'm proud of who she is."
Alexander Skarsgard is single and loving it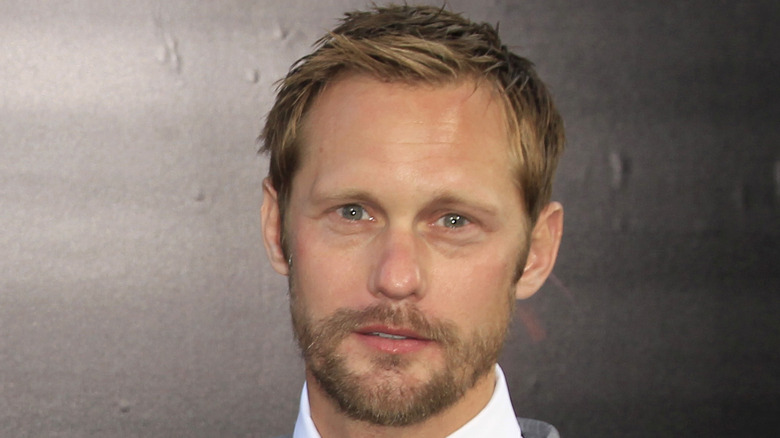 Eric Northman, played by Swedish actor and heartbreaker, Alexander Skarsgard, is a vampire with a conscience. In the "True Blood" series, Eric is always the one who's trying to save Sookie. Whether it's about honesty or horning in on Bill Compton's catch, Eric is always there. 
In real life, Alexander Skarsgard, who is part of the well-known family of actors, might be into saving a damsel in distress, but he is single and seems to be loving the sense of freedom it gives him. "I'm not married and I don't have kids, and I'm really enjoying it at the moment," he told The Observer in 2018. "There's something quite Buddhist about the sense that you can only have eight items or whatever. Because I have my one suitcase and whatever doesn't fit in that, I can't bring. So the other day, I wanted to buy a pair of sneakers and I realized they're not going to fit in the suitcase, so I have to decide, how badly do I want them?"
Most recently, Alexander was linked to designer and model, Alexa Chung, whom he split from in 2017, due to busy schedules and the rigors of a long-distance relationship, per Pop Sugar. He's also been linked to Kate Bosworth, Amanda Seyfried, and Evan Rachel Wood, just to name a few. 
Sam Trammell's true love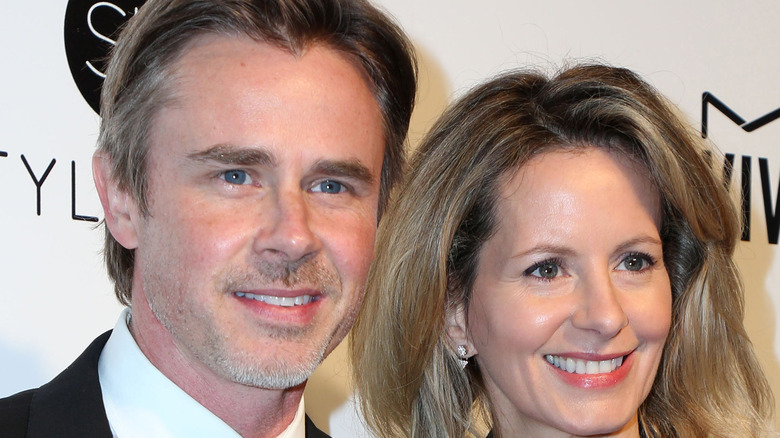 Sam Trammell, most notably famous for his portrayal of Sam Merlotte on HBO's "True Blood," has a beautiful wife who is also an actress. Born Michele Marie Yager, she goes by Missy Yager more often than not and is not only an actor but also a producer. You might recognize her from her roles as Sarah Beth Carson on "Mad Men" or Mrs. Olsen in "Manchester By The Sea." She also appeared in "Dirty John," which came out in 2020, in which she plays Betty's Mother. As a producer, she holds two credits for "After the Fall" and "Friends With Kids." 
Trammel has done numerous projects with his wife, whom he met in 2003 while they worked together on Broadway. The couple share twin sons, Gus and Winston who were born in 2011, per People. The two even played a married couple in the 2016 film "All Mistakes Buried." "It was very helpful that she was doing the part, especially the therapy scenes because we just know each other so well," he told Daily Actor. "There's an instant familiarity that you have by casting her as my wife."
Joe Manganiello and Sofia Vergara make it work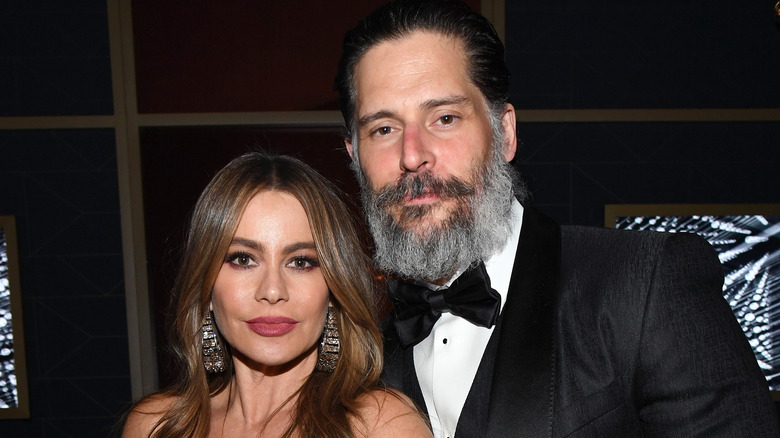 In 2014, Joe Manganiello was one of the hottest bachelor's in Hollywood — and pretty much everywhere else. Having just come off from the high of playing sexy werewolf Alcide Herveaux in "True Blood," the then-38-year-old was on every single woman's radar. That includes Sofia Vergara, who was actually engaged to someone else when she met the sexy actor at the Whitehouse Correspondents Dinner, according to Cosmopolitan. Six months later, Vergara accepted Manganiello's proposal and the happy couple married in November 2015. 
"I didn't want to go out with him for a long time because I thought he was too good-looking," Vergara told InStyle (via E! News) in 2015. "But then I gave him a chance. I realized he's not like a typical handsome guy. He's not vain. He's very serious, very straightforward, very easy." Of course, Vergara is no stranger to the spotlight. Being an actor herself, the two are able to support each other while juggling the conflicts and tension of two separate, active careers. And while the two are still under the ten-year mark and have yet to hit the seven-year itch, which the Daily Mail claims may doom many marriages in and out of the celebrity world, they seem uber happy to have each other. 
Source: Read Full Article