Season 6 of Bravo's "Real Housewives of Potomac" is almost upon us. After an explosive fifth season, fans can expect to see newcomers Mia Thornton and Askale Davis (also known as Ethi-Oprah) joining the Potomac clique. Of course, we can expect the return of cast members Gizelle Bryant, Karen Huger, Ashley Darby, Candiace Dillard Bassett, Dr. Wendy Osefo, and Robyn Dixon — the latter of whom we've seen undergo a lot of family and financial issues in previous seasons. Fortunately, Season 5 had a happy ending for Robyn; after officially rekindling with her ex-husband Juan Dixon, the lovebirds are giving love a second chance after Juan proposed to the reality star on "RHOP" seven years after their divorce.
Compared to her other co-stars, Robyn does not appear to make superficial things her main focus (you may remember Robyn calling the other ladies "bougie" for not wanting to sleep in twin beds at Ashley Darby's beach house in season 1). Robyn's rise and fall from fortune wasn't the easiest time in her life, but it's clear that the "RHOP" fan favorite doesn't stay down for long. Robyn's All-American story continues to inspire viewers to be strong and to never let adversity prevent them from getting back on their grind. So you may be wondering what Robyn's life was like before "The Real Housewives of Potomac." Keep scrolling to see Robyn Dixon's stunning transformation from teenager to 42 years old.
Robyn Dixon and Juan Dixon were high school and college sweethearts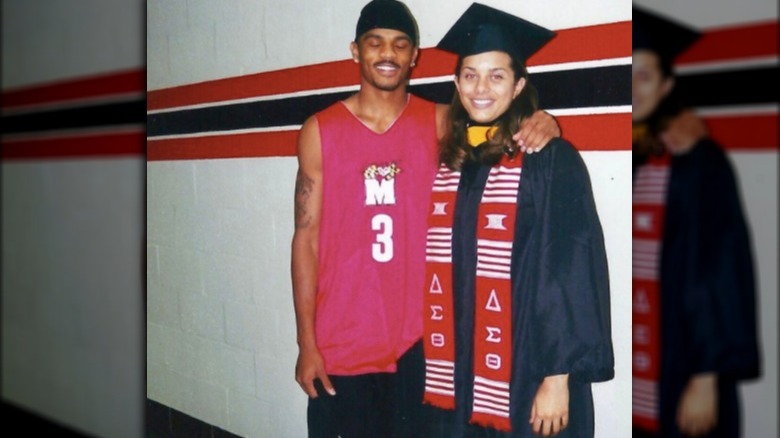 Not everyone is fortunate to find their soulmates at a young age, but Robyn Dixon fell in love with former NBA player Juan Dixon at the age of 16 years old, when she was a senior and he was a junior in high school. According to the reality star's official Bravo TV bio, she met Juan when he was a star athlete at Calvert College Hall High School in Towson, Maryland, the rival school to McDonough High School where she attended. Robyn was a major support system for the former basketball player when both his parents, Phil and Juanita Dixon, died from AIDS-related illnesses when he was a teen (via Baltimore Sun). Robyn's parents also stepped in as surrogate parents for the athlete, per Showbiz Cheat Sheet. Although Robyn never met Juan's mother, Juan has reportedly said that he felt his mother sent Robyn to him following her death. 
After graduating from high school, the couple attended the University of Maryland together. While Robyn pursued a business marketing degree and became a Diamond Life member of Delta Sigma Theta Sorority, Incorporated, Juan was a star athlete that led the Terrapins to their first — and so far only — NCAA championship (via ScreenRant). Even while participating in different activities on campus, Robyn and Juan stuck beside one another throughout their college career.
Robyn and Juan Dixon took their relationship to the next level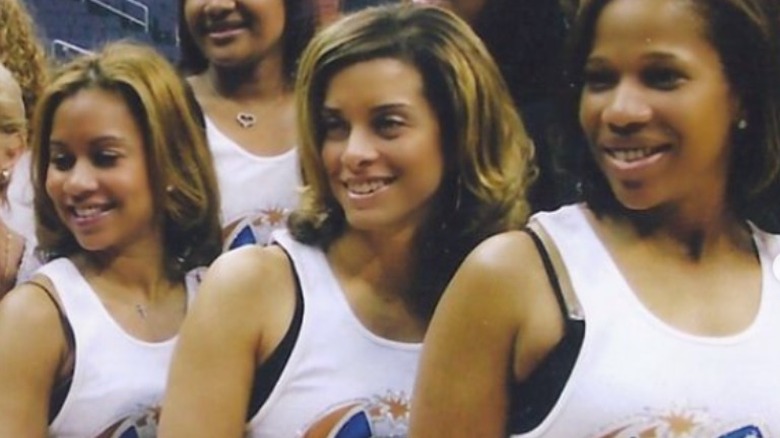 Post-college life seemed to be promising for Robyn and Juan Dixon. After graduating, Juan was a post-round draft pick for the Washington Wizards in 2002. It was at that time that he and Robyn began to experience the glitz and glamour of the sports world. Of course, as young adults there was no sense of preparation for the future. "Life as a young adult was fun and easy and we had money but we didn't live over the top and we didn't need to save up for a down payment on a house," Robyn explained to Woe Magazine. "Like the hardest decision to make was at a dealership; either we wanted the black one or the silver one." Robyn and Juan tied the knot on June 30, 2005 in a ceremony at the Galleria at Lafayette Centre in Washington, according to the Baltimore Sun. The couple later welcomed two sons, Corey and Carter Dixon, in 2008 and 2009. Life seemed to be perfect for them, but that was only until hardship came knocking on their door.
Robyn and Juan Dixon lost all their fortune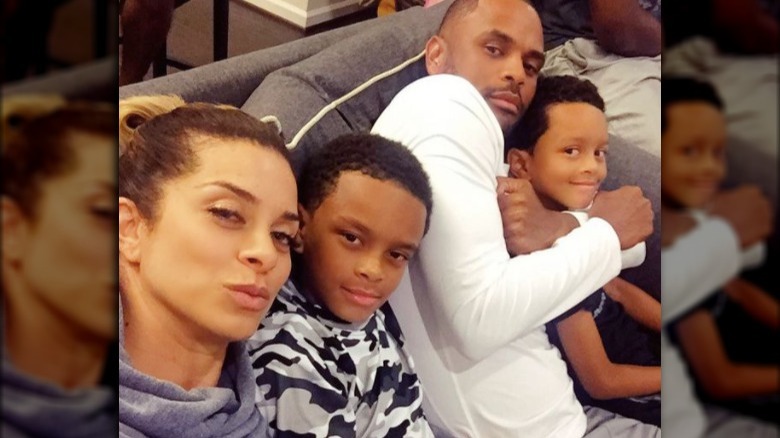 While her husband was a full-time athlete, Robyn Dixon worked a part-time position with a PR agency in DC called TAA to help make ends meet, according to Woe Magazine. After Juan Dixon left the NBA in 2012, his marriage to Robyn Dixon saw great struggle. Together the two faced financial issues that resulted in them losing their fortune. According to Robyn (via Showbiz Cheat Sheet), she trusted a family friend, former University of Maryland basketball player Earl Badu, with investing their money in a business venture. Instead of investing their money, Badu allegedly stole hundreds of thousands of dollars from the couple. The former athlete later jumped to his death in a suicide (via Baltimore Sun).
In September 2013, Robyn filed for chapter 7 bankruptcy in the state of Maryland. She claimed she owed $217,000 in debt with a monthly income of $2,000, per Radar Online. Among her debts included $149,813 to a mortgage company, $28,372 to Audi for her car, $16,577 to American Express, $10,871 to Discover, and an estimated $3,000 to Bloomingdales. The reality star's bankruptcy dismissal came in 2014, but she was forced to pay the IRS $16,183 in back taxes. As a result, Robyn and Juan lost their Maryland mansion in the process.
In retrospect, Robyn has expressed guilt regarding the bad investment that caused her family to lose their fortune. She told Bravo in 2016, "The pain and hurt that I felt in 2012 was beyond any other hurt that I have ever felt. And although the loss of money really created huge problems for us, it was the evil lies and deception that hurt the most."
Robyn Dixon filed for divorce from Juan Dixon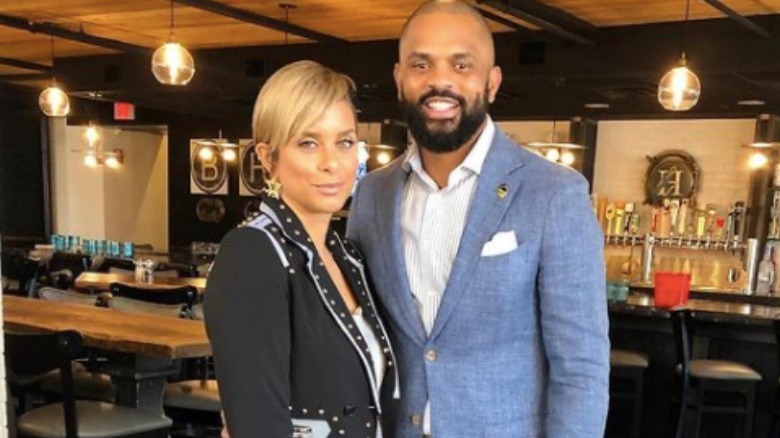 Financial issues aren't the only problem that plagued Robyn Dixon's marriage to Juan Dixon. Unfortunately, infidelity was among the other issues in their marriage. As reported by Distractify, Juan revealed in a "Real Housewives of Potomac" confessional that he cheated on the reality star while he was in the NBA. In 2009, the former athlete sparked a relationship with a woman named Cris Sanchez. Juan's relationship with Sanchez began months after he was infamously cut from the Atlanta Hawks. In an archived issue of The Diamondback published in November 2012 (months after the Dixons' divorce was finalized), Juan is on the record calling Sanchez the "love of my life." The publication also mentions that Sanchez was Juan's "longtime girlfriend" and "sole support system during his more than two-year-trek through Europe."
During an episode of "RHOP," Robyn explained why she filed for divorce from Juan. "Our marriage was not in a good place. We had two little ones and I definitely was not in a place where I even cared to fight for our marriage. So the divorce came pretty easily," she said (via BET). "It's the hardest thing I've ever done in life to raise two kids, less than two years apart, by myself. When Juan was in the NBA, he was constantly traveling. I'm changing diapers, I'm not getting sleep and I'm walking around like a zombie. Like, I don't have time to even give two s**ts about what he was doing." Despite their divorce, Robyn and Juan continued living with one another as they co-parent their two sons.
Robyn Dixon is focused on rebuilding her life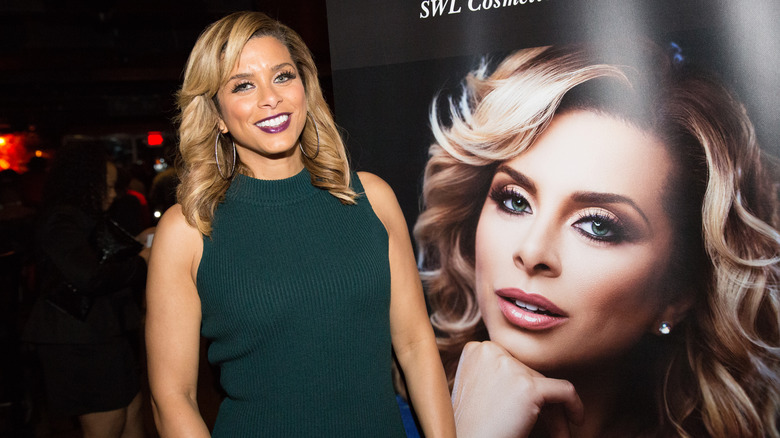 Even after facing tragedy and emotional distress, Robyn Dixon managed to find the silver lining as she focuses on rebuilding her life. In 2016, Robyn became a cast member of Bravo's "Real Housewives of Potomac." She told Woe Magazine, "I was really surprised that they wanted me to do the show, most of these shows are aspirational and I didn't think I was aspirational but hats off to Bravo for seeing something in me that they thought the audience could connect to." In previous seasons, Robyn chronicles her previous financial and familial hardships — especially her once-complicated co-parenting relationship with now-fiancé, Juan Dixon. Throughout the seasons, viewers see Robyn and Juan work towards rebuilding the life that they once had.
Robyn's success goes beyond her reality TV success. She is the owner of a line of fashion baseball caps called Embellished, as well as a lip gloss collection with "SWL Cosmetics." Additionally, she is the creator of "She Is Empowered," a networking event for female entrepreneurs (via Woe Magazine). Robyn is all about multiple streams of income, as she is taking on the industry of real estate as an investor. During an episode of "RHOP," Robyn unveiled her first major renovation project by celebrating with an open house party. Things haven't always been easy for Robyn Dixon, but like she told Woe Magazine: "I got my hustle on when my back was against the wall."
Source: Read Full Article