You'll find no shortage of celebrities who declare themselves among the busiest folks in show business, but few can stake such a claim like media mogul Ryan Seacrest, who's come a long way since his humble beginnings as a deejay. Armed with a savvy eye for business opportunities and blessed with an envious array of communications skills, the Dunwoody, Georgia native has parlayed all that talent into an empire worth at least $450 million.
Garnering a higher profile than ever on network television with co-hosting the morning show "Live With Kelly & Ryan," Seacrest has his name visible almost everywhere in entertainment, from hosting "American Idol" to producing a staggering lineup of reality shows surrounding the misadventures of the Kardashian family. It's a tally that keeps getting larger when you consider other projects that include his awards show red carpet hosting stints on E!, a roster of unscripted shows that starred the likes of Kevin Jonas and Brad Garrett, and even a kids game show on Nickelodeon.
This multimillionaire with multiple revenue streams is certainly a media powerhouse with everything but enough time to roll around in that mounting pile of dough. Let's run down some of the surprising details of how he spends his hard-earned fortune.
From LA to NYC, Ryan Seacrest lives large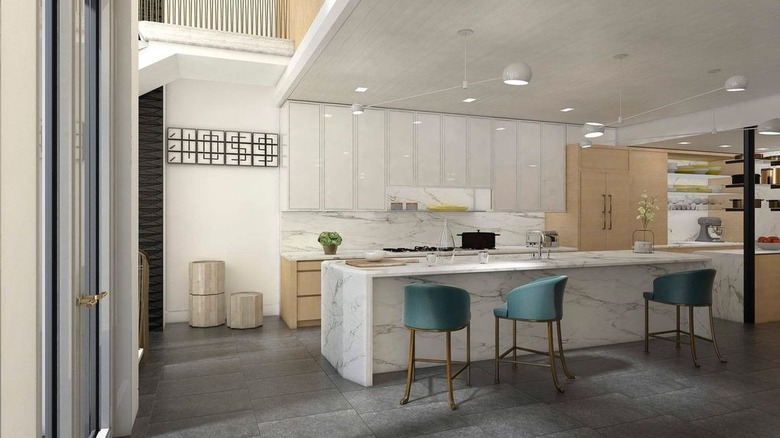 Like nearly every celebrity, Ryan Seacrest has had some fancy digs, most notably a few big-name dwellings when he lived in Los Angeles. But he's given all those up in favor of an opulent New York City apartment that sets him back $75,000 a month so he could be closer to his popular day job as co-host on "Live With Kelly & Ryan." His cushy Manhattan pad (shown above) is part of a renovated 1879 complex boasting 11,000 square feet and six floors of living space. Taking up some of that room are six bedrooms, five bathrooms, black limestone floors, six fireplaces, a 30-foot tall atrium, and an elevator.
Those lavish features recall some of the places he used to own back in L.A., most notably the $36.5-million mansion he bought from Ellen DeGeneres in 2012. At over 9,000 square feet, the house (and guest house and pool house and second guest house) features seven bedrooms and 10 bathrooms, all situated on nearly three acres of prime Hollywood that also boasts a swimming pool and a pond for vegetation and wildlife, per the Los Angeles Times.
Before shelling out for the DeGeneres estate, Seacrest owned a Mediterranean villa-style abode previously occupied by Kevin Costner and Richard Dreyfuss. When title passed into his hands, he fully renovated the place, including replacing the basement quarters with a giant wine cellar. Oh, and the price tag on that abode? $11.5 million. 
It costs a lot to go no. 2 at Ryan Seacrest's house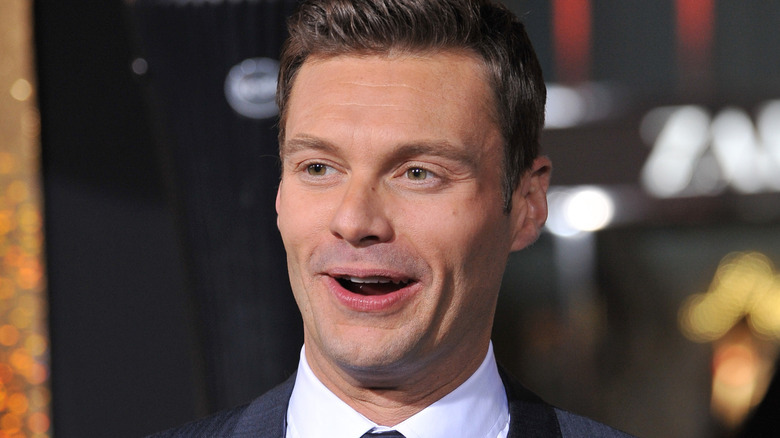 It's likely no surprise that opulent accessories deck out the interior of whatever castle Ryan Seacrest occupies. And there was one particularly curious item in the multi-hyphenate's manse that got right down into the bowels of public intrigue.
At one point, Seacrest owned an automatic toilet manufactured by bathroom fixture company TOTO. Reports varied as to the price, with the Daily Mail putting it at $6,000 and Hollywood.com estimating considerably lower at $2000. Regardless, that's a pretty price tag for a porcelain throne. Admittedly, the media star never made that purchase himself. Instead a friend gifted it to him as a surprise — including a secret installation when he was out of town — shortly after Seacrest bought that villa-styled home from Kevin Costner. Still, Seacrest marveled at the technology offered by the classy commode. "It has comfort functions, it has a remote control lid, at all times the seat is warm," he revealed on his radio show. "It has buttons and lights all over it."
The cool part is the sophistication of this ultra-super bowl. There's no need for hand-waving to flush the thing. It's all done automatically via the company's patented Tornado Flushing Technology. Or for the extremely well-heeled, there's Dynamax Tornado Flushing Technology, which "generates a vortex that uses a pushing force to send the waste out first, allowing it to travel longer distances than older systems." Seacrest never revealed which option his big-time biffy had.
Ryan Seacrest shifts into drive in several high-end cars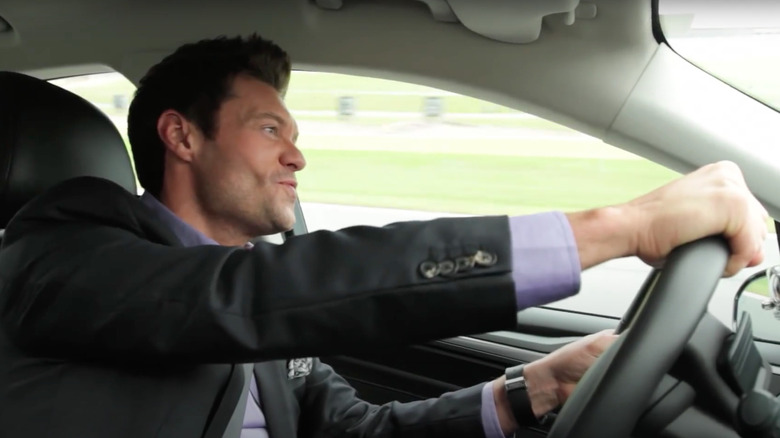 Oddly enough, for someone whose life is in the fast lane, Seacrest doesn't seem to own any particularly speedy vehicles. Nope, you're not likely to see a Ferrari or Lamborghini anywhere in his glitzy four-wheel collection. In fact, Seacrest rarely talks about his rides, but he did tell Vanity Fair in 2012 that he "lease[s] a few cars." Eagle-eyed car blogs identified a few autos Seacrest has been spotted in, including a Range Rover should the celebrity opt for a more off-road destination. 
Probably the glitziest car to grace Seacrest's garage is the Bentley Flying Spur, which again, we're not sure if he outright owns or ever owned. But if so, he'd have shelled out roughly $200,000 for the luxury whip with at least 600 horsepower, enough to hit 60 miles per hour in less than four seconds. 
About as sporty as Seacrest gets is his Aston Martin DB9, a model the company discontinued in 2016, but can be available used for a figure around the $130,000 mark, as of this writing. "That I like to drive," Seacrest noted to Vanity Fair of the beautiful British roadster. Unlike the James Bond version, Seacrest's Aston Martin probably doesn't have any of those spy gadgets, but likely has a touchscreen with a running tally of his earnings.
Being Ryan Seacrest's girlfriend pays off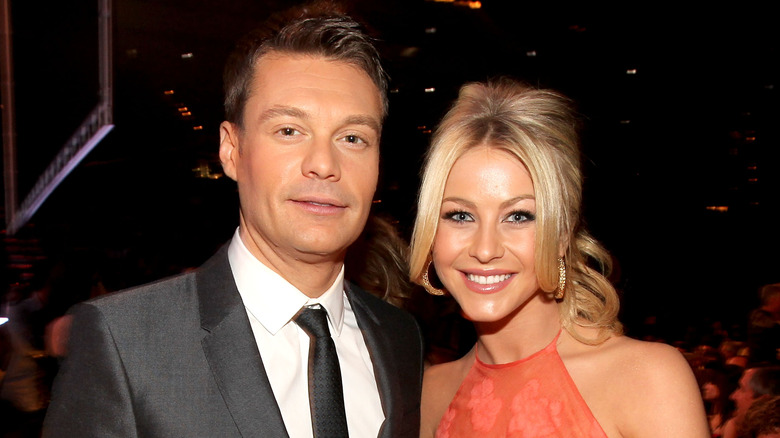 For years, Ryan Seacrest has been tabloid fodder in the relationship department, with the headlines surrounding his dalliances with model Shayna Taylor or social media influencer Aubrey Paige. And while neither has spilled the beans on the intimate details of their romances, one source revealed Seacrest can be a particularly giving beau.
That little morsel of gossip was dropped by Julianne Hough, who got into a relationship with the media celebrity in 2010. "He likes to do big surprises for Valentine's or Christmas or my birthday," she once remarked to Extra.
Just how generous was Seacrest? Well, here's a clue. In 2013, roughly about the time her movie "Safe Haven" was in theaters, Hough reported to the police that someone had broken into her Mercedes and made off with $100,000 in jewelry, all of it gifted to her by Seacrest. TMZ claimed an investigation revealed "there were no visible signs of forced entry" surrounding the theft of three items, including "a $50,000 watch."
Ironically that year, Hough lost more than that jewelry. The day after TMZ reported the theft, E! broke the story that she and Seacrest had split up.
Ryan Seacrest gets away from it all in style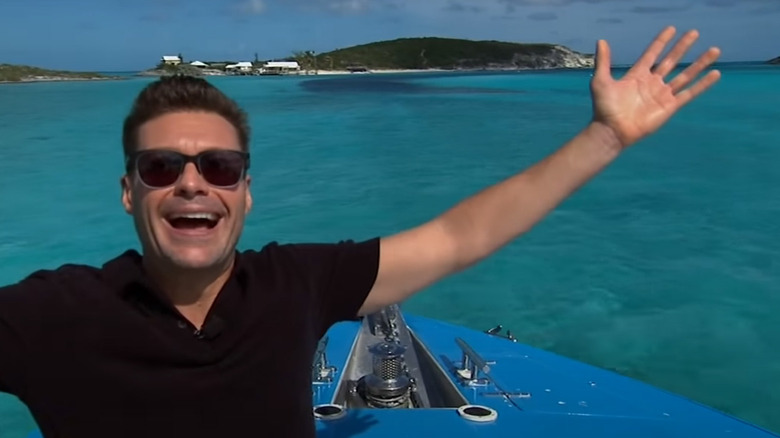 There are a couple things to consider when investigating Ryan Seacrest's vay-cay spots. First, he doesn't seem to get much downtime on account of his busy schedule and heavy-duty business interests. Second, when he does opt for a leisurely getaway, it usually gets a lot of media attention if there's a new love in his life.
For example, Popsugar extensively detailed Seacrest's white sand beach and champagne-filled January 2012 St. Barts getaway with then-girlfriend Julianne Hough. Then, a year after Seacrest and Julianne Hough became splitsville, E! tracked him down at a ritzy St. Tropez resort, where he courted romantic interest and model Shayna Taylor with a luxury yacht cruise on the Mediterranean. In 2020, the roaming romantic was at it again, having moved on from Taylor. Page Six revealed an image of the media mogul lounging in Cabo San Lucas, Mexico with a mystery woman who later turned out to be media influencer Aubrey Paige. While the piece didn't disclose exactly where the couple stayed, People reported that Seacrest is a frequent guest at a posh Cabo getaway called Las Ventanas al Paraiso. 
Seacrest can certainly afford a few nights at the Mexican five-star resort with suites going from as low as $810 for a junior suite to the three-bedroom oceanside villa, going for a sky-high $7,695 a night. Amenities include up to six drinking and dining establishments as well as a salon, spa, pools, and fitness rooms to work off all those excesses.
A lucky pit bull benefitted big time Ryan Seacrest's generosity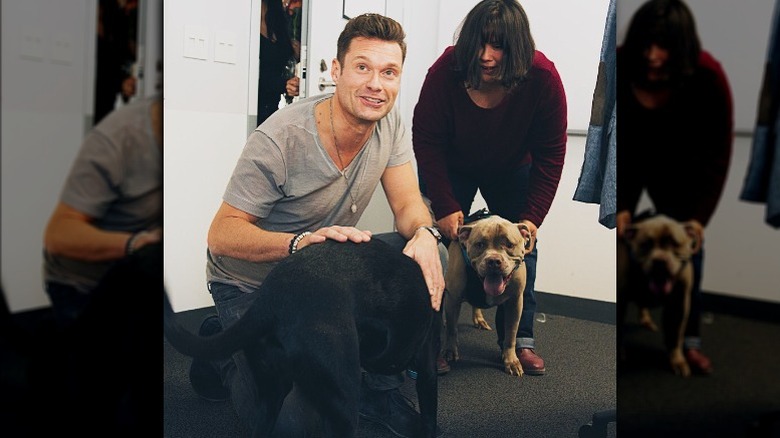 One thing that fans of Ryan Seacrest find endearing is his love of animals, especially dogs. And according to Closer Weekly, he's especially proud of a Labrador retriever named Georgia, which was given to him as a gift from "American Idol" producer Simon Fuller. It turns out Georgia was a huge comfort to Seacrest, especially during those lonely quarantine days when the pandemic was in full swing.
So it comes as no surprise that when the media mogul was hosting his live radio show, "On Air With Ryan Seacrest," his heart sank when he received a call from a listener lamenting over the plight of her pit bull, Romeo. The canine suffered from an extreme case of arthritis caused by ruptured ligaments. Romeo was in such bad shape, he ran the risk of having two of its limbs amputated unless his owner could scrape up $8,000 for a pair of surgeries that would spare those legs.
The owner, a 42-year-old woman named Mercedes, didn't have the money, but said Romeo was a source of comfort when she was going through some bad times, dating back to when she was a foster child. After she finished her story, Seacrest didn't hesitate to pay for the surgeries himself. After the first procedure turned out to be a success, Seacrest and Georgia even got a chance to hang out with Mercedes and Romeo in person (shown above). 
Ryan Seacrest's foundation helps sick children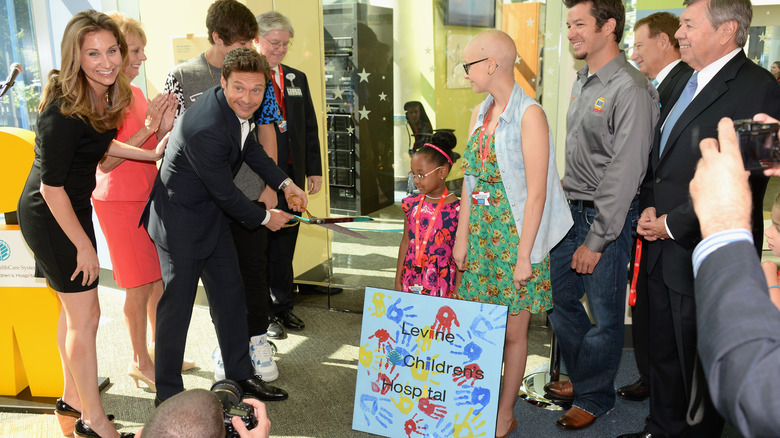 Among the numerous charities that Seacrest supports, one of them couldn't be any closer to his heart than the one that bears his name. Formed in 2010, the Ryan Seacrest Foundation was designed to help sick children in a rather unconventional way. Rather than pay for medication or fund medical research, Seacrest has put untold sums of his own money into his cause that uses entertainment to heal afflicted youngsters, an idea that came to him while visiting a few pediatric hospitals.
"During these visits, I also learned that the patients were wanting more things to do to distract and entertain them during their hospital stays," said Seacrest on the organization's website. "This feedback really stuck with me and I told my family over dinner one evening that I wanted to create a foundation that would provide a positive distraction to hospitalized kids through the two things I know best: radio and television."
To that end, his foundation has set up a number of studios with radio and television broadcasting hardware in 11 hospitals across the U.S. The studios not only help young patients become media savvy while getting creative, they also reportedly have had a positive impact on the optimism of their health outcomes during their hospital stays.
While it's unclear exactly how much of Seacrest's own money goes into the venture, Charity Navigator reports that operating costs for Ryan Seacrest Foundation Inc. in 2018 were close to $731,000, and ramped up to $1.7 million in 2020. 
He's a foodie who owns a few restaurant chains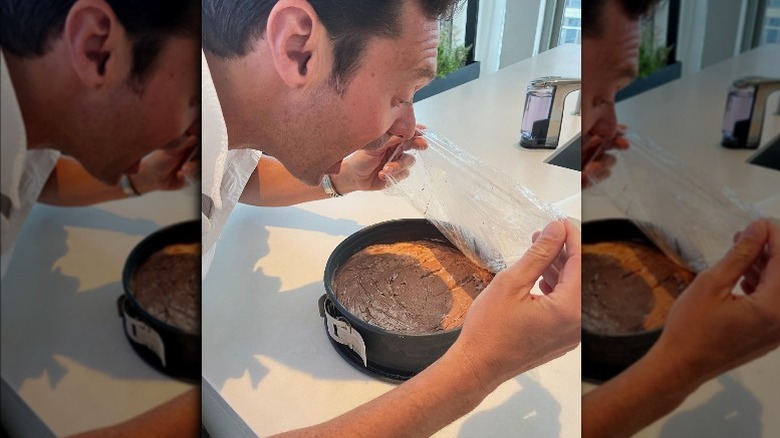 Foodies around L.A. are quite aware that Ryan Seacrest and actor Tori Spelling co-own Japanese eateries Katana and Robata, that latter described by Newsweek as "so hip it hurts."  But Seacrest's investment in the hospitality industry runs far deeper, with a focus on healthy menus and eclectic cuisines. "I love food — it's one of my personal passions," he said to The Hollywood Reporter. "So when some friends suggested I explore investments in this area, it seemed like a no-brainer. Who wouldn't want guaranteed reservations?"
To that end Seacrest has heavily backed the Innovative Dining Group, an umbrella company that owns classy eateries, including Boa Steakhouse, Luckyfish, and Sushi Roku. And IDG founder Lee Maen has found Seacrest's involvement a true asset. "Ryan Seacrest is a foodie, said Maen to Whittier Daily News "When Ryan is on the radio and mentions one of the restaurants, it hits more people than the average person speaking to their friends."
It's safe to say that his sprawling tastes in which restaurants he owns is on par with his varied tastes at the table. "I don't always go in and eat the most fattening thing on the menu and douse myself in oil and butter," Seacrest said to CBS, noting his penchant for "order[ing] several things on the left side of the menu." That way, the star can "taste a lot of different things without having to make too much of a commitment." 
Distinction sums up Ryan Seacrest's menswear line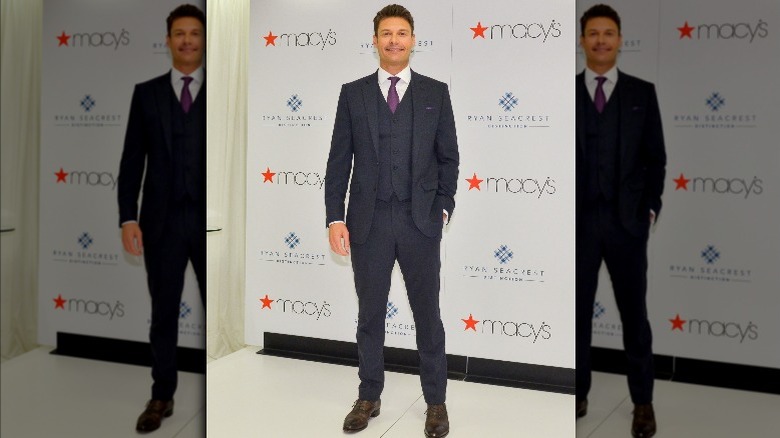 If a kid from Georgia whose toehold into showbiz is as a deejay that evolves into a multimillion-dollar media dynasty is an example of distinction, so be it. And all the more appropriate for someone like Ryan Seacrest, whose career path is pretty unique in the world of entertainment, to dub his wardrobe line Distinction. The brand's suits, leisure jackets, and accessories are all designed with two purposes: to make men not only look good, but feel good as well.
"I love putting on a great suit," said Seacrest to GQ. "When a guy puts on a great suit, it gives him a sense of confidence and there's an attitude that comes with it, too." Seacrest's suit-wearing confidence was actually borne out of what BOF called his "formal relationship with Burberry's Christopher Bailey," the haute designer who outfitted Seacrest in custom suits early in his career. Those don't come cheap, but for his own line, the "American Idol" emcee had something else in mind.  
Seacrest collaborated with a lot of fashion professionals to get that look for men of all ages and sizes without breaking their budgets. That last qualifier is very important to Seacrest, who apparently rubbed pennies together to buy his first suit. "I'd like to be able to provide the detail and the stitching and the cut so that you feel like you get some high-end traits in this accessibly-priced suit," he told GQ. "That was the goal for me: Quality, accessibility, and detail."
Ryan Seacrest's biggest business failure was a Typo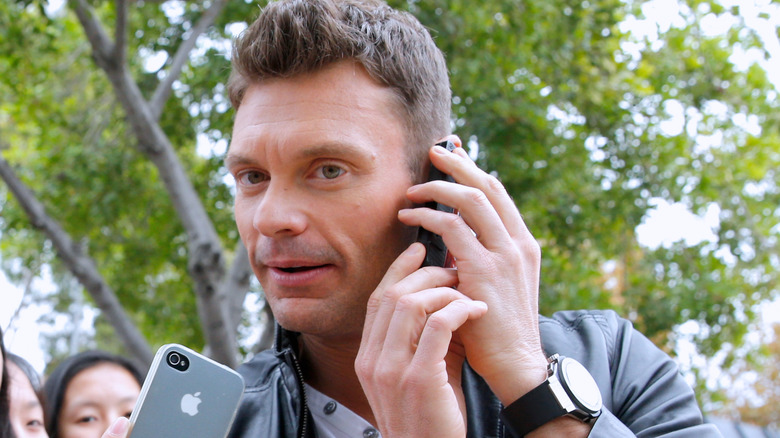 Not everything Ryan Seacrest touched has turned to gold. One such instance involved a venture into the dicey world of communications electronics. Noticing that a number of smartphone users had a problem with texting directly onto the screens because their fingers were too large, Seacrest thought it was a good idea in 2013 to put a million dollars of his own money into a tiny keyboard created by a company called Typo Products. This keyboard with raised buttons could be attached to a smartphone allowing users to text easier. 
There was only one problem. According to CNN, rival company Blackberry, which still had some clout in the cellphone market at the time, declared the Typo device was far too similar to keyboards on its phones and sued the company "for patent infringement" when executives saw the attachments on display "at the Consumer Electronics Show in Las Vegas" in 2014. Blackberry and Typo eventually settled the dispute out of court in 2015, but it was hardly a win-win scenario. Typo agreed to stop making their keyboard attachments available for use on smartphones with screens smaller than 7.9 inches, which limited the company's market reach to only to iPads.
It's unclear what happened to Typo Products and/or Seacrest's investment in the company. But a good clue would be the company's non-existent online presence for its products outside of vintage eBay listings, and total press silence on it from Seacrest since 2015. 
Source: Read Full Article