When you think of some of the hottest stars in Hollywood these days, usually actors Anna Kendrick and Blake Lively come to mind. The two have been highly sought after for years to star in films and TV shows, so you could easily say that both have found massive success in the industry after beginning their careers as teenagers in the early 2000s. Lively's fans know the mom-of-three best from her starring role in the hit series, "Gossip Girl," as well as films like "The Sisterhood of the Traveling Pants" and "The Shallows." Kendrick, too, got her start in teen favorites like "Twilight" and the "Pitch Perfect" movie series, but she more recently found work on the HBO series, "Love Life."
Yet, perhaps a more memorable moment of their careers is when the two women came together in 2018 to star in the dark comedy thriller, "A Simple Favor." Banking over $97.6 million, the movie fared well among most critics, with Rotten Tomatoes' consensus reading, "Twisty, twisted, and above all simply fun, 'A Simple Favor' casts a stylish mommy noir spell strengthened by potent performances from Anna Kendrick and Blake Lively." The two played frenemies in the film, but some have since wondered if that dynamic has rang true for them in real life, with many continuing to have a lot to say about their relationship on and off camera.
So, let's take a look at what's going on between these two Hollywood power players, Anna Kendrick and Blake Lively. 
There are rumors that Anna Kendrick and Blake Lively 'hated each other' on set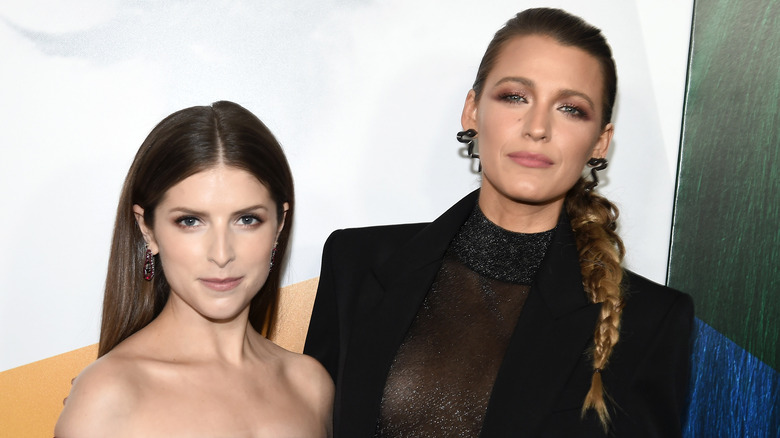 While "A Simple Favor" came out back in 2018, rumors of a nasty feud between Blake Lively and Anna Kendrick didn't actually surface until April 2021. A popular TikTok user named celebritymemoirbookclub posted a video reporting on claims that, by the time the film wrapped, these two stars "were not speaking," "they were basically enemies," and "their press tours had to be booked separately."
When fans questioned the allegations, the TikToker posted another clip, saying that she got the tea from "someone who worked at the studio." She then showed a screenshot of a direct message she'd since received from someone else who claimed to have worked at the film's production company, Lionsgate, and alleged that "the rumors are true." This anonymous source wrote, "They HATED each other. The studio even had to have a talk with them about making it look like they liked each other on press tours because it was starting to get obvious." They continued, "Anna in particular was really competitive with Blake and was constantly asking to make sure she got more promotion than Blake and even made us PHOTOSHOP HER CLEAVAGE in the 'Simple Favor' poster to be as big (or bigger) than Blake's."
The TikTok star took it further by pulling up some interviews that Lively and Kendrick did together, where they seemingly shared some awkward moments. The speculation even took over a Reddit thread. At the time of this writing, neither Lively nor Kendrick have publicly commented on the rumored feud.
But these two often gushed about each other in interviews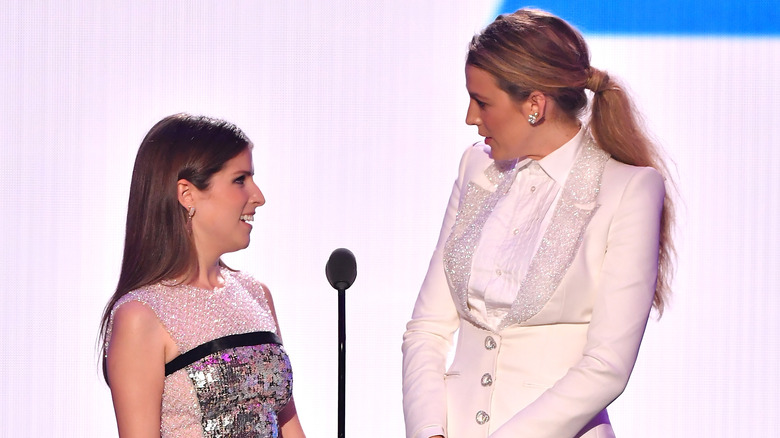 Anna Kendrick and Blake Lively may have been hit with feud rumors in 2021, but during their press tour for "A Simple Favor" three years earlier, they actually seemed to really like each other. Lively even recalled in a joint BuzzFeed interview that she was "nervous" to meet Kendrick back when they were in their late teens, after seeing her in 2007's "Rocket Science." 
"You were just so good and I was just like, 'Oh you're so funny and charming.' I was like, 'Wow, this girl's really cool,'" Lively told Kendrick, adding, "When somebody's so sharp and so funny and so smart … you can tell that's coming from their mind and not from the script." Kendrick seemed just as fond of Lively and admitted that they got along even better than she expected, revealing to Harper's Bazaar, "I thought she was incredibly sweet and kind. Then getting to know her a little better, it was nice to find out about her sense of humor." Kendrick continued to gush, "She's got a dark side, a sarcastic side, and that's great because … how are you going to get along with them for an entire movie when you have my brain? So that was fantastic."
With this tendency to compliment each other in public, there seemed to be nothing but love between the two at this point. Kendrick even told Lively during their BuzzFeed appearance, "It was great to have that kind of partner-in-crime vibe with you."
Was Anna Kendrick and Blake Lively's sarcastic interview banter misconstrued?
Blake Lively and Anna Kendrick definitely had a witty and sarcastic banter while promoting "A Simple Favor," which some may have misconstrued as tension between the two. Yet, it appears it's just a dry sense of humor, which both actors share, that came out during their press tour. 
In their interview with BuzzFeed, Lively told a story about how her call time on set was once pushed back while Kendrick's wasn't, which is something she felt "was so mortifying" since it turns out that Kendrick had been waiting for her. "That was the day I decided I hate you," Kendrick quipped, adding, "We were all talking s**t about you." 
Sure, some might read that as a dig at Lively, but it appears it was all in jest — especially considering how Kendrick was also seen teasing Lively in a sit-down with MTV News, where she joked, "[I] thought she seemed nice, and little did I know," before moving away from her co-star and saying with a laugh, "Don't touch me." In another joint interview, Likely jokingly called Kendrick "an egomaniac" and suggested that she was blocked by her on Instagram. She also teased Kendrick during their BuzzFeed interview, saying when she found out she would be working with her, "[I was] a little disappointed 'cause I'm told Dame Judi Dench was gonna be the mommy vlogger."
It appears that the mutual teasing was part of their routine when it came to doing press — a fitting move, considering they were promoting a dark comedy.
They both loved to tease Blake Lively's husband, Ryan Reynolds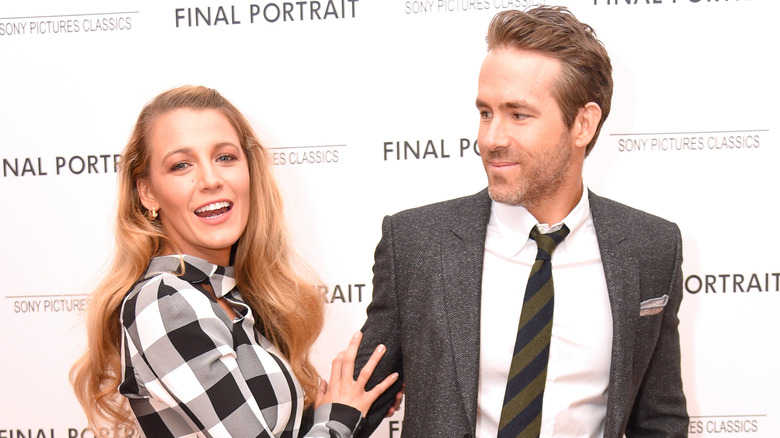 When Blake Lively and Anna Kendrick weren't teasing each other during their press tour for "A Simple Favor," they were coming for Lively's husband and fellow actor, Ryan Reynolds. Kendrick and Reynolds had previously worked together on the 2014 film, "The Voices," but Lively joked about how she seemed to have stolen Kendrick for herself when she wrote in a now-deleted Instagram post (via E!): "@annakendrick47 is the hotter, female(r) version of my husband…so, would it really count as cheating??" To which Kendrick replied, "I let Ryan have 'Deadpool.' He can give me this."
Lively even commented on her husband and Kendrick's similarities when ET inquired about her co-star's "Ryan-like qualities." Lively jokingly replied, "Umm mostly in bed, I feel like." Kendrick also teased Reynolds at the 2018 Teen Choice Awards, when she nabbed the surfboard for favorite celeb Twitter personality. "I have so much fun on Twitter," she said in her acceptance speech (via ET). "… And I know that Ryan Reynolds was nominated, so in your face, Ryan! I beat you! Stay in your lane!" Kendrick later revealed to ET that she had sort of apologized to Reynold for "telling [him] to suck it," but added, "I did sort of admit that there was [also] part of me that was not just doing a bit and was genuinely really excited that I beat him." 
It's clear that Lively and Kendrick have got jokes when it comes to the "Deadpool" star.
Anna Kendrick and Blake Lively both come with past rumors of bad behavior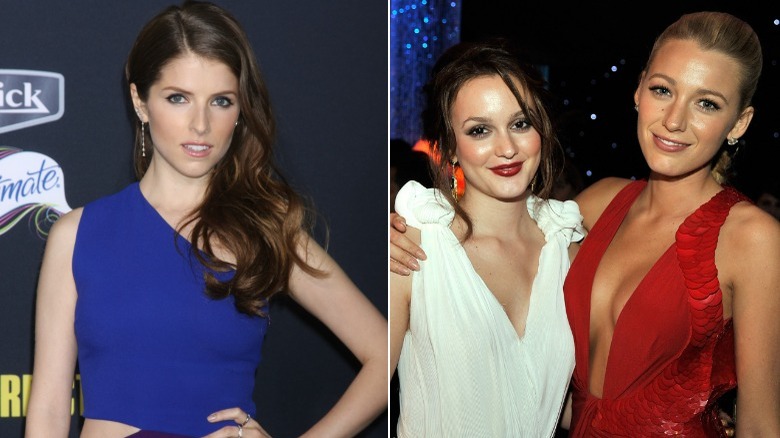 While some may be amused by Anna Kendrick and Blake Lively's sarcasm, there were others who were apparently rubbed the wrong way by the actors. Let's start with Kendrick, who was called out in the aforementioned TikTok video by celebritymemoirbookclub, who alleged that the "Love Life" star has a reputation for being "disrespectful and rude to waiters, bartenders, and fans."
Then there's another TikTok clip that went viral, in which TikToker I Am Tahira — who rated celebrities she's worked with as a stylist — gave Kendrick -100/10 and called her a "terrible person." Tahira claimed in follow-up videos that the star wouldn't "speak to [her]" directly, but only through her PR agent, when working with her on a book tour event, alleged that she demanded $10,000 to wear clothes from a certain brand, and further implied that Kendrick's people threw all of her fan mail in the trash.
The rumors surrounding Lively are a little less harsh, although "Gossip Girl" fans probably already know that she and former co-star Leighton Meester never really got along. One of the hit teen show's writers, Joshua Safran, even told Vanity Fair that "Blake and Leighton were not friends." Suggesting that this may have been because the two were so different, Safran dished, "Blake is very much in the moment … Leighton was very removed and very quiet."
While it's unclear whether either of these rumors are true or merely a misunderstanding, it's still not a good look for either star.
Taylor Swift supposedly inspired their alleged rift … but probably didn't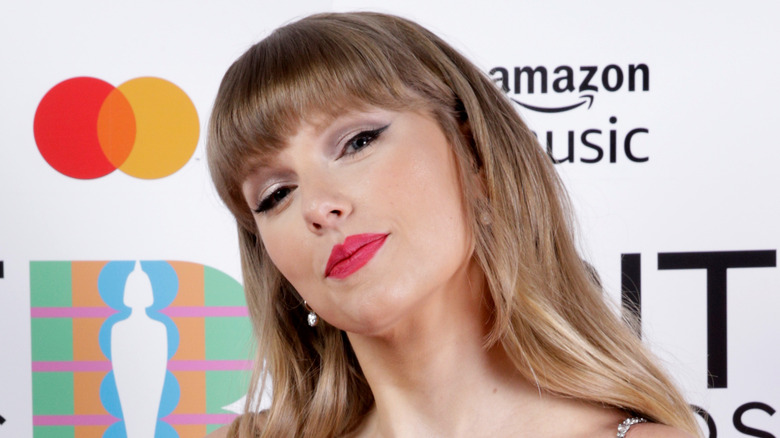 If you believe another Hollywood rumor surrounding these two, then there's a fellow major star who may be involved in Blake Lively and Anna Kendrick's alleged feud, and that would be music sensation Taylor Swift. Turns out that the singer-songwriter and Lively are pretty much besties. The two have not only gone on trips together and posted about their love for each other on Instagram, but Swift has even used Lively and Ryan Reynolds' kids' names in several of her songs.
It was that friendship that allegedly, per Star magazine (via Gossip Cop), led to a problem between Kendrick and Lively on the set of "A Simple Favor." A crew member claimed that Kendrick was "always ribbing" Lively for being a part of Swift's famous girl "squad," going on to suggest that, "Blake didn't appreciate the constant questions or Anna's tone about the whole thing." The source further alleged that the whole thing made Lively uncomfortable, adding, "It's going to be a long shoot if Anna doesn't tone down the Taylor talk."
Yet, Gossip Cop suggested that there was never even a feud to speak of in the first place, let alone one inadvertently inspired by T-Swift. Case in point? While shooting their film, Lively invited Kendrick to her intimate birthday party, while Kendrick later gave her co-star a birthday shoutout of Instagram, calling her a "classy date" and a "partner in a laundry list of crimes." 
Why both actors found making A Simple Favor to be challenging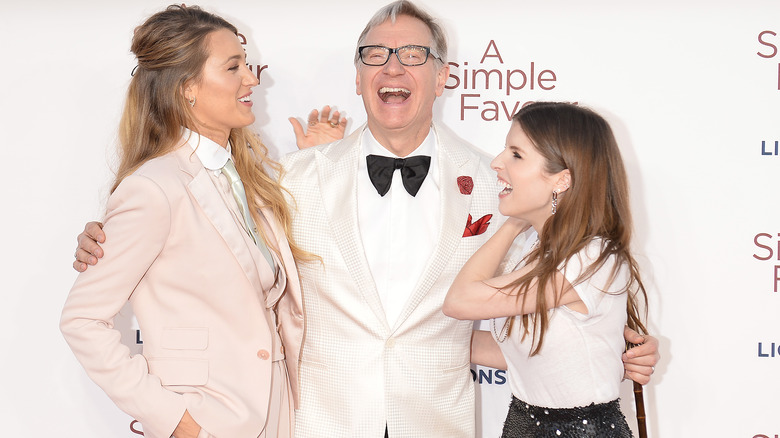 Anna Kendrick and Blake Lively may have been too busy to hate each other while working on the set of "A Simple Favor," especially since the two admitted they had a hard time understanding the film. 
As Kendrick explained to Vanity Fair, "I think Blake and I had a really similar experience reading the script for 'A Simple Favor,' because we could not put this script down." She added, "There was a lot of, like, kind of going back and being like, is this a drama or comedy?" Kendrick also revealed how that impacted their experience on set, saying, "Blake and I got to set and basically every day asked each other like, 'What movie are you in? Cause I want to make sure that we're in the same movie.'"
Lively also spoke about this uncertainty to USA Today, sharing that when she read the script, "I was suddenly very confused because the script was a thriller, and yet Paul Feig was making the movie." She continued, "I sat down with him and asked him if it was a thriller or a comedy, and he said, 'Yes.'" Kendrick also dished to BuzzFeed that it was her most challenging role yet, and not just because the starring duo didn't know what "the tone of the movie" was. She admitted, "Honestly, it was really challenging to try to make her [character] human — to make that show through the cracks of the incredibly irritating facade that she puts on."
Anna Kendrick and Blake Lively's onscreen kiss was kind of a big deal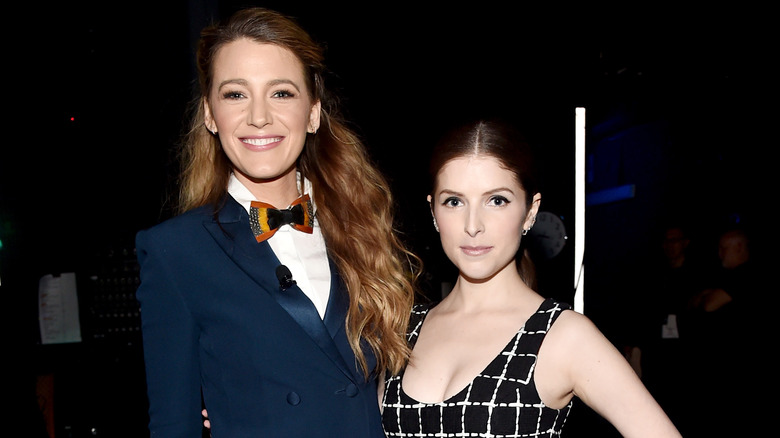 While these days the focus seems to be on whether Anna Kendrick and Blake Lively hated each other while promoting "A Simple Favor," at the time the movie came out in 2018, most people couldn't help but ask about their onscreen kiss. 
Kendrick shared with PrideSource, "I mean, all I'm ever thinking about in [kissing] scenes is, who has gum? Who has a mint? And I think Blake is probably the same because I've never experienced a guy, like, searching for a mint and searching for gum." She added, "We were the mintiest, freshest two people to have ever kissed in the history of America." However, Kendrick did add on a more serious note that, "I remember Blake and I both feeling like neither of us wanted to be the aggressor in the scene." She continued, "We definitely struggled to find that perfect balance of, there's just this moment and they both get caught up in it and it's a little uncomfortable."
The "Pitch Perfect" star also teased that Lively's husband, Ryan Reynolds, may have had some competition, telling ET, "You need to keep them on their toes. He's got a great lady and I just need to let him know that Blake's got options, you know what I'm saying!" Lively also spoke about her and Kendrick's kissing scene. Saying that Kendrick had worked with Reynolds on another film, Lively joked on Good Morning America, "How many people do you talk to [that] have kissed both me and my husband?"
Co-star Henry Golding 'loved them to death' while filming A Simple Favor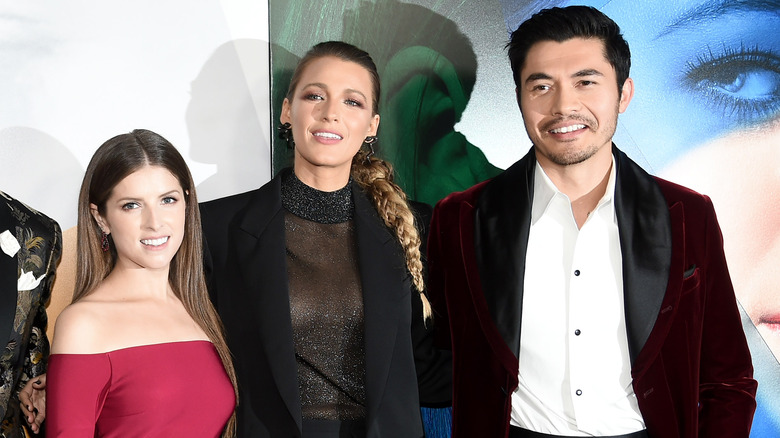 Anna Kendrick and Blake Lively nabbed the starring roles in "A Simple Favor," but "Crazy Rich Asians" actor Henry Golding also delivered a great performance, despite it only being his second movie at the time. 
That could be why he admitted to E! that the duo made him "nervous," especially since he had watched them "growing up." But while Golding was intimidated by Lively and Kendrick at first, he had a change of heart, saying, "Those two girls are 110 percent, on and off the camera. And that, I've heard, can be sometimes fleeting or rather rare in the industry." He continued, "To have people who, even when they're standing on the side, give everything to get the best performance out of you — really is a testament to who they are as actresses and why they're so successful. I love them to death."
True to form, however, Golding's co-stars teased him during the press tour, too. During a joint interview with ET, Kendrick joked to Golding, "There were times when we would be rehearsing a scene and you would stop and you would just go, 'Sorry, I forgot my line. I'm just really nervous.' I was like, 'Why is he nervous? Is he having, like, a medical issue?' And then I was like, 'Oh my god, it's his second movie!'"
Anna Kendrick figured she'd like working with Blake Lively because of Ryan Reynolds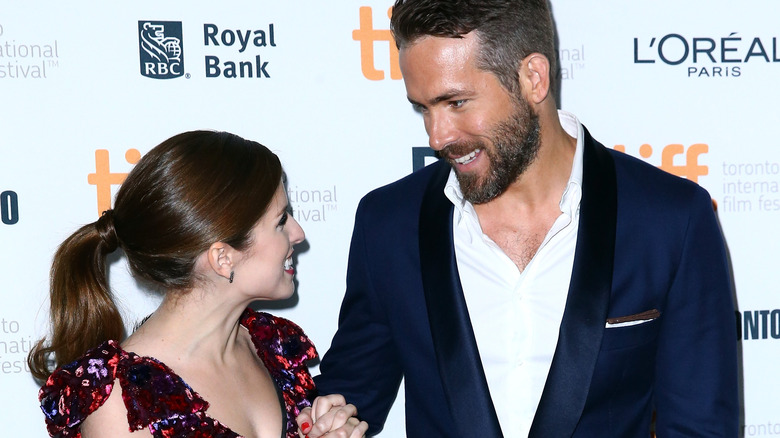 Anna Kendrick assumed that she'd probably like Blake Lively since she got along with her husband, Ryan Reynolds, when they appeared together in the 2014 film, "The Voices." Kendrick dished to ET, "I worked with Ryan on a film and I think when you meet their spouse you're like, 'Well they're not gonna be terrible because Ryan's the greatest guy.' So I kind of had some confidence going in based on that."
The "Noelle" star also explained on "Late Night with Seth Meyers" (via Insider) why she thinks Lively and Reynolds are the perfect couple: "Ryan's like, very dark and funny. And then when I finally worked with [Lively], I was like, 'Oh, she's really dark and funny too, actually.'" She added, "So you know, they're just like, just sinfully good together."
As for Lively, she revealed in their BuzzFeed interview that she was especially excited to work with Kendrick on "A Simple Favor" after she read the script. She explained to Kendrick, "I knew Paul [Feig, the director] really wanted to make it more comedic and fun and playful but that didn't really necessarily make sense for the script. So as soon as he hired you, I was like, 'Oh, we're good. All of the comedy and the levity and the acerbic wit will come through.'" 
At this point, unless these two are just as good of actors offscreen, it's hard to believe that Anna Kendrick and Blake Lively ever had a problem with each other.
Source: Read Full Article