The owner of a Victorian Airbnb property which has been rated as the nation's best holiday home has been charged with using a carriage device to harass and menace a Melbourne-based sales manager who left a negative review of the luxury accommodation business on a travel website.
David Penman, 53, who operates Clifftop at Hepburn in Victoria's spa country was due to appear before the Melbourne Magistrates' Court this week, after allegedly sending a barrage of threatening messages to Matthew Taylor in June last year.
Hepburn Springs accommodation operator David Penman Credit:Simon Schluter
Mr Taylor, who sells software to the construction industry, had booked a four-night stay at Clifftop at Hepburn which, according to its Airbnb page, has won a swag of travel, hospitality and architectural awards and which costs $563 a night
However in a review on Tripadvisor, Mr Taylor claimed that his booking was abruptly cancelled following a minor dispute over the price of a second room.
"I said no problem, we were just enquiring because we were thinking about taking our parents, however it may pay to take down the contrary information on the website and I sent the link through for their convenience.
"Here's the kicker, not only did this aggressive man refuse to own their [sic] mistake and honour the offer, not only did he say no, he cancelled our booking without notice or conversation. I have the email exchange to back it up as well," he posted.
Mr Taylor, who declined to comment when contacted by The Age, gave the holiday rental business a rating of one star out of a possible five.
The reviews are understood to have prompted a barrage of abusive and threatening messages from Mr Penman to Mr Taylor.
Following a police investigation, Mr Penman was charged with one count of using a carriage device to menace on June 25 last year and one count of using a carriage device to harass between June 25 and June 28.
In the Melbourne Magistrates' Court on Monday, the matter was adjourned until February next year, when Mr Penman will contest the charges.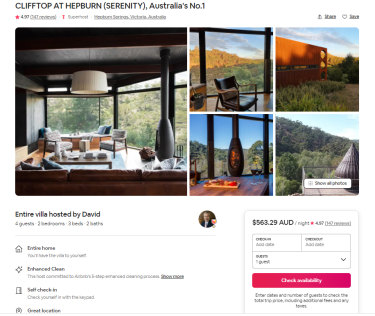 The Airbnb listing for Clifftop at Hepburn.
Mr Penman's lawyer, Zac Griffiths from Harwood Andrews Lawyers, said his client disputed the allegations made by police and Mr Taylor, and would vigorously defend the matter.
It is not the first time Mr Penman has made headlines over a negative review of his prized accommodation business, which has also been ranked as Australia's most romantic getaway.
In October last year, Mr Penman launched defamation action against another disgruntled potential guest who posted an online tirade when her stay was cancelled because of Victoria's lockdown restrictions.
Kaleen Dalliston blasted the Hepburn-based business in a Tripadviser review and a series of social media posts in August 2020, when she claimed to have not received a refund for the cancellation.
Mr Penman pursued aggravated damages, according to a statement of claim filed in the County Court of Victoria, in which he claimed his business' reputation has been seriously injured and held up to ridicule and contempt.
It was also alleged in court documents that Ms Dalliston had failed to mention in her posts that she had been offered a full refund and had agreed to wait for further communications from Mr Penman.
The statement of claim alleged Ms Dalliston's comments were understood to mean Mr Penman was "a disgusting human being", while his guesthouses were "not worthy of custom and overpriced".
The legal dispute was resolved when the parties agreed to a confidential settlement.
Fascinating answers to perplexing questions delivered to your inbox every week. Sign up to get our new Explainer newsletter here.
Most Viewed in National
From our partners
Source: Read Full Article